Retirement Wishes for Teachers: Messages for Teachers and Professors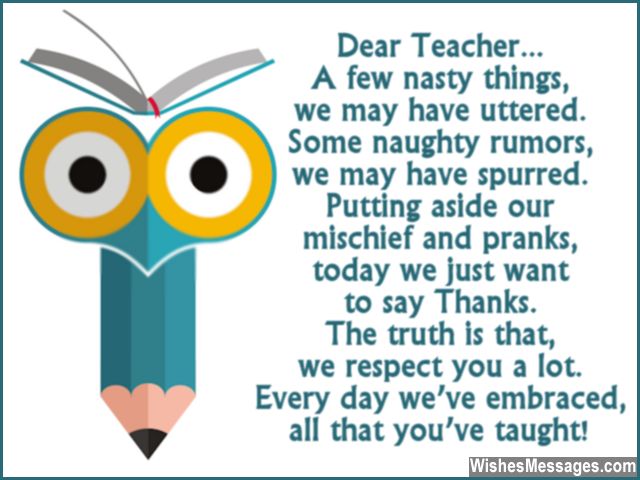 Retirement Wishes for Teachers: Searching for a cute quote to say congratulations and wish your teacher a happy retirement? Take ideas from this post to write an inspirational message that says Thank You to the person who spent a lifetime educating young minds to give them a better life. Pen it down on a greeting card, use it in a farewell speech, send it as a text, write it in a goodbye letter, share it on Pinterest, post it on Facebook or just read it out aloud in class. Whether it is your favorite teacher in school or professor in college – their retirement is your chance show appreciation and gratitude for their commitment in a job that can sometimes be a little thankless and heartless.
1) A few nasty things, we may have uttered. Some naughty rumors, we may have spurred. Putting aside our mischief and pranks, today we just want to say Thanks. The truth is that, we respect you a lot. Every day we've embraced, all that you've taught. Farewell.
2) Dear teacher… education is one thing, but you gave us much more. With inspiration beyond limits, you helped us rise and soar. Farewell.
3) The walls of this school will feel hollow, corridors will feel empty and classrooms will feel lifeless without the inspirational presence of a teacher like you.
4) Your retirement is not just a big loss to us, but a big loss to the nation. Teachers like you are the real assets who make ordinary children grow up into outstanding citizens. Happy retirement.
5) Your teachings will forever be treasured, your contribution in our lives can never be measured. Happy retirement.
6) Your retirement is a celebration of the patience and tolerance you showed in putting up with annoying students all your life. Congratulations.
7) As you spend your last few moments in school today, I thank destiny for sending such an awesome teacher my way. Farewell.
8) We'll miss you as our teacher, but we'll miss you more as our mentor, friend and nurturer. Wish you a happy retirement.
9) As you retire, take a moment to stroll through your beloved hallways in the school… you'll hear every nook and corner sadly whisper 'we'll miss you'
10) You will be quoted, for a long time to come. All that you said, was erudite and awesome. Every single day, you strived to inspire. You will be remembered, even after you retire. Goodbye.
11) I am sure that my life's tree will branch out beautifully because its seed have been sowed by a teacher and nurturer like you. Wish you the best on your retirement.
12) Dear teacher… at this juncture if the walls of this school could show any emotion, it would be of sadness, grief and frustration. Farewell.
13) A teacher like you can never really retire. Even if you stop coming to school, you will continue to do things that inspire kids like us every day. Happy retirement.
14) We saw this coming, but we were in denial. Your absence is a blow, to our survival. You might think we're, pushing it a bit too far. But you were truly, the school's shining star. You made dull classes come alive. Without you… how will we thrive?
15) Teachers are the torch bearers of humanity… they show the way forward, to the leaders and innovators of tomorrow. Farewell.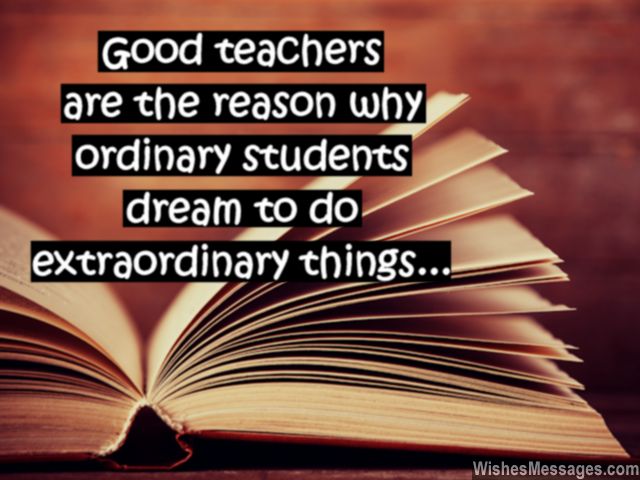 16) Good teachers are the reason why ordinary students dream to do extraordinary things. Wish you a happy retirement.
17) Dear teacher, even though you are leaving your witticisms will stay… they'll help us get through, those boring and dull days. Goodbye.
18) I never believed in miracles but now I do. It is nothing less than a miracle that I found a teacher as awesome as you. Congratulations.
19) As we celebrate your retirement, there is one thing we won't be able to do today… despite the fanfare, we won't be able to wipe the tears away. Farewell.
20) We behaved as if we hated coming to class every day. But that wasn't true, is what we confess today. The only reason we all loved coming to school, is because of you – a teacher so damn cool. Goodbye.
21) As you retire, you may be leaving the corridors of the school but you will never be able to leave the corridor of your students' hearts. Goodbye.
22) Without you, this won't remain the same place. Your absence will leave us all in a daze. Unwillingly, we will learn how to cope up after you're gone… with heavy hearts, we will try to trudge along. Farewell.
23) You are not just retiring from teaching. You are retiring from one of the most important jobs in the world – which is helping young minds to dream big. Goodbye.
24) Everyone retires with a pension fund but very few teachers like you retire with the respect and love of all their students. Happy retirement, to the real star of this school.
25) If you thought that dealing with crazy students was the hardest thing you had to do in your life, wait till you have to deal with grandkids after retirement. Good luck.
26) Retirement for a teacher means giving up a job, not giving up the right to teach. Even after you retire, I hope you never stop imparting wisdom and teaching kids the important lessons of life. Happy retirement.
27) I wish I could become the President of this university, if only for a day… I would cancel your retirement, and for a longer tenure pave the way.
28) Dear teacher, retirement is when life finally comes around and asks you to go on a permanent vacation. Happy retirement.
29) Do you know why you are retiring rich? That is because you are leaving with priceless gifts of our respect, memories, loyalty and love for you. Congratulations.
30) Dear teacher… your retirement isn't just any other celebration, it is a tribute and the grandest ovation. Congratulations.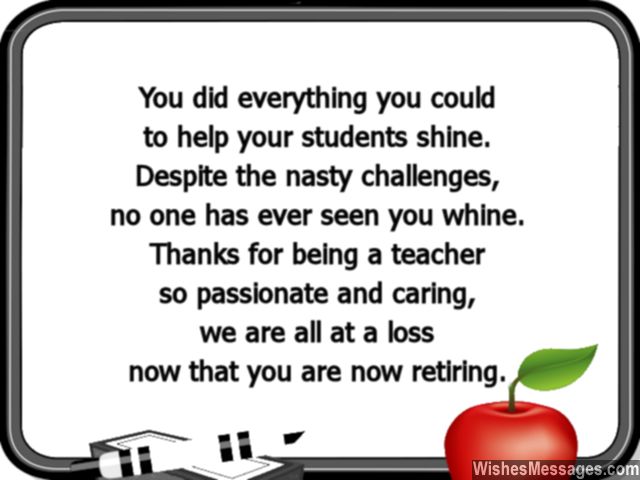 31) You did everything you could to help your students shine. Despite the nasty challenges, no one has ever seen you whine. Thanks for being a teacher so passionate and caring, we are all at a loss that you are now retiring. Farewell.
32) Even though you are retiring, the values and knowledge that you have imparted to your students will never retire.
33) Welcome to a new phase of your life when you will no longer associate numbers with grades, bells with classes and a marker pens with a whiteboards. Have fun!
34) Just forget what the doctors have to say… your students vouch for the fact that you have the bestest and the warmest hearts of them all. Goodbye.
35) Today is your Retirement Day and Independence Day because you will finally get freedom from quarreling kids, annoying students, dominating supervisors and a nagging principal. Happy retirement.
36) We are happy for you on your retirement but we envy your grandkids, because they will be the focus of all your love and attention after you retire. Happy retirement.
37) The worst party that I am attending this year is your retirement party, because I hate you see you go. Goodbye.
38) How I wish that I was born a decade earlier. Then I would have the chance to be your student for many more years of my life.
39) Apart from homework and getting other things done, you made sure that we had lots of fun. Of the perfect teacher, you had all the qualities. We are blessed, to have you polish our abilities. Happy retirement.
40) Dear teacher… your last day in school may be a celebratory party, but deep down inside we are anything but happy. We'll miss ya.