Military Homecoming Quotes: Welcome Back from Deployment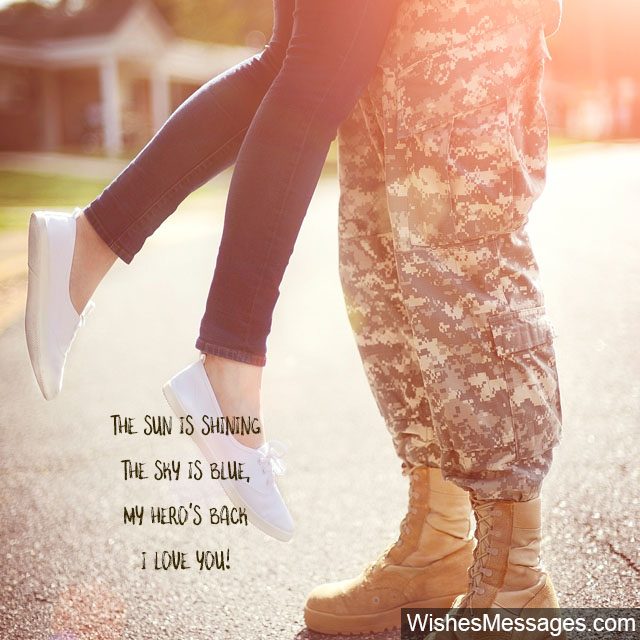 Military Homecoming Quotes: That moment when a soldier comes back home from deployment is unlike any other. Husband, wife, dad, mom, girlfriend, boyfriend, son, daughter – whoever it be, words ain't enough to explain how loved ones feel when their tribe comes back. There's no feeling in the world that comes close. This post is for all the military wives, husbands, kids, parents and families who've been waiting for their loved ones to come back home. We've spent days and days to come up with some inspiration and fabulous ideas for stuff you can write on a homecoming sign or an emotional handwritten note. Don't copy these though, write something original that comes from your heart! You can even post a sweet message on their Facebook, so they see it the moment they land. Go on, make sure your 'Welcome Back' is the best thing your homecoming hero has seen! Oh and one more thing, tell them we're saying thank you for their service!
Military Homecoming: Welcome Home Quotes
1) The sun is shining, the sky is blue… my hero's back, I love you.
2) True love… the only thing that thrives in absence. Welcome home baby.
3) I knew I was the luckiest person in the world, when I got someone that made it the hardest to say goodbye. I missed you like crazy, welcome back soldier.
4) I wish words could explain how I've felt all this while. Just the thought of kissing you makes me endlessly smile.
5) I've never wanted anything in life as badly as the kiss you're about to give me. Welcome home soldier.
6) Right here in my heart, yet thousands of miles away. Wiping off my tears, just waiting for this day. Welcome home marine.
7) As a rule of thumb, at least two kisses every day… so I've lost count of how many are overdue since you've been away on deployment. Let's get started soldier!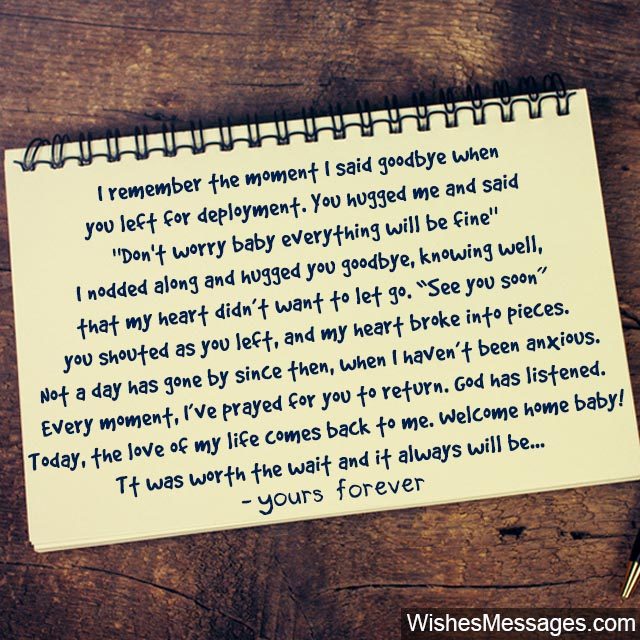 8) I remember the moment I said goodbye when you left for your deployment. You hugged me and said "Don't worry baby everything will be fine" I nodded along and hugged you goodbye, knowing well that my heart didn't want to let go. "See you soon" you shouted as you left, and my heart broke into pieces. Not a day has gone by since then, when I haven't been anxious. Every moment I've prayed for you to return. God has listened. Today, the love of my life comes back to me. Welcome home baby, it was worth the wait and it always will be… yours forever!
9) I've waited endlessly for you to come back… and I'll wait a lifetime, because it's worth it. Welcome back soldier.
10) Waiting all this while, has driven me crazy. Now shut up and get busy kissing me. Welcome home baby.
11) Not capes or shining armors, real heroes wear cammies and boots. Welcome home soldier.
12) I just want to put my arms around you and be in that moment forever. I've miss you sailor, welcome home.
13) I don't know what you do in the navy but your role in my life is crystal clear – you're the anchor that holds everything in place. Welcome home sailor.
14) You might be a hero out there, but I hope you haven't forgotten that this home only has one boss and that's me! Now come on and give your boss a kiss she'll never forget!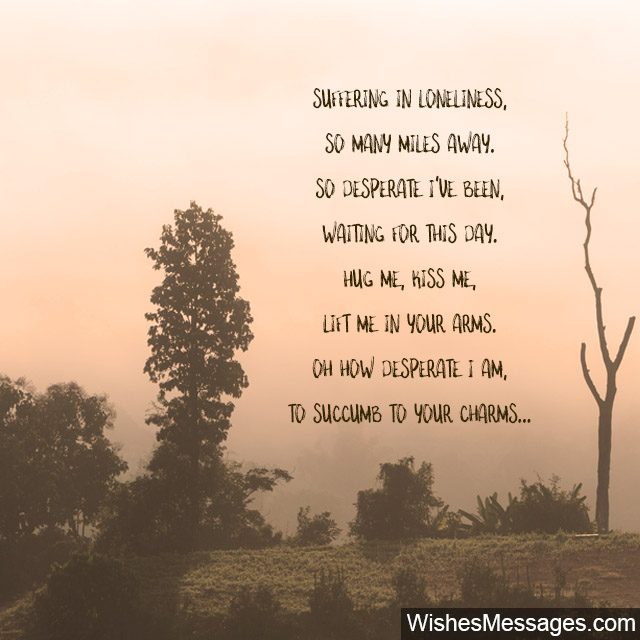 15) Suffering in loneliness, so many miles away. So desperate I've been, waiting for this day. Hug me, kiss me, lift me in your arms! Oh how desperate I am, to succumb to your charms… welcome home from deployment!
16) Not a second has gone by when I haven't thought about you… now that you're back, all I can think about is to have you right here by my side, forever and ever. Welcome back soldier.
17) Words are not enough to tell you how much I've missed you since you've been deployed. The wait is finally over. The time has come when you can put the smiles back on my face again. Welcome home soldier, I love you like crazy!
18) You might have survived the deployment but how will you ever survive the barrage of sloppy kisses that I'm going to bombard you with? Welcome home sailor!
19) You have no idea how desperately I've been waiting for this day. I've played the moment over and over again in my head endlessly. It's the only thing that's kept me going. I've missed you baby, I've missed you a lot.
20) Thought of you every time I looked at the stars, waiting for the moment when we'll look at them together. Welcome home baby.
21) My prayers kept you safe and our memories kept me sane… welcome back, I love you.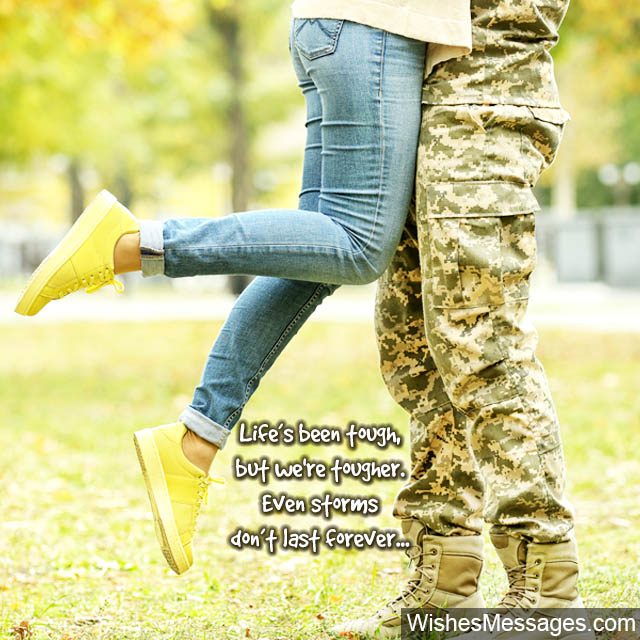 22) Life's been tough, but even the storms don't last forever. Welcome back darling.
23) I don't know who you take your orders out there from but at home you're taking them from me and only me. Now get over here and smother your mrs with kisses.
24) Fighting for your country, fighting for your family, fighting for your flag… thank you for keeping us all safe. Welcome back soldier.
25) I don't know what the dictionary says but for me the definition of happiness lies in the arms of my man, who's in cammies and boots so tan. Xoxo
26) Nobody will ever understand the pain and deep sense of anxiety that a military wife goes through. The sleepless nights, the anxious mornings and the endless wait to see the love of their lives come back after a long deployment… no one will understand but me. I've missed you baby, welcome home.
27) Forget months or years… I'm willing to wait a lifetime because you're my forever. Welcome home sailor.
28) The more we stay apart, the more I've realized how my life is so incomplete without you. I've missed you soldier, now give me a kiss.
29) God knows how I've waited for this very moment; broken, I've been since away, you've been sent. I'm feeling relieved, like my heart's been set free; as your deployment comes to an end, finally.
30) Risking it all for your country and your family… you're a true inspiration to us all! Happy homecoming soldier.
Military Homecoming: Welcome Home Quotes for Dadddy/Mommy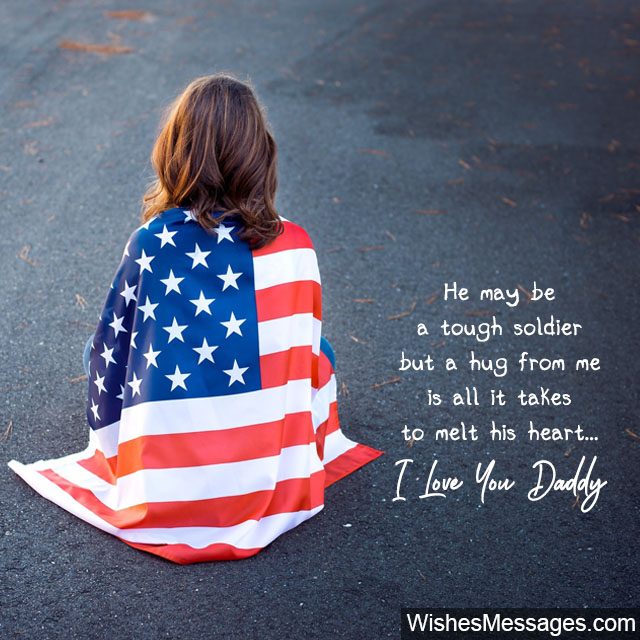 1) He may be a tough soldier but my hug is all it takes to melt his heart. I've missed you daddy, welcome home.
2) Every passing minutes, day and month… all the kids have done is wait, just to get a hug from their daddy. Welcome home!
3) A lot has changed since you went away daddy. I've grown by many inches and I've got heaps of stories to tell you. But first, a hug to tell you how badly I've missed you all this time. Welcome home.
4) Get out of my way, I'm going to my favorite place… that little corner inside my daddy's hug. Welcome back dad.
5) Nothing gives me more pride than telling my classmates that my mom is a soldier. Welcome home mommy, I love you.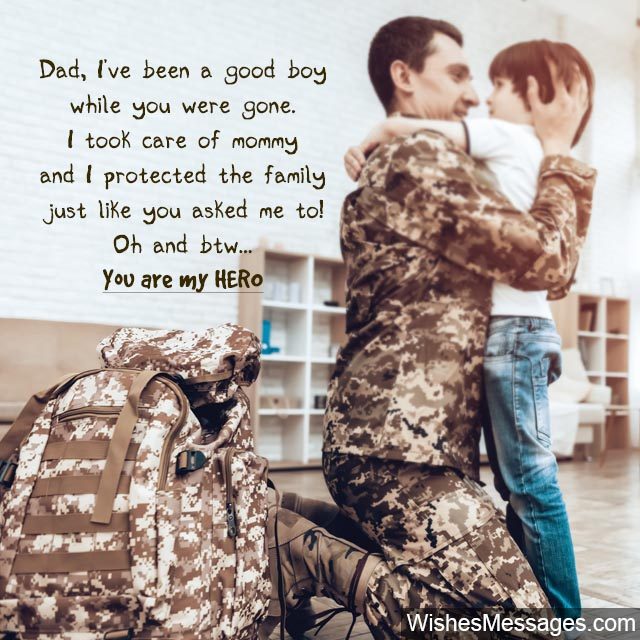 6) Hey daddy, I've been a good boy while you were gone. I took care of mommy and I protected the family like you asked me to. Welcome home!
7) Mom, I hope you haven't forgotten that I'm the only one you can take your orders from? Welcome back!
8) I don't care about Superman or Batman 'coz I have a SuperDad!! I've missed you daddy, welcome home!
9) I just know one thing… my daddy is a hero! Happy homecoming dad!
10) Nothing in this whole world can take my smile away, coz my dad's coming home today.