I Love You Messages for Brother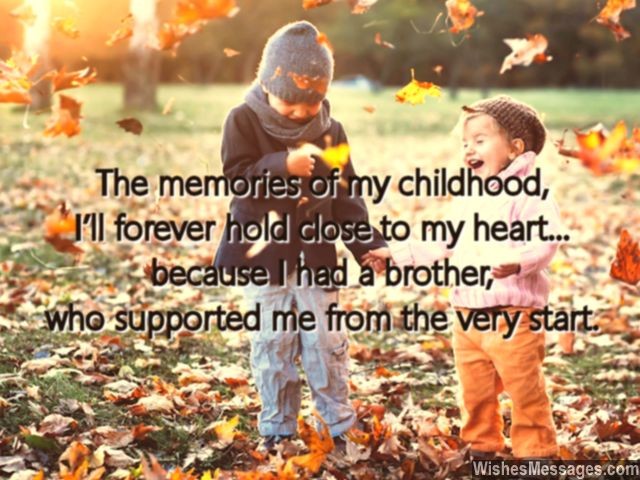 I Love You Messages for Brother: Apart from your brother's birthday, when was the last time you gave him a hug and thanked him for being there for you? Think about his quirky habits or some of the funny incidents that have become precious memories and pen all that down in a heart-warming message.  From cute texts to handwritten notes to sharing quotes on Pinterest – there are heaps of ways to let your brother know how much he means to you. As cheesy and lame as this sounds, the sweet bond between two brothers or that between a brother and a sister is the foundation on which childhood memories will rest on. There's no such thing as Brother's Day but if you look back at the times you spent with your brother, you'll feel a deep connection like no other. So put aside the fights, the arguments and the sibling rivalry – tell your dear brother that time may fly along but you both are there for each other no matter what.
1) The memories of my childhood, I'll forever hold close to my heart… because I had a brother, who supported me from the start. Thanks bro.
2) The love of a brother… not romantic but more powerful than romance, not always friendly but more supportive than friendship.
3) Being your little sister gives me the right to annoy you and nag you from time to time… and being my older brother gives you the responsibility to tolerate me no matter what. Love you bro.
4) Dear brother… in my life, many people have come and gone. But you, have been there all along. Through all of life's curvy roads, your hugs have been my heavenly abode. I love you.
5) Even though there have been many times when I've taken you for granted, I want you to know that a brother like you is what I've always wanted.
6) Dear brother… when my besties betrayed, you came to the rescue. That's when I realized, my real best friend was you.
7) Isn't it strange that brothers can the sweetest of friends and the most bitter of all rivals at the same time? Love you bro.
8) If the memories of my childhood were to be strewn over a night sky, you would be the shining star. Thanks for everything bro.
9) You're not just my brother, you are a dream catcher… because of all the many useless dreams I've had, you've helped me catch the right ones and go forth. Love you bro.
10) There is no such thing as a bad childhood memory in my life, because I had a brother who always saved me from strife.
11) Like and dislike, but mostly dominated by like. Love and hate, but mostly dominated by love – this is how I will describe our cute sister-brother bond. I love you bro.
12) In childhood's garden, seeds sown by brothers bear the sweetest fruit. Love you bro.
13) The photo frame of my childhood wouldn't have been perfect if it didn't have a my life biggest strength in it – my brother.
14) An older brother is that person to his little sister, who her father or boyfriend can never be. Thanks bro.
15) Spending my life with you has made me realize that brothers are the only people in the world who will help you succeed in life… even if it means that they will be branded as the lesser successful brother out of the two. Thanks for everything bro.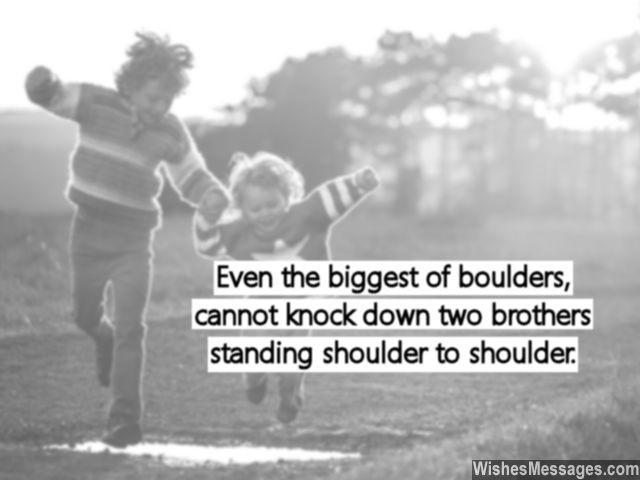 16) Even the biggest of boulders, cannot knock down two brothers standing shoulder to shoulder. I love you.
17) Thank you for seeing what mom and dad couldn't, and standing up for me everyone else wouldn't. I love you bro.
18) When we fight, we may fight like the worst of enemies. But when we come together, we become a powerful force like no other. Love you bro.
19) Throughout my childhood you've seen me making mistakes and being at my lowest… while I've seen you helping me back up on my feet at the earliest. Thanks for everything bro.
20) To appreciate the beauty of black, you need to see white and to appreciate the beauty of white, you need to see black first… that is exactly what we are – totally opposite but totally incomplete without each other. Love you bro.
21) From kind to caring and from naughty to bully… there are many types of brothers – but the sweetest one is YOU.
22) Memories of fights and arguments become the sweetest when you've had them with your brother.
23) No matter how hard I try to twist you by being an annoying sister, you always come back to your original shape as a loving brother. I love you.
24) Do you know what brother, friend, hero and idol have in common? They are all names that I have for you. I love you bro.
25) Best friends can read each others' minds. But only brothers can feel each others' hearts. I love you.
26) Do you know what my iPhone, iPad, laptop, desktop, Facebook, Twitter and blog have in common? They all have a picture of me and you as the background. I love you bro.
27) Everybody has a best friend, but few lucky ones like me have best friends who also double up as their brothers.
28) I like to give you relationship advice, I like to tell you what to wear. I like to tease you about your crushes, I like to annoy you with my loud girly music… but that is what sisters are all about. Love you bro.
29) Even when a sister says nothing, a brother understands everything. Love you bro.
30) All my friends are jealous of my free spirited personality but deep down inside I know that it is all because of the fact that I have a protective brother like you. I love you bro.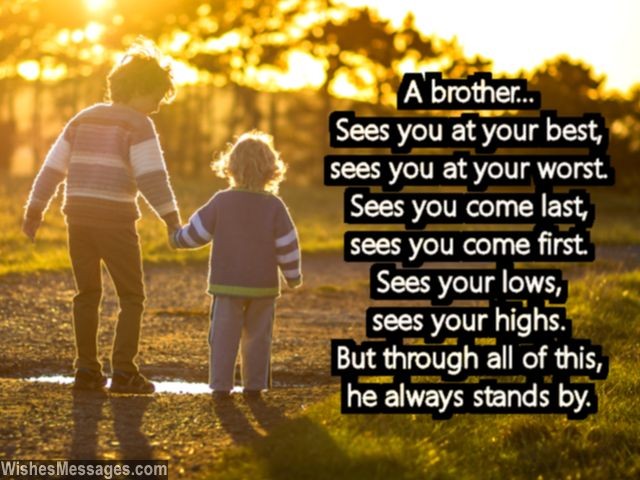 31) A brother… sees you at your best, sees you at your worst. Sees you come last, sees you come first. Sees your lows, sees your highs. But through all of this, he always stands by.
32) All the men in my life have either broken my heart or made me cry… except my brother. Love ya.
33) My friends stand up for me whenever I need them… but you've kept standing up for me all the time. Thanks bro.
34) Regardless of how many times I changed the Wi-Fi password at home, I want you to know that the Wi-Fi of my heart will always be open for the love of a brother like you.
35) A little brother is the best teddy bear that a girl can ever have. I love you.
36) Since I was born before you, I'll always have the bragging rights to say that you will forever remain my Little Brother.
37) The clocks tick along, seasons keep changing, calendars flip over and the planets go round and round – but your position in my life is constant and forever. Love you bro.
38) A Facebook PAGE – for a brother who's helped me through TEENAGE. A cute TWEET – for a brother who's just so SWEET. A pin on PINTEREST – for a brother who inspired to follow my INTERESTS. A post on Google PLUS – for a brother who's supported me through life' FUSS. Thanks for everything bro.
39) I know many troublemakers, but my favorite one is my little brother.
40) It takes the perfect mix of sweetness and tanginess to create a good recipe. My childhood has been one such concoction made up of a protective brother like you and a naughty sister like me.