Thank you messages for brother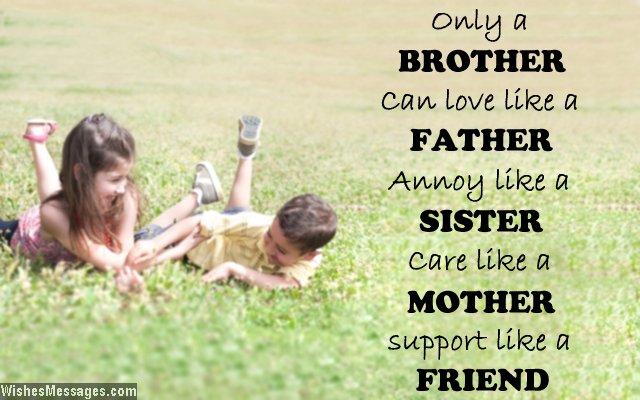 Thank you messages for brother: There may not be a Brother's Day but any time is the perfect time to tell your bro how much he means to you. Write a sweet note and send it to him as a text or a message on WhatsApp. If it is a special celebration, scribble it out on a greeting card. The ironic part of a relationship between two brothers or the one between a brother and a sister is that the value of having a brother isn't realized until when people grow up and get on with their own lives. The once highly annoying habits of siblings become the cutest childhood memories. No matter how much you fight, no matter what your differences, there is nothing that can come close to the unspoken love and support of a brother. Deep down inside, he will always want to look out for you.
1) Only an older BROTHER can love like a FATHER, annoy like a SISTER, care for like a MOTHER and support like a FRIEND. Thanks bro.
2) Even though we don't talk much, even though we don't hang out together, even though we don't spend a lot of time with each other – I know from the bottom of my heart that my brother will always be there for me when I holler. Thanks bro.
3) Do you know which is the world's stickiest glue? The one that's between me and you. Love you bro.
4) The bond between a sister and brother is like the umbilical cord between a mother and a child – invisible yet omnipresent. Thanks for being the best bro ever.
5) Thanks for giving your LITTLE sister BIG bundles of advice which helped her take the LITTLE steps towards BIG goals in life.
6) Thanks for always being the perfect older brother who is protective without being suffocative, liberal without being careless and watchful without being stifling.
7) Dear brother, thanks for being the person who always says 'let's see what how we can fix this' instead of 'I told you so'.
8) You are not just my reflection, you are my heart's reverberation and my soul's resonance. Thanks for being there for me bro.
9) I had never imagined that the brother on whom I once so mad, would be the same brother I would feel blessed to have had. Thanks bro.
10) With you around, even the blues take beautiful hues and the grays are turned into bright rays. Thank you brother.
11) From saying I Hate You during childhood to I Miss You during college to Thank You right now – we both have come a long way. Love you bro.
12) The memories of my childhood would have been a dark night if it weren't for a brother like you – the sun that lit up my life. Thanks for everything.
13) A brother is a person whose supports you have even if you don't want and whose love you've got even if you don't need. Thanks for giving me both.
14) I have never felt the need to ask for your help, because you have always been there before I even had to ask. Thanks bro.
15) The best part of having a brother like you is that I have never feared losing a best friend. Thanks dear.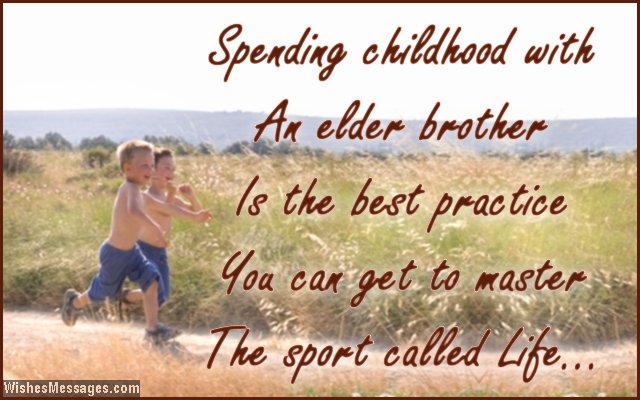 16) Spending childhood with an elder brother is the best practice you can get to master the sport called Life. Thanks brother.
17) You stood up tall to defend me and walked with your head high to set a perfect example for me. Thanks bro.
18) You are the reason my childhood has been special, teenage memorable, grown-up years unforgettable and my whole life remarkable. Thank you brother.
19) When God gave me you for a brother, little did He know that He was giving me the whole world. Thanks bro.
20) Walls of marble, pillars of granite or slabs of stone cannot be as strong as my brother. Thanks for always protecting me.
21) Our relationship is like a Facebook page which I will always LIKE and FOLLOW even if no one TAGS me in posts and photos. Thanks for being the best brother.
22) Like the foundation on which a building stands strong, you and I are meant to be stuck together for long. Bro, thanks for being the foundation of my life.
23) The beauty of having a little brother is that he will always protect his sister even if he is half her size. Thanks bro, you will always be my little buddy.
24) A brother is God's way of sending you a message to say I'm right here. Thanks for being my demi-god.
25) When we were children, I hated it when you ate my candy. But I also hated it if you didn't get any. Thanks for this amazing love-hate relationship.
26) From the foosball table to the basketball court to the playground of life – you have always taught me how to score well. Thanks brother.
27) When I was wrong, you never took my side. It made me think 'what are brothers for?' But as I grew up and understood the meaning of honesty, it made me realize 'that's what brothers are for' Thanks for teaching me life's important lessons.
28) I fearlessly chased all my BIG dreams knowing that my BIG brother will always look out for me. I will never be able to be a BIG bro to you but the least I can do is start by saying a BIG Thank You to you.
29) When we were children I always thought of you as the guy who would nab every opportunity to get me into trouble. But as the years went by I realized that you have always been the guy who would never lose an opportunity to help me get out of trouble. Thanks bro.
30) My younger brother is the only person with whom I could switch between saying I Love You and I Hate You without a care in the world. Thanks bro.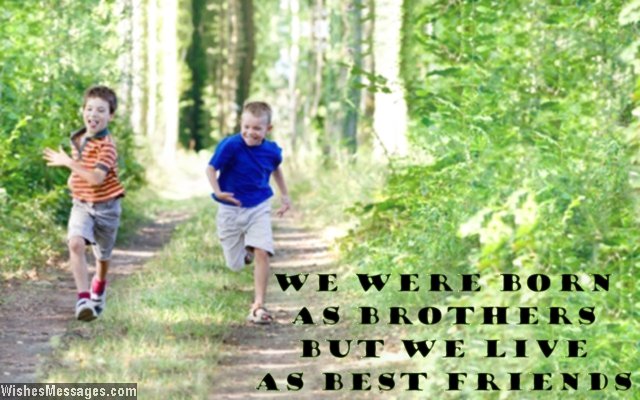 31) We were born as brothers but we live as best friends. Thanks.
32) Dear brother, thanks for always seeing troubles come my way much before I could see them. Thanks for letting happiness come my way in a way I could never have imagined.
33) I never count my blessings because with a brother like you, I have already received more love than most people get in a lifetime. Thanks bro.
34) I never knew the meaning of unconditional support until you picked me up even when I was wrong – again and again until I started doing the right things in life. Thanks bro.
35) Brothers and sisters are foes turned friends, united to fight against one common enemy – parents. Thanks bro.