Goodbye Poems for Friends: Farewell Poems in Friendship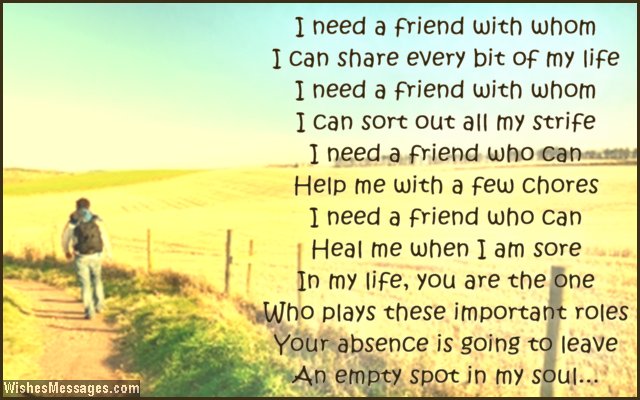 Goodbye Poems for Friends: The very thought of not having your bestie by your side is sad and heartbreaking. If one of your close friends is moving interstate, going overseas or relocating to another city – take ideas from this post to write the sweetest quotes on a farewell card. Your heartfelt wishes will be a source of strength and inspiration. Apart from the greeting card, whine out aloud on Facebook, Twitter and Pinterest to express how gloomy you are. Bring the saga to a pinnacle by dropping your friend at the airport so you can be with him or her till the very last moment. Hold back the tears, give a cute hug and watch your friend walk away so that both of you can clinch on to the beautiful memories of your friendship… no matter where you are.
1) I need a friend with whom
I can share every bit of my life
I need a friend with whom
I can sort out all my strife
I need a friend who can
Help me with a few chores
I need a friend who can
Heal me when I am sore
In my life, you are the one
Who plays these important roles
Your absence is going to leave
An empty spot in my soul
Goodbye
2) As soon as you get there
Don't forget to call
If you can't find a payphone
Post on my Facebook wall
Don't hurry yourself
Relax and take some rest
But once you are up and about
Put up some pictures on Pinterest
Tag me in a few tweets
If you've got Wi-Fi
Have a great time traveling
3) Saying goodbye to a friend
Is like stabbing yourself in the heart
And twisting the knife repeatedly
To almost tear it apart
Letting a friend leave
Is like walking over bits of glass
Knowing that life has
Reached its ultimate impasse
This is how I'll feel
When you make your exit
I will miss you from the innards
Of my every living bit
Goodbye
4) To my dear friend….
I will think of you
When I go out to play
I will think of you
Every single night and day
I will think of you
When I go out for coffee
I will remember you
When I go to the movies
I will think of you
When I take the bus to school
I will remember that day
When we laughed like fools
Little things like these
I will forever cherish
Come back here soon
That is my only wish
Goodbye
5) Have an awesome trip
Miss me lots while you're away
Send me tons of pictures
And cool selfies ever day
Forget all your worries
I'm here to take care of it all
Just enjoy each moment
Of your trip and have a ball
Don't come back empty-handed
Bring me an amazing souvenir
I will be waiting eagerly
Just like always, right here
Goodbye
6) Our memories will play
Like a film reel
Whenever I will think
Of you a great deal
One happy scene
Will play after another
As I reminisce the time
That we've spent together
You will have gone far
But nostalgia will stay
Dear friend, I'll miss you
In each and every way
7) Friendships never end
Due to time or distance
Stop thinking about this
Don't worry even once
Friendship is never forgotten
Just because friends separate
Somehow, they are always
Held together by fate
Goodbye
8) Saying goodbye to you
Is like swallowing a bitter pill
It is like saying something
Which is against my will
But the show must go on
Life must continue
Even though your absence
Will make me miss you
Goodbye
9) As you begin
Your long journey
Don't forget your friends
Especially me
As you travel
To different countries
Don't forget
Your closest buddies
Travel safely
Have fun on the way
But most importantly
Don't forget to call me everyday
Goodbye
10) How can I wave goodbye
To the other half of my soul
How can I bid farewell to a person
Who plays such an important role
How can I give a send-off
To a piece of my own heart
From you, my dearest friend
I can never really be apart