Birthday Wishes for Trainers: Messages for Personal Trainers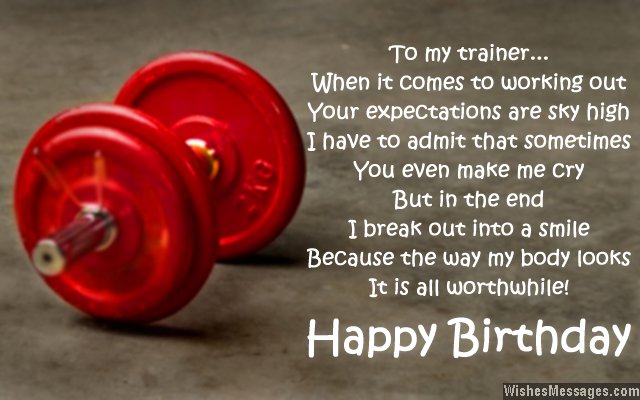 Birthday Wishes for Trainers: From funny quotes about fitness and lifting weights, to messages that show gratitude for the endless hours of motivation and working out together – this post gives you ideas to create your own greeting for your personal trainer's birthday card. Think about how your trainer's inspirational words in the gym have pushed you towards getting a body that you have always wanted. Use his or her birthday as an opportunity to say thank you for constantly watching your back every step of the way.
1) When it comes to working out your expectations are sky high. I have to admit that sometimes you even make me cry. But in the end I break out into a smile. Because the way my body looks, it is all worthwhile. Happy birthday.
2) You have worked hard to get me back in shape. Today is the time to undo some of that by splurging on cake. Happy birthday.
3) In a perfect world, your birthday party would be attended by fitness freaks, you would all gulp down shots of protein powder and then celebrate by busting out push-ups to your favorite music. Happy birthday.
4) For the sheer joy that I experience when I see myself in the mirror, I have no one to thank but my inspirational personal trainer. Happy birthday.
5) Sometimes I fear you because you make me feel pain. Sometimes I love you because you stop my weight gain. Sometimes I get angry at you because you push me beyond my limits. Sometimes I feel thankful because you are the reason I am fit. Happy birthday.
6) To my personal trainer… my wrapped birthday gift for you, can never come close to the gift of a better life that you have given to me. Happy birthday.
7) Birthdays are not the time to stay around fitness equipment and weights. Get out of the gym and have a blast partying with your mates. Happy birthday.
8) I hope your birthday celebrations don't involve push-ups, sit-ups and protein drinks. Happy birthday.
9) Your commitment to fitness and health, always shows. From where you get your energy levels, I will never know. But today is the day to party hard and let go. Party hard and let the drinks flow. Happy birthday, bro.
10) Your job title should change from Personal Trainer to Life Changer. Happy birthday.
11) Every since you started training me, my life has gone through a thorough transformation. For putting me in a happy place, I credit your constant attention and overpowering motivation. Happy birthday.
12) Since you already have a hot body, what is your birthday wish going to be? Happy birthday.
13) You may call yourself a Personal Trainer but for me you are an Angel who has transformed my life forever. Happy birthday.
14) Your birthdays are a battle between YOU and AGE. Needless to say, AGE loses every single time. Happy birthday.
15) I know you think about fitness twenty-four seven, but today is the day to let loose and have some fun. Happy birthday.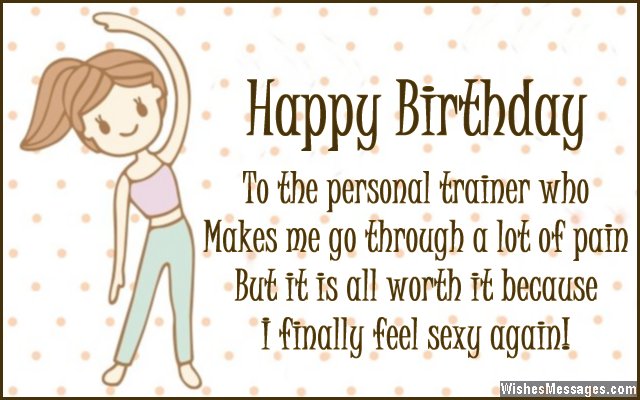 16) Happy birthday to my personal trainer who makes me go through a lot of pain – but it is all worth it because I finally feel sexy again.
17) May the blessings of the spirits of ripped muscles always overpower the curse of the demons of fat. Happy birthday.
18) Your energy levels motivate me and your zest for fitness is absolutely inspirational. But today, take a break from motivating others – just do something special. Happy birthday.
19) The worst part of training with you is the pain but the best part of training with you is the gain. Happy birthday.
20) Faster, harder and stronger – this is what you push me to do when we train every day. Louder, merrier and happier – this is what I wish for your party on your birthday.
21) Lean cuts, green veggies and healthy meals is what you always suggest, but today you must party hard and keep dieting off your chest. Happy birthday.
22) You push me to my limits, which sometimes I really hate. But the hard work pays off when I lose weight. Maybe your birthday is the perfect day to say Thank You, for putting up with my rants through and through. Happy birthday.
23) Dumbbells, barbells and weight machines – all these will have to move over because today is the time for cake, food and drinks. Happy birthday.
24) Happy birthday to the personal trainer who knows not just how to tire, but also inspire and help me fly higher.
25) A fab personal trainer who is also a good friend, I hope this awesome relationship never ends. Happy birthday.
26) Normal people like me SEEK inspiration while personal trainers like you GIVE it. Happy birthday.
27) To my personal trainer… every day you tell me to either train hard or go home. Today I am telling you to party hard or go home. Happy birthday.
28) Fitness may be a state of mind but people like me need inspirational trainers like you to get into that state. Happy birthday.
29) Your role in my life is way more profound than you can ever imagine. It is almost as if your fitness regime has redeemed me of my dietary sins. My body would have been in a sorry state if it weren't for you – which is why I want to wish the sweetest and happiest birthday to you.
30) Sometimes angels walk into your life disguised as normal people. In my life it's you. Happy birthday.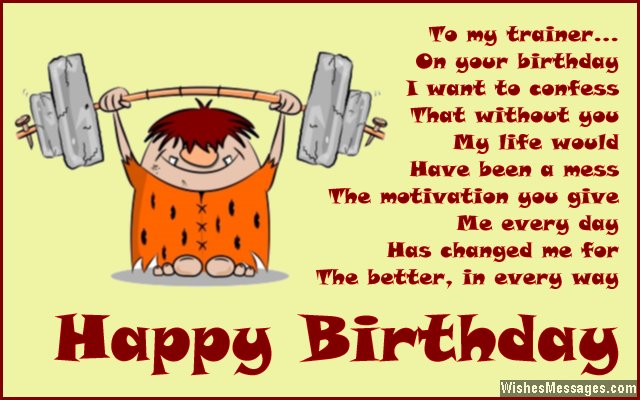 31) On your birthday I want to confess, that without you my life would have been a mess. The motivation you give me every day, has changed me for the better in every way. Happy birthday.
32) Today is the day to spoil the ripped muscles in your body with sweets and cake. After all, even fitness Gods like you deserve a break. Happy birthday.
33) You have the hottest body ever – what else could you wish for on your birthday? Happy birthday.
34) Working out with you, has banished most of my blues. I hope your birthday is as happy, as you have made me. Happy birthday.
35) Don't worry – age is not going to touch your fit body at all. Happy birthday.