Thank You Mom: Messages and Quotes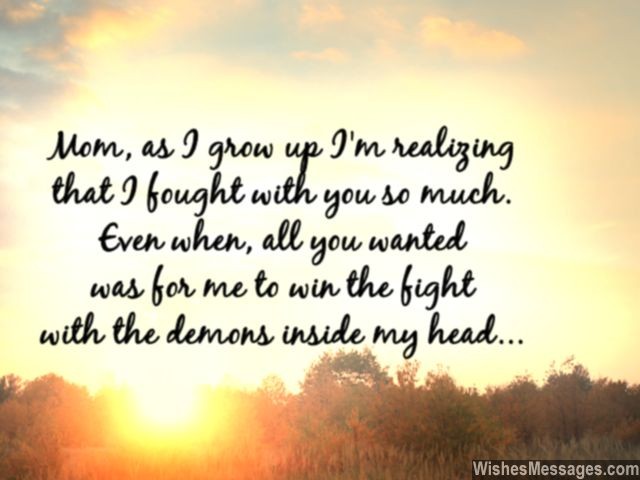 Thank You Messages for Mom: For most mothers, sons and daughters, Mother's Day is a one day affair after which all the love fizzles out when the daily humdrum of life takes over. Don't let this happen to your sweet bond with your mom. Pick a random day and surprise her with a cute note. Whether it is with touching quotes that make her happy from within or funny one-liners that make her smile – say Thank You and show gratitude for all the sacrifices she has made for you. Unlike Mother's Day, you don't need to glam out with fancy greeting cards. Simple stuff like texts, Facebook posts, pins on Pinterest or even short tweets are all it takes to light up her day. For everything she has done for you, little things like these are the least you can do to start giving back.
1) Mom, as I grow up I am realizing that I fought with you so much. Even when, all you wanted was for me to win the fight with the demons inside my head. I love you.
2) Mom, all these years I kept asking and you kept giving. Now I think it's time I started giving back and it all begins with two simple words – Thank You.
3) All this while I was complaining about having nothing, when in a mom like you, I had everything I could ever ask for. Thanks ma.
4) The World's Best Mother is a book that ought to be written by its most qualified author – YOU. Thanks for everything mom.
5) If all the armies in the world were commanded by mothers like you, they would all be trained in decimating the enemy's hate with adorable smiles and warm hugs. Thanks for everything mom.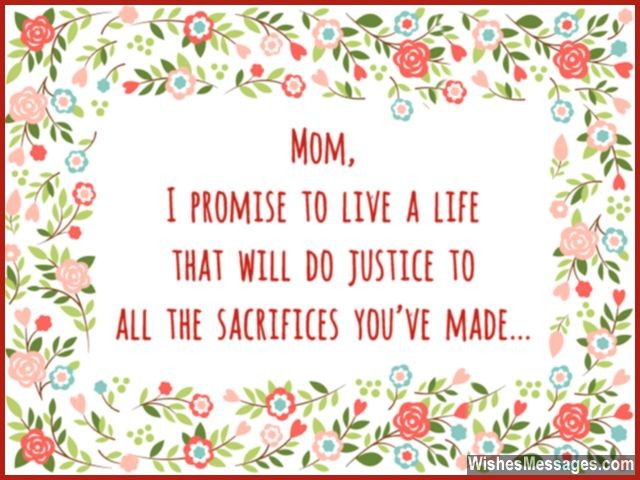 6) Mom, I promise to live a life that will do justice to all the sacrifices you've made.
7) Metaphorically you are the programmer who has originally coded and constantly improved the operating system of my life. Thanks mom.
8) You gave up the most important things in your life so that I could take on the most important things in mine. Mom, thanks for all the sacrifices you have made.
9) Best friends come and go, boyfriends and girlfriends love and move on, bosses hire and fire but the only person present through it all is a mother. Thanks for always being there for me.
10) The only person who has stood by me through all life's storms and bad weather, is none other than my amazing mother. Thanks ma.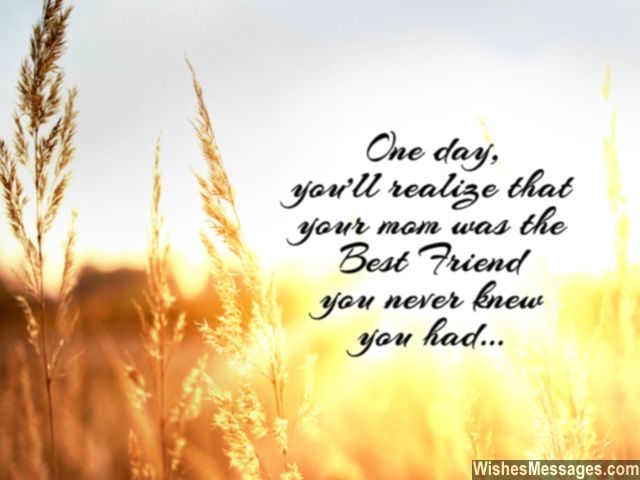 11) One day, you will realize that your mom was the best friend you never knew you had. For me, that day has come. Thanks mom.
12) There is no force powerful enough to stop me, as long as I've got my mother pushing me. Thanks mom.
13) I don't see our relationship as something which is biological. For me, your warm hugs are nothing short of magical. Through life's rough patches you've made me feel secure. Mom, you have been nothing less than an angel for sure.
14) Mother's Day can come and go, but my love for you will always show. I don't need a commemorative occasion to remind me, to say thank you to my dearest mommy.
15) Life hasn't always been fair, sometimes it has been very mean. I fell down along the way, I got wounds that couldn't be seen. But through it all, my mom never left my side. Her love is the reason my tears have finally dried. Thanks mom.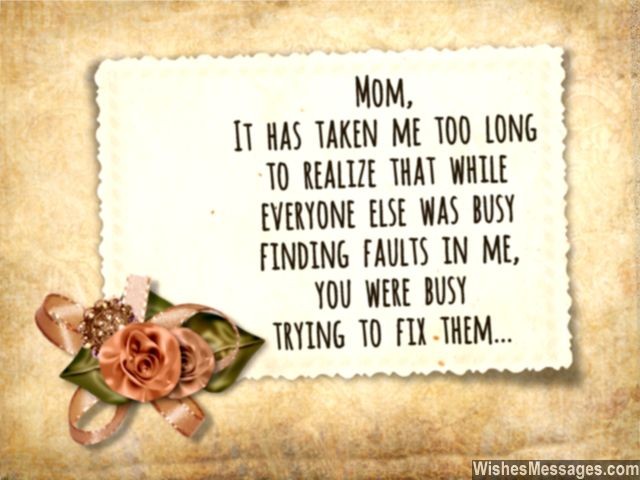 16) Mom, it has taken me too long to realize that while everyone else was busy finding faults in me, you were busy trying to fix them. Thanks for everything.
17) From peer pressure to bullying and from success to failing, my mom can help me with just about everything. Thanks mom.
18) Thank You are the two words I want to use to show gratitude for the two words you have given me – Perfect Life. Thanks mom.
19) For you, I am going to replace my Hellos with Thank Yous. Because that's the only way I can show enough gratitude for all the things that you do. Thanks mom.
20) Whenever I am in trouble I ask my heart 'What should I do?' Every single time it replies 'Do what your mother would tell you to'. Mom, thanks for being my guiding light.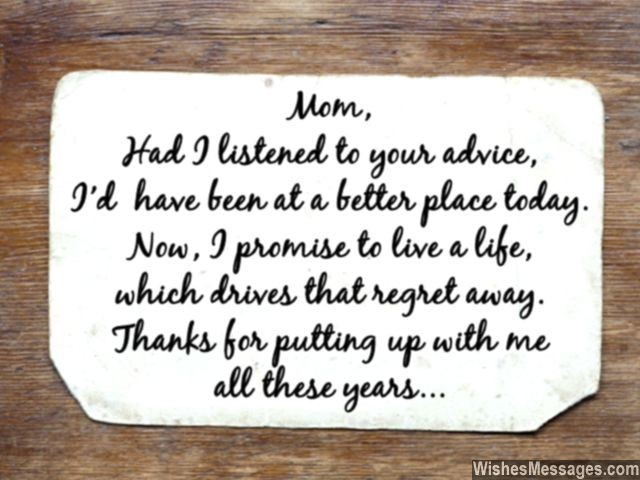 21) Mom, had I listened to your advice, I'd been at a better place today. Now, I promise to live a life, which drives that regret away. Thanks for putting up with me all these years.
22) Right from the day I was a toddler to the day I became a responsible young adult, you have tended to me endlessly. Mom, I can never thank you enough for everything you have done to make sure that my life turns out perfectly. Thanks.
23) There can never be a day so dull that can't be brightened up with my mom's loving smile. Thanks for everything ma.
24) Bad grades, bad company and bad habits – all these would have torn my life apart if it weren't for a super glue called MOM who held it all together. Thanks mom.
25) Mothers like you are soft sponges which absorb their children's tears and squeeze out pretty bubbles of happiness and joy. Thanks for everything mom.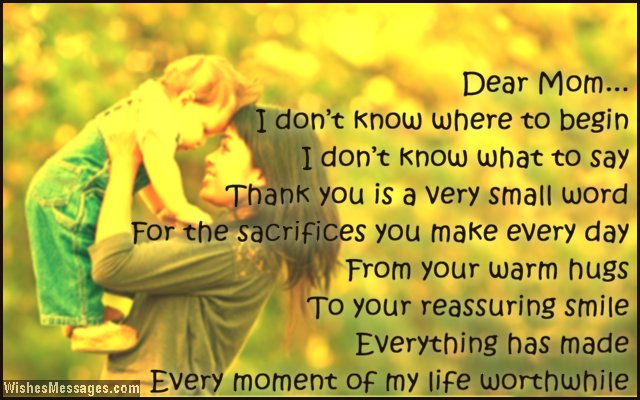 26) I don't know where to begin, I don't know what to say. Thank you is a very small word, for the sacrifices you make every day. From your warm hugs to your reassuring smile – everything has made my life worthwhile.
27) Dysfunctional families, broken homes and bitter marriages would be history if there was a mother like you in every house. Thanks for everything mom.
28) Since you are a Fantastic mother and a Fabulous friend, from now on I will call you Fantabulous. Thanks for everything mom.
29) No school, college or university can teach the wisdom given to me by the best teacher in the world – my mother. Thanks mom.
30) I have always wondered how it would feel to receive a touching note from my kid, thanking me for being a good mother. While I wait, I don't want to keep YOU waiting any longer. Thanks for everything mom.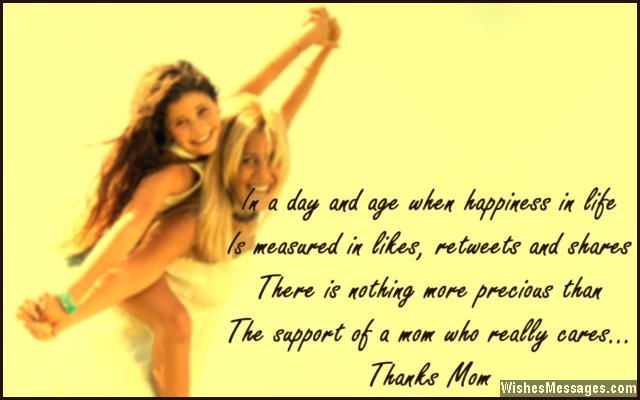 31) In a day and age when happiness in life is measured in likes, retweets and shares, there is nothing more precious than the support of a mom who really cares. Thanks mom.
32) Everyone knows that I am you SON. But only I know that you are my SUN – lighting up my life with your hugs and smiles. Thanks mom.
33) If you don't stop being an amazing mother even for a single day during the year, why should I thank you just Mother's Day? Thanks ma.
34) Words like trouble, grounded, scold and punish have never been in my dictionary because I have a chilled out mom like you. Thanks for being super cool.
35) A mother's love is gentler than a father's, more tolerating than a sister's, more accommodating than a brother's. A mother's love is simply the best, better than the rest.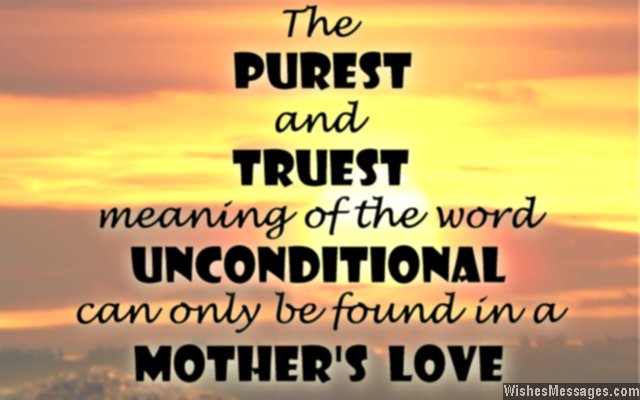 36) The PUREST and TRUEST meaning of the word UNCONDITIONAL can only be found in a MOTHER'S LOVE. Thanks for everything mom.
37) Whenever life has thrown curve balls, you have helped me hit them out of the park. Thanks mommy.
38) Like turkey is to Thanksgiving and bunnies are to Easter, you are to me – INSEPERABLE. Mom, thanks for always being there.
39) Momma's Boy is the one thing that I won't mind being called even when I grow older because I am proud to have a mom like you.
40) The real meaning of the words True Love is not written in a dictionary, but in a mother's heart. Thanks mom.