Thank You Dad: Messages and Quotes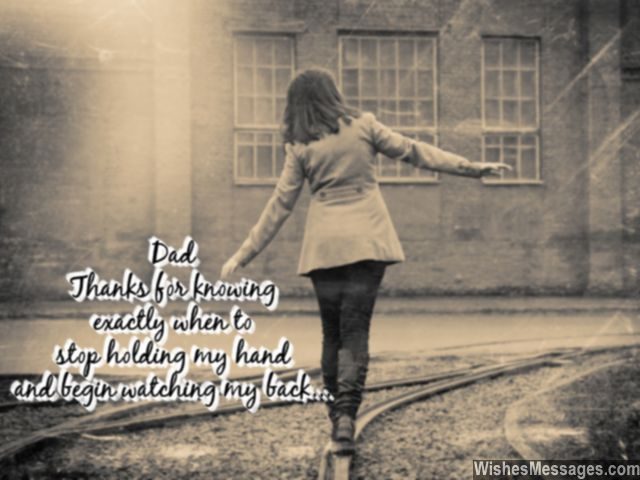 Thank You Messages for Dad: Father's Day and birthdays will come and go, but family is forever. So pick a random day to say Thank You to the man who loves you like nobody else can. Cute quote on a greeting card, funny texts, sweet messages on Facebook or a few shares on Pinterest that reek gratitude and respect – it doesn't take a lot to make your father feel like a million dollars. Give your old man a hug and let him know that you feel lucky to be his son or daughter. Why do this? Simply because your dad works hard to give you a life that you deserve. He makes sacrifices to make sure that you have a smile on your face. His life is dedicated not to his own happiness, but yours. It's time you give back.
1) Dad, thanks for knowing exactly when to stop holding my hand and begin watching my back.
2) You carried me in your arms when I was little and you held my hand while I was growing up. Dad, I am going to be your pillar when you are old and I will carry you in my heart until I die. Thanks for everything.
3) I may be able to outgrow you in height one day but I will never be able to outgrow the tall contribution you have made in my life as a father. Thank you.
4) When you taught me how to play ball, I learnt from you how to stand tall. When you taught me how to ride my bike, I learnt how to balance myself through life's turbulent spikes. When you helped me with studies, I learnt how to take charge of my own worries. When you pampered me with love and care, I knew that no matter what, my dad will always be there. Thanks dad.
5) You loved me even when I hated you, you cared for me even when I cursed you and you supported me even when I distanced myself from you. Thanks for everything dad, I love you.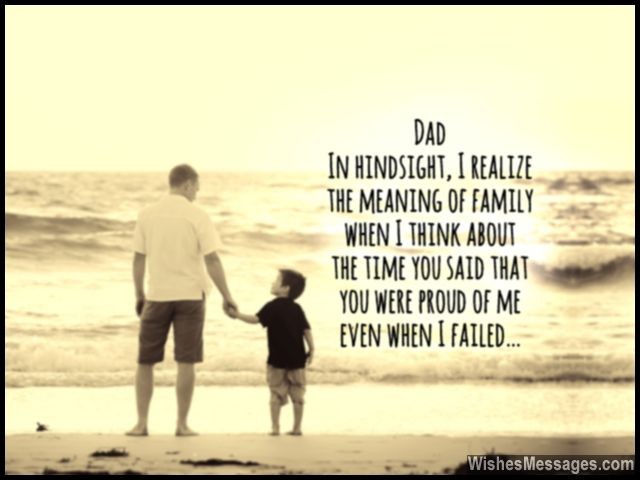 6) Dad, in hindsight I realize the meaning of family when I think about the time you said that you were proud of me even when I failed. Thanks.
7) It is not possible to be a great father until a person becomes a great human being, and dad, you are both. Thanks for everything.
8) From tolerating my rants to keeping up with my antics, I want to say thank you to a dad who is just fantastic.
9) Dad, thanks for always being my ally during my wars with mum. I love you.
10) I don't idolize Superman, Batman or Spider-Man simply because I know someone who is all of them rolled into one cool superhero, called DAD. I love you.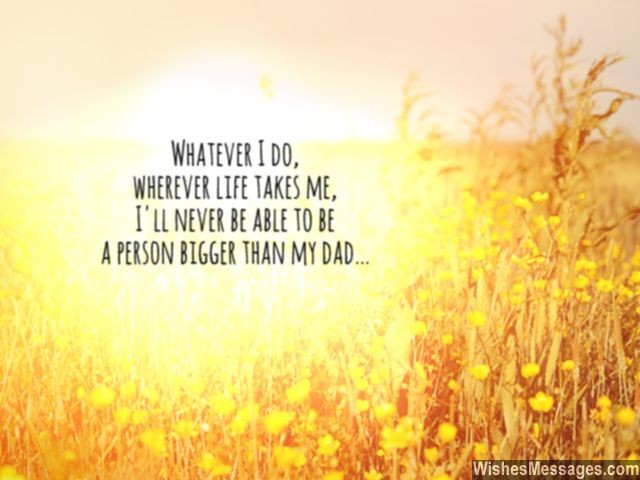 11) Whatever I do, wherever life takes me, I'll never be able to be a person bigger than my dad.
12) Dad, everything in my life would be meaningless if I didn't have precious childhood memories to anchor myself to. Thanks.
13) You supported me even when I was down. You smiled at me even when I gave you a frown. You hugged me even when I tried to push you away. For giving me a dad like you, I thank my stars every day. I love you dad.
14) My dad's heart is my personal 7-Eleven. Open 24 hours a day and 365 days a year.
15) Even though we have had the nastiest of arguments, I will cherish each and every moment. Because despite the battles and the drama, your love has always driven away my life's dilemma. Thanks dad.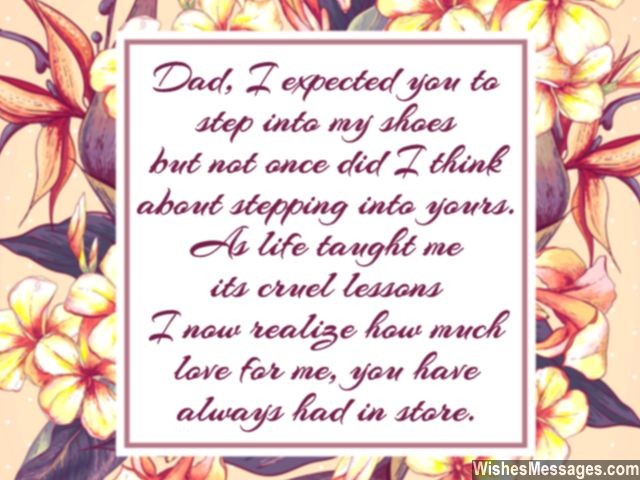 16) Dad, I expected you to step into my shoes but not once did I think about stepping into yours. As life taught me its cruel lessons, I now realize how much love for me you have always had in store. Thanks.
17) No matter how much I grow up, I will always be three things. The apple of my father's eye, the reigning queen of my dad's heart and daddy's little girl.
18) You didn't just give me birth, you gave me a good life. You didn't just provide me education, you gave me good life experience. It is men like you, who become loving dad and glorious fathers.
19) I want to thank you for not granting me every single wish when I was small, otherwise I would have never toughened up to become the strong person that I am today. Thanks dad.
20) When I was a child, I looked forward to every day because I knew it would always start with a morning hug and end with a good night tuck from you… no matter how naughty I had been. Thanks for everything dad.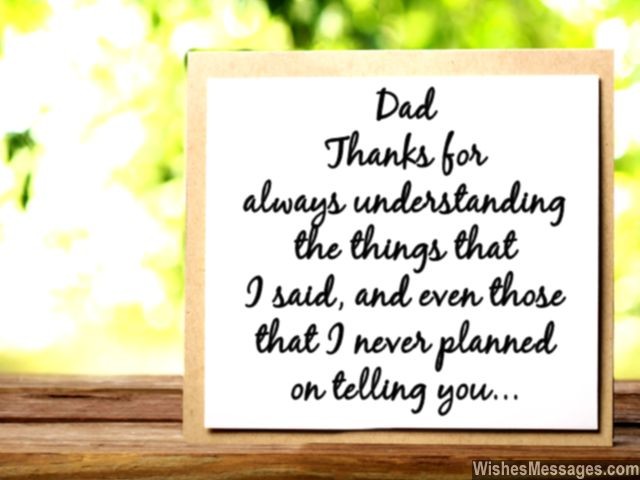 21) Dad, thanks for always understanding the things that I said, and even those I never planned on telling you.
22) If I were in your place raising a child like me, I would have been exhausted by now. Thanks for having never-ending energy levels and putting up with my never-ending demands. I love you dad.
23) Just like how it is impossible to measure infinity, it is impossible to thank you for all that you have done for me. Thanks dad.
24) In my past mistakes as I dwell, I can see how I have put you through hell. But dad, no matter how much I rebel, I just want you to know that I always wish you well.
25) I'm glad how your words have always given me life's real view, dad… today I just want to say thank you.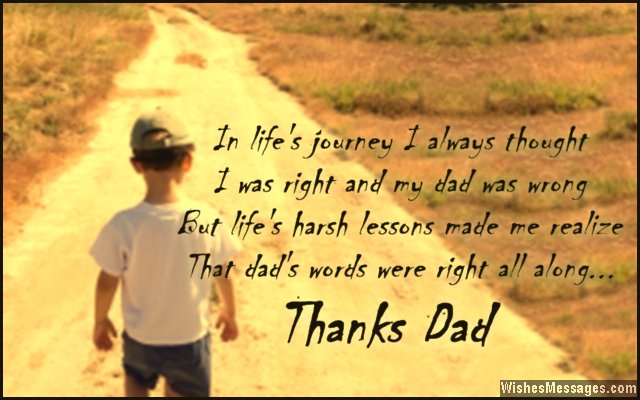 26) In life's journey I always thought I was right and my dad was wrong. But life's harsh lessons made me realize that dad's words were right all along. Thanks dad.
27) Until I had a child of my own I always thought that in life's conventional rule book, love is all about give and take. But now, I have realized that in the rule book of a father's life, love is only about giving. Thanks for everything.
28) I want to invent a new word in called BESTEST because that is what you are to me, that is what you have always given to me, and that is how my childhood has been. Thank you so much dad.
29) When I was young, I thought strength was all about lifting weights. But as I grew older, I understood that real strength is all about lifting the family though a tough phase of life, like you did. Thanks a lot dad.
30) When you took me in your arms and flew me like an airplane around the house, you didn't just play with me, you gave me the courage to soar to new heights in life. Thanks dad.
31) Dad, thanks for everything that you have done – you are to me what to earth is the sun.
32) It is because of you that I have never known what it means to have a shortage of anything in life. Thanks dad.
33) From being a girl to a woman, a lot about me has changed as I've grown older. Except that even today, I wrap my hand around my dad's finger when I see him.
34) For tolerating our tantrums, for lovingly giving in to our crazy demands, for working tirelessly for our future and for being the best dad there could ever be, I just want to say – thank you and hats off to you old man.
35) When you taught me how to jump high and shoot hoops, you actually taught me how to aim high for my dreams and achieve them. Thanks dad.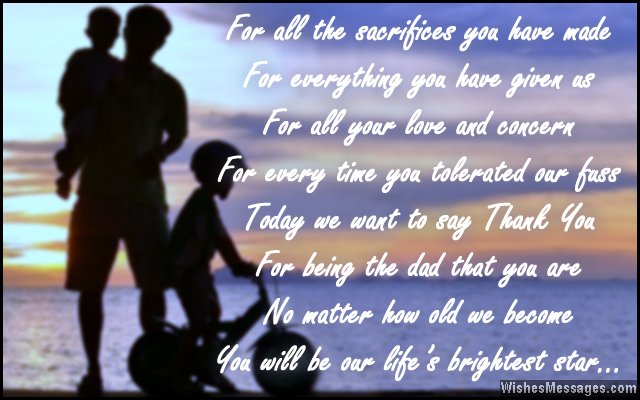 36) For all the sacrifices you have made, for everything you have given us. For all your love and concern and for every time you tolerated our fuss – Today we want to say thank you, for being the dad that you are. No matter how old we become, you will be our life's brightest star. Thank you.
37) Just so you know, my phone's wallpaper is a picture of you holding me when I was little – because the bottom of my heart is a permanent soft spot for you. Thanks for getting me the new iPhone dad.
38) You may have been a perfect husband, brilliant son, awesome uncle, reliable brother, amazing nephew and trustworthy cousin. But the way you have been an extraordinary dad beats them all.
39) For me, FATHER is the abbreviation for Forgiving Affectionate Tolerant Humble Energetic and Respected. Thanks for being the awesome dad that you are.
40) Your jokes annoy me, your punishments make me frown. Your enthusiasm at family events irritates me, your advice makes me feel bored.  But all this superficial stuff aside, I want to confess that my feelings for you are nothing but love and respect. I may be a naughty teenage girl, but deep down inside I will always be daddy's little girl. Thanks for everything dad.