I Miss You Messages for Mom after Death: Quotes to Remember a Mother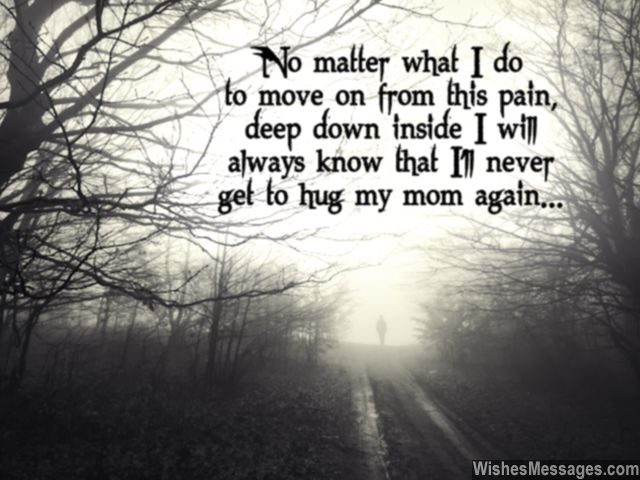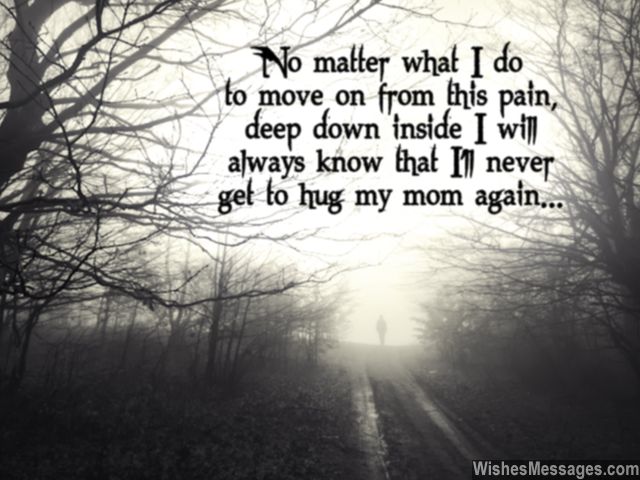 I Miss You Messages for Mom after Death: Losing a mother is a pain that cannot be described in words. It is impossible to move on from the memory of losing the woman who sacrificed happiness in her own life so that you could have a better one. A mother's love is truly irreplaceable. If you are finding it hard to cope with your mom's death, channel your emotions by seeking solace in the written word. Write your own quotes, phrases and poems. They'll help you reflect on all the beautiful childhood memories. Your writings will help you emerge out of the shadows of sadness. The wonderful memories of spending time with your mom will help heal the agony of missing her after she's passed away. Read this post and take the first step towards embracing the fact that your mom has truly become an angel who is watching you from the heaven's above.
1) No matter what I do to move on from this pain, deep down inside I will always know that I'll never get to hug my mom again. I miss you.
2) Mom, your death has caged me in pain, agony and misery. But I don't mind suffering, at least it has set you free. I miss you.
3) The skies look beautiful every day because Heaven cannot contain the beauty that you radiate. I miss you mom.
4) Mom, your memories are my life's only solace. I miss you.
5) Death thinks it can take you away from me. But it doesn't know you will always live in my memory. I miss you.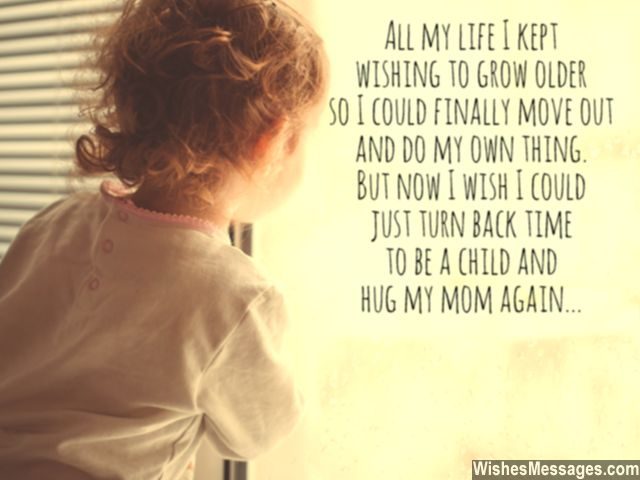 6) All my life I kept wishing to grow older so I could finally move out and do my own thing. But now I wish I could just turn back time to be a child and hug my mom again. I miss you.
7) Mourning was just another word in the dictionary. But after your death, it has become a way of life for me. I miss you mom.
8) Your death is killing me, day after day. I miss you mom.
9) The beautiful memories of the times we've spent together make me smile, only until the moment when they eventually remind me that you're no longer here. I miss you.
10) I wish could take back every pain and worry that I ever gave you. I wish that I could just undo, all the moments that made you blue. I miss you mom.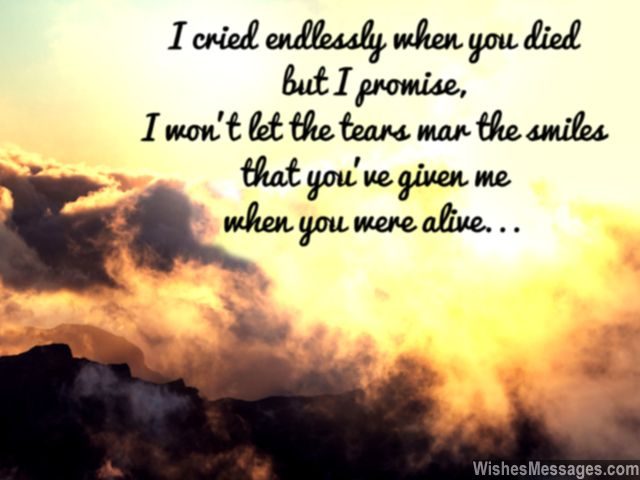 11) I cried endlessly when you died but I promise that I won't tears mar the smiles that you've given me when you were alive. I miss you mom.
12) I knew you that cancer was going to take you way eventually. I just didn't believe that eventually would ever come. I miss you.
13) The pain and regret of not making the most of every single moment we spent together is worse than the pain of your death. I miss you mom.
14) Death has taken you to a beautiful place called Heaven, but it has made my life a living Hell. I miss you.
15) Your death was a brutal lesson to me that life is so fickle. I wish destiny had given this lesson to me in a different way. I miss you.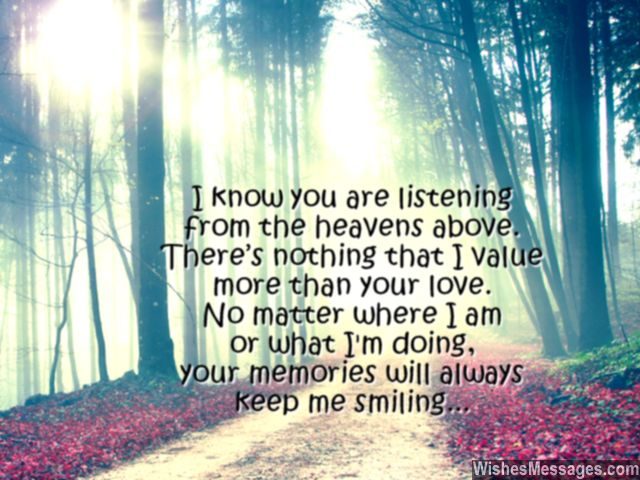 16) Mom, I know you are listening from the heavens above. There's nothing that I value more, than your love. No matter where I am or what I am doing, your memories will always keep me smiling. I miss you.
17) Your death put you to ultimate peace but it left my life entangled in a raging tornado. I miss you.
18) The world classifies you as dead but my heart classifies you as immortal. I miss you mom.
19) Your death anniversary is a painful regret of how we should have celebrated every day of our lives like a glorious anniversary while you were still alive. I miss you ma.
20) Mom, your funeral is a mourning of your death, celebration of your life and acknowledgement of the end endless sacrifices you've made to keep us happy. We'll miss you.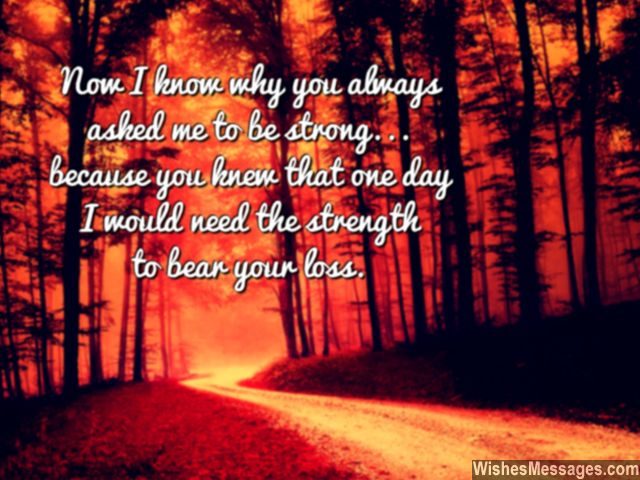 21) Now I know why you always asked me to be strong… because you knew that one day I would need the strength to bear your loss. I miss you mom.
22) I hate visiting your grave because the words on your epitaph don't do justice to the amazing person that you were. I miss you.
23) The cure of every illness, balm of every pain, assurance of every sorrow and relief for every anguish has been taken away from me – my mom's hugs. I miss you mom.
24) Life took you away from us, too young. You will always be, our hero unsung. I miss you mom.
25) For every flower that I place on your grave, I think of all those things you did to make my life as beautiful and fragrant as a bed of flowers. I miss you.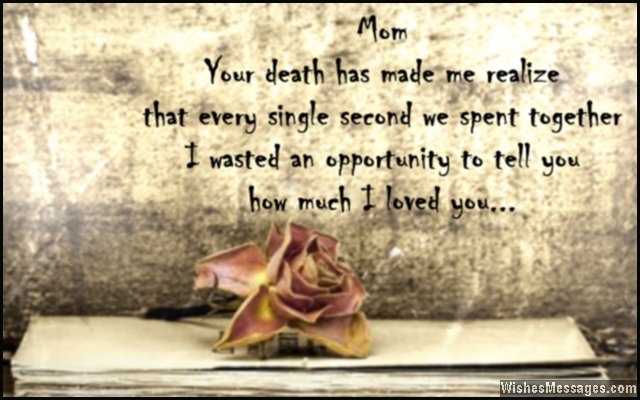 26) Mom… your death has made me realize that every single second we spent together, I wasted an opportunity to tell you how much I loved you.
27) Mom… the morning has lost its light, twilight has lost its darkness, dawn has lost its mist and evening has lost its sheen – every moment of the day has become worthless without you. I miss you.
28) I would give up my own life just for the chance to meet you again, give you a hug and tell you how much I love you. I miss you ma.
29) Know I know why everyone calls Heaven so beautiful – because it has my mother. I miss you.
30) When you were alive your presence taught me to live life in the moment without waiting for tomorrow. But after your death, your absence has taught me to live life like there is no tomorrow. I miss you.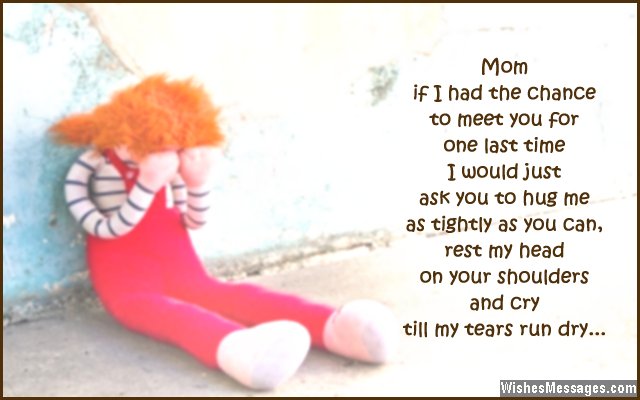 31) If I had the chance to meet you for one last time I would just ask you to hug me as tightly as you can, rest my head on your shoulders… and cry till my tears run dry. I miss you mom.
32) Had I known that destiny always takes away people you love the most, I would have pretended to hate you endlessly. I miss you mommy.
33) I've always wished for a guardian angel who would look over me from the Heavens above. I never knew that it would be you who would make my wish come true. I miss you.
34) My room has enough frames with your pictures, but my heart still remains empty without your hugs. I miss you.
35) Your death is the black hole that has sucked out every bit of happiness from the universe of my life. I miss you mom.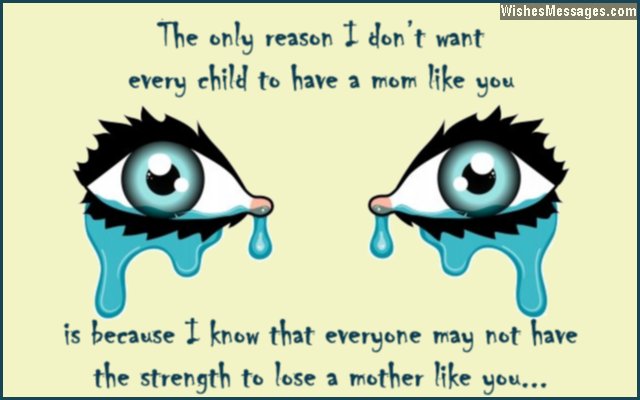 36) The only reason I don't want every child to have a mom like you, is because I know that everyone may not have the strength to lose a mother like you. I miss you.
37) Wistfulness, longing nostalgia and melancholy – they've sworn to always give me company after your death. I miss you mom.
38) Your memories take me back to the time when I used to come back home crying from school. You always gave me a hug and say 'Don't worry everything will be alright'. You are no more but your words have empowered me to become the person that I am today. Mom, I love you and I miss you.
39) I never knew death had so much power that it could beat the life out of a living person. The brutal impact of your absence has left me lifeless. I miss you mom.
40) Most people can only dream about seeing an angel. I had the pleasure of living my whole life with one, and remembering her after she flew away into the heavens. Mom, I miss you.