Good Morning Messages for Wife: Quotes and Wishes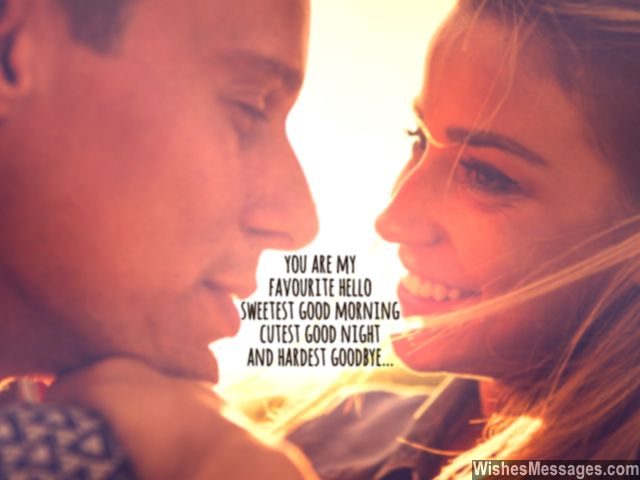 Good Morning Messages for Wife: Don't let the humdrum of married life get the better of you. Add a romantic touch to your mornings with the sweetest wishes and greetings. Write it as a quote on a handwritten note and slip it into her pockets or her bag. Surprise her with random cute texts and tag her in adorable tweets. Go through Pinterest and share a few pins that make her smile. Hop over to Facebook and let the world know how amazingly lucky you are to have a wifey like her. All this mushy stuff might sound a bit too cheesy but you will be amazed at how little things like these spice up your relationship. Hugs, kisses and endless flirting – love will bloom and life will be infused with happiness unlimited.
1) You are my favorite hello, sweetest good morning, cutest good night and hardest goodbye.
2) If don't care if the sun rises or not, as long as I am with my wife who I love a lot. Good morning.
3) I will never find out which is more – my love for your hugs or my craving for your kisses. But this is one confusion I am ready to live with as long as I get lots of both. Good morning.
4) Life is a puzzle and marriage is a maze but it is one hell of a fun ride with a partner like you. Good morning.
5) The sun doesn't rise in the east, it rises right next to me in my bed. Good morning sunshine.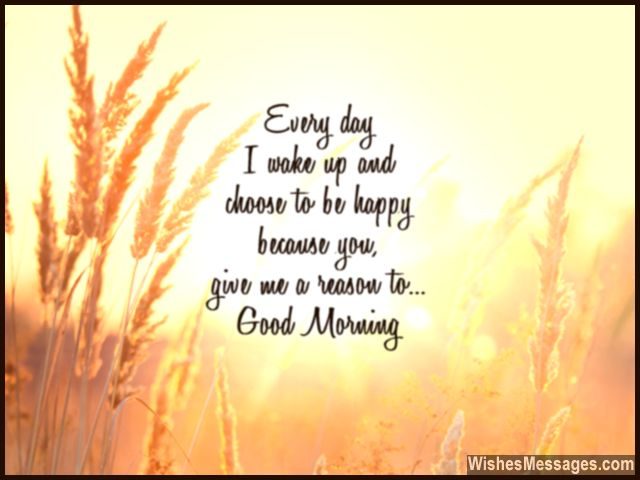 6) Every day I wake up and choose to be happy, because you give me a reason to. Good morning.
7) I always wanted you as my wife, just like how my heart always needed you as its life. Good morning.
8) Our marriage gives me a reason to succeed, a reason to work harder, a reason to face challenges, a reason to smile and a reason to be alive. Good morning sweetheart.
9) I always thought that our wedding would be the most beautiful memory of my life but I was wrong. Each and every day of our lives is becoming a memory more beautiful than the previous one. Good morning.
10) Your hugs light my life up like sunshine. Good morning.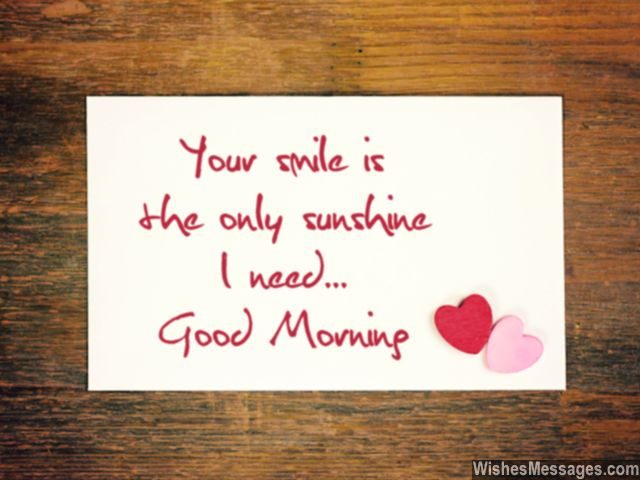 11) Your smile is the only sunshine I need. Good morning.
12) If I had nothing else to do, then I would never stop looking at you. Good morning.
13) Even the most picturesque sunset can't match the beauty of the sight of the sun's first rays bouncing off your beautiful face. Good morning.
14) For all those who say that marriage isn't worth it, I say that marriage is the best thing to have ever happened in my life. I may not be getting wasted at pubs and bars with my mates but I get to cuddle with someone whose life revolves around mine. I love you sweetheart, good morning.
15) Sweetheart I am right behind you, I support you and I want all your dreams to come true. Good morning, I love you.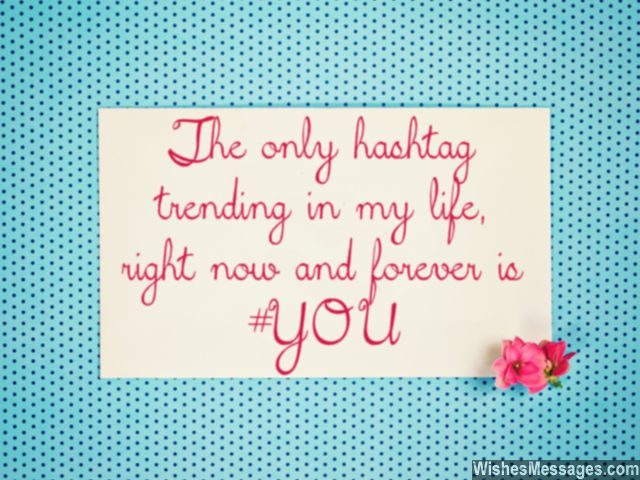 16) The only hashtag trending in my life, right now and forever, is #YOU. Good morning.
17) All the dark storms in my life passed away when my world was smothered by the warm sunshine of your love. Good morning.
18) Life is never perfect. It is full of twists and turns which throw up challenges and problems. But it is all worth it because the first thing I see when I wake up are your beautiful eyes. Good morning.
19) The best thing about my life is YOU. Good morning.
20) Even when I wake up I feel like I am in a dream because you are the woman of my dreams. Good morning.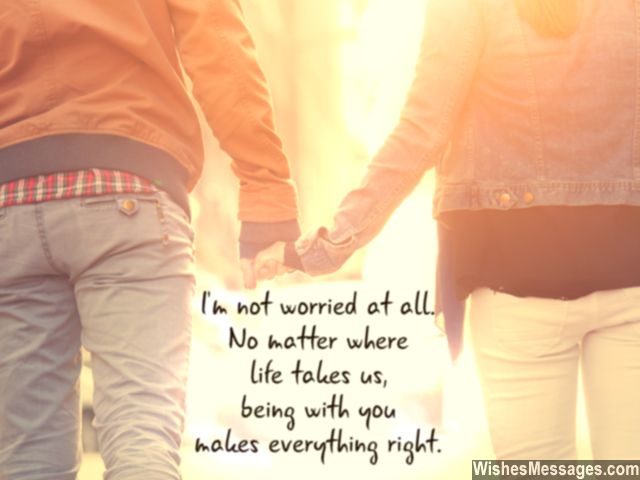 21) I'm not worried at all. No matter where life takes us, being with you makes everything right. Good morning.
22) I believe in destiny, I believe in fate and I believe in miracles because without these I just can't explain how the world's most beautiful woman became mine. I love you, good morning.
23) My life has been anything but easy. I've been put down and pushed around. Fighting with the voices in my head had made me numb, until you came along… and suddenly I had a reason to look forward to a better future. I love you.
24) Our marriage is the best proof that TRUE LOVE exists, and you are the best proof that PERFECT WIFE is not a myth. Good morning.
25) Every morning I am reminded of my life's best decision – marrying the most beautiful woman in the world. Good morning sweetheart.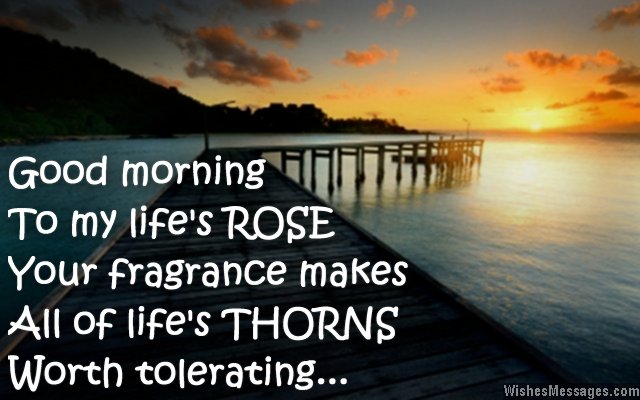 26) Good morning to my life's rose. Your fragrance makes all of life's thorns worth tolerating.
27) A lot of people dream about being in heaven. But I must be the only man in the whole world to wake up to heaven – the sight of a face as beautiful as yours. Good morning.
28) I don't care whether it is day or night, as long as I have my beautiful wife in sight. Good morning.
29) I love unwrapping gifts. Every morning I unwrap the best gift of my life – my wife's love. Good morning.
30) I don't care whether my morning coffee is a cappuccino, latte or a mocha. My favorite coffee is the one that I share with you. Good morning.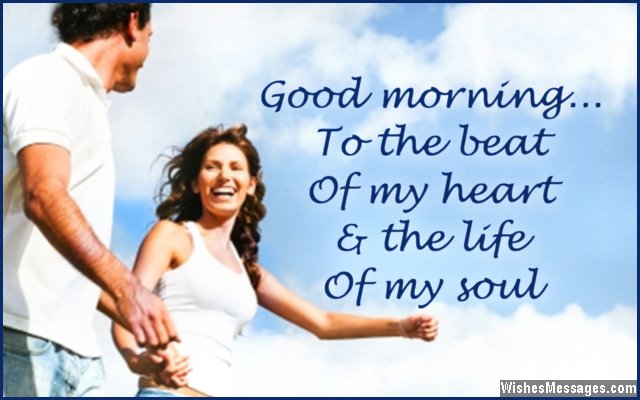 31) Good morning to the beat of my heart, the life of my soul, the vision in my eyes and the life in my breath.
32) Good morning to my wife, who is the bounce in my step and the twinkle in my eyes.
33) Every morning I wake up to the thought of having a beautiful wife and a loving family. I feel thankful for getting more than I could have asked for. I don't mind if time pauses right now for eternity. Good morning.
34) Every morning I feel thankful for two beautiful things – my life and my wife. Good morning.
35) You are the only person in my life who can replace sunshine. Good morning.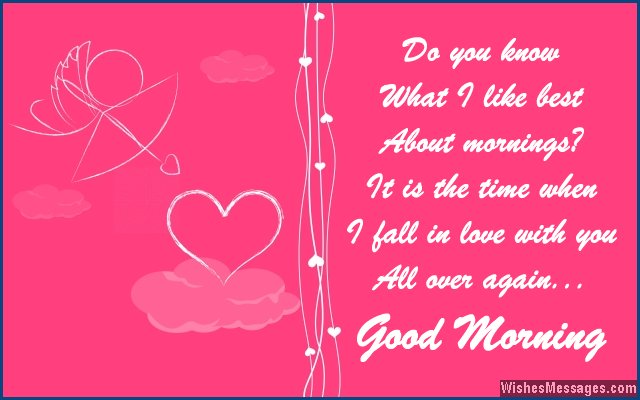 36) Do you know what I like best about mornings? It is the time when I fall in love with you all over again. Good morning.
37) Every morning I wake up to realize that my life is not ordinary, because I have a wife who is extraordinary. Good morning.
38) I love gazing in your eyes in the morning because in them, I can see a beautiful future for us. Good morning.
39) I love the fact that I get to wake up every morning to the sight of a woman as beautiful as you and the thought of being the husband of a wife as loving as you. Good morning dear.
40) My love is not blind, but I am blinded by your sheer beauty. Good morning.