I Love You Messages for Wife: Quotes for Her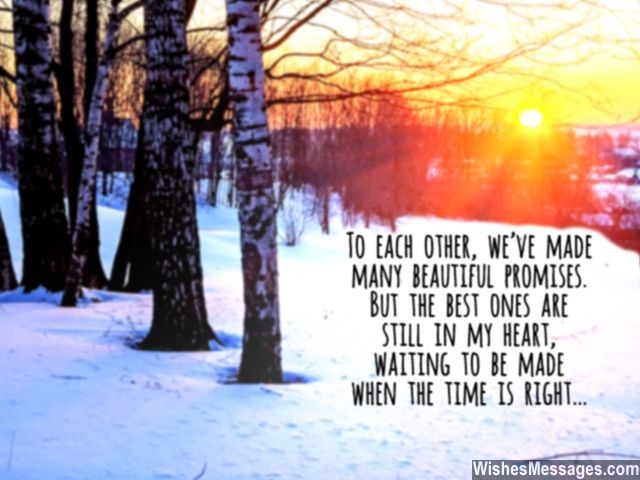 I Love You Messages for Wife: Don't wait only for anniversaries, Valentine's Day and birthdays to write a romantic quote for her. Make her feel like a queen by sending her sweet texts on a random day. If texting is not your thing, write something cute on a note or a greeting card. You can even post mushy and funny stuff on Facebook or Pinterest. Better yet, tag her in the most awesome tweet you've sent out in a while. Regardless of how many years have passed by in your marriage, it is never too late to start laying your feelings bare. She might not say this to you, but inside every woman is a girl who longs to be wooed and pampered. Don't take her for granted and show your wife that you are indeed, the loving husband that she imagined you to be.
1) To each other, we've made many beautiful promises. But the best ones are still in my heart, waiting to be made when the time is right. I love you.
2) If I were a cell phone, you would be the charger. I would be dead without you. I love you.
3) The surreal sun-kissed hues of Instagram are nothing new for me. My life was already drenched in rosy tints since the day we got married. I love you.
4) The epitome of romance, the pinnacle of commitment and the essence of marital bliss, is what our love life is. I love you.
5) If our lives were a ship, I would call it LOVE FOREVER. Happy sailing.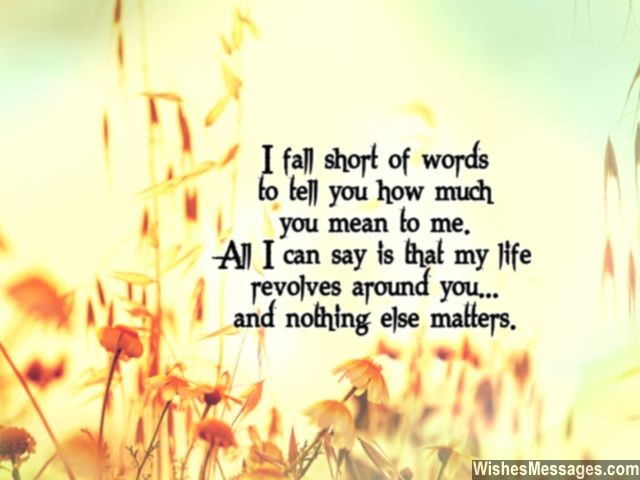 6) I fall short of words to tell you how much you mean to me. All I can say is that my life revolves around you… and nothing else matters. xoxo
7) You are, not just the mother of my children, but also the beat of my heart. You are, not just the queen of this family, but also the woman of my dreams. I love you.
8) It doesn't matter how many years pass by, the flight of our love will always fly high. I love you.
9) You've made my imperfections seem perfect and all my shortcomings appear complete. I don't know how I'll ever be able to thank you for everything you've done. But I promise, I'll never stop trying. I love you.
10) Fights and arguments, ups and downs. Hugs and kisses, smiles and frowns. We'll sail through it all together, not just now but forever. I love you.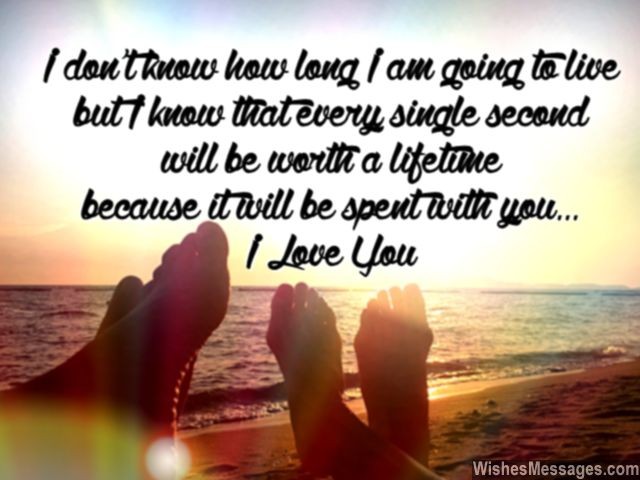 11) I don't know how long I am going to live but I know that every single second will be worth a lifetime because it will be spent with you. I love you.
12) After being married to you all these years, I have developed a short term memory loss. Every time you flash that sensuous smile of yours, I am knocked out of my senses. I love you.
13) If I had to pick between laughing together and crying together, I would pick crying because I'd never want you to cry alone. xoxo
14) I don't know the official definition of WIFE but for me it means – the Woman who is Independent, Fun loving and Eternally in love with me. You fit this definition perfectly. I love you.
15) If I was granted just one wish, I would ask for a longer life. The number of years I am destined to live on this planet may not be enough for me to tell you how much I love you.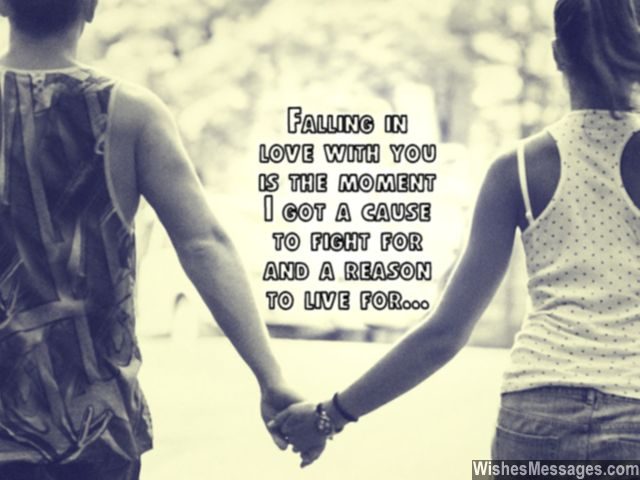 16) Falling in love with you is the moment I got a cause to fight for and a reason to live for. I love you.
17) Despite the ups and downs, I have absolutely no regrets in life because it all led me to you. I love you.
18) I don't need to add sugar in my coffee because your kisses are all the sweetness I need in my life. xoxo
19) If you replace L in life with W, you get wife. That is because life isn't worth living without a lovely wife like you. I love you darling.
20) No matter how hard and punishing a day has been, I know I'm going home to the most beautiful person there has ever been. I love you.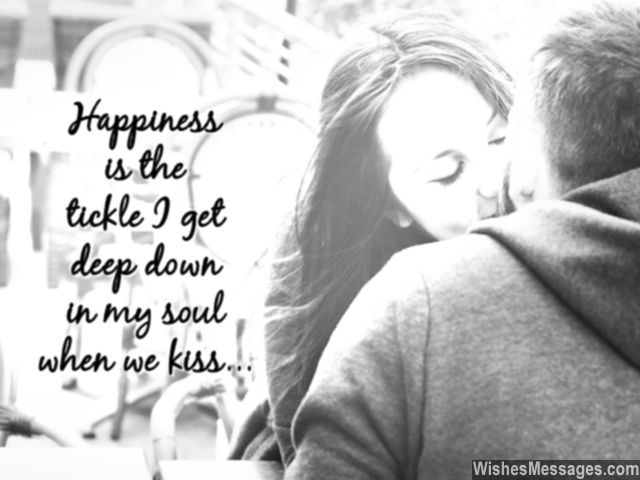 21) Happiness is the tickle I get deep down in my soul, when we kiss. I love you.
22) From dating to wedding and from mortgage to kids, life has been a beautiful ride because I had you by my side, through it all. I love you.
23) I feel like I am drowning every single day and your kisses are my life-saving gasps of air. I love you.
24) The doctor told me that antioxidants and omega-3 fatty acids are important for my longevity. But my heart believes that all it needs are your hugs and kisses. xoxo
25) I may have made some stupid mistakes in my life. But everything became right ever since the day you became mine. I love you.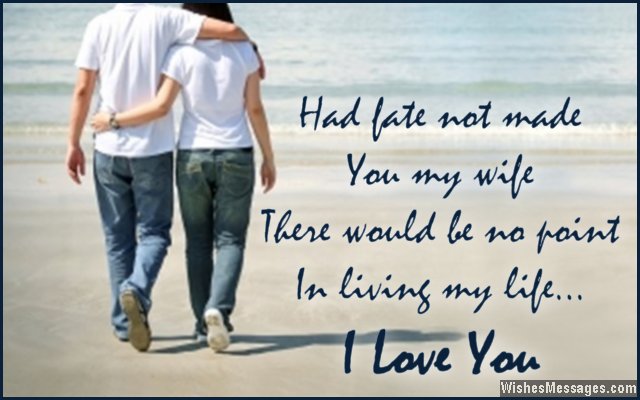 26) Had fate not made you my life, there would be no point living my life. I love you.
27) My love for you is like a delightful mix of addiction, dependency, need and obsession. xoxo
28) People get high on tequila shots, while I get high on you. I love you.
29) Our wedding hasn't drastically flipped my life upside down. But it has definitely become free of frowns. I love you.
30) Researchers, miners and explorers who spend millions on finding the world's most precious gems are fools. They don't know that I have stolen it already and it is called YOU. I love you sweetheart.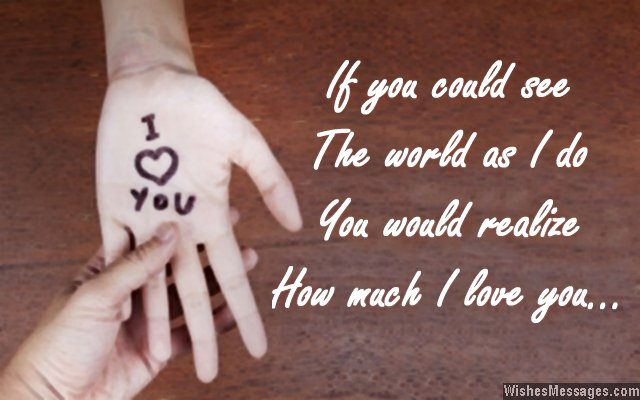 31) If you could see the world as I do, you would realize how much I love you.
32) I wish I could invent a new language of love. Words in the English dictionary are not enough to express how much I love you.
33) Early mornings and late nights are the best part of my day because I get to kiss my wife Good Morning and Good Night. I love you.
34) I will never need an energy drink to give myself a boost, as long as I see that luscious smile on your beautiful face. I love you.
35) Your beautiful face is like a bright sun. I could pass out if I looked at it too long. I love you.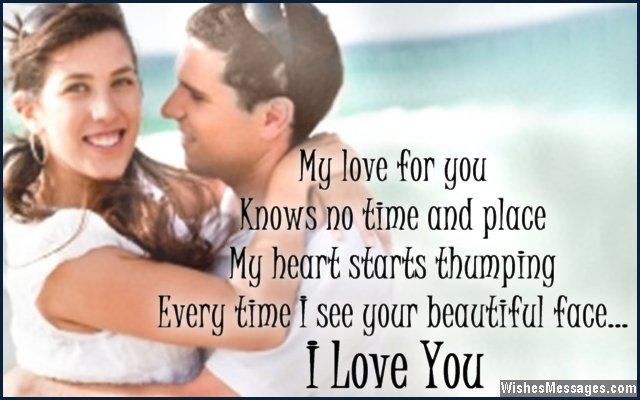 36) My love for you knows no time and place. My heart starts thumping every time I see your beautiful face. I love you.
37) When I fell in love with you, I didn't just give you my heart. I gave you the remote control of my entire life. I love you darling.
38) It doesn't matter if my eyes are open or close. They're always looking at you. I love you.
39) Ever since the day we got married I have felt that I am living in heaven, because I have an angel by my side. I love you.
40) From fixing my wrongs to adding value to my rights, you've made life a journey worth all the troubles. I love you.