Congratulations for Having Twins: Newborn Baby Card Wishes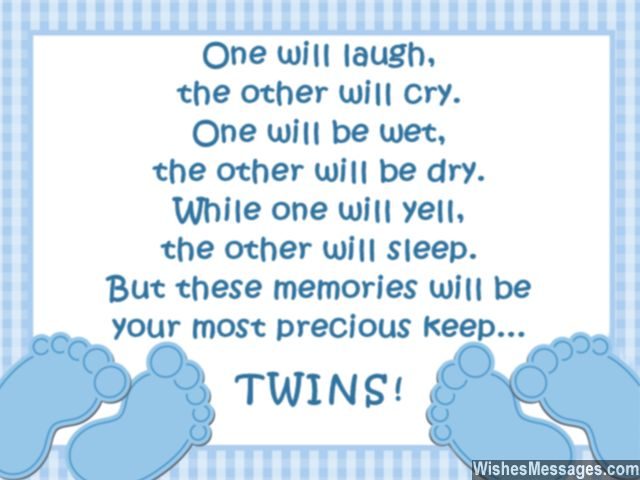 Congratulations for Having Twins: As if one baby boy or a baby girl weren't enough, giving birth to twins is a beautiful miracle that very few mothers and fathers get to experience. If you know someone in your family or friend circle who has been blessed with twins, be a part of the once in a lifetime celebration by posting sweet quotes and wishes on their Facebook and Pinterest. Follow it up with a cute greeting card and gifts for their babies. Splurge, share, celebrate and cherish – too much is never enough when parents are blessed with two adorable newborns at the same time.
1) One will laugh, the other will cry. One will be wet, the other will be dry. While one will yell, the other will sleep. But these memories will become your most precious keep. Congratulations for having twins.
2) Congratulations, you are the lucky winners and recipients of Life's one-plus-one-free offer. Enjoy.
3) The stork was in a good mood when he came to you, that's why instead of one he got you two. Congratulations.
4) I was expecting you to become a family of three, but you got an extra one for free. Congratulations for becoming a family of four, by having twins that you can lovingly adore.
5) With one as radiant as the sun and the other as glowing as the moon – you have the whole universe in your lap. Congratulations for having twins.
6) While you will have double the happiness and double the cuddles, you will also have double the cries and double the troubles. Congratulations, in double.
7) Not all couples are capable of being good parents to just one child, let alone two. Life gave you twins because it knew, that there was no one else more capable to raise them but you. Congratulations.
8) Managing twins is like going through a beautiful storm… it will turn your life upside down but you'll come out smiling with precious memories. Congratulations.
9) Forget all the happy memories of the life that you've had so far. As compared to being parents to twins, nothing comes at par. Congratulations.
10) I am glad you had twins. Just one carrier of your awesome DNA wouldn't have been enough. Congratulations.
11) Your life is about to be smothered by heart-warming cuteness, excessive sweetness, loads of happiness, tender blissfulness and memories priceless. Congratulations for having twins.
12) Yes, you'll have to change two diapers instead of one. But you'll have four arms hugging you instead of two. Congratulations for having twins.
13) Reasons to celebrate, you have more than one. God had blessed you with two bundles of fun. Congratulations.
14) By having twins, you have given yourself not one but two pillars to rest your remaining life on. Congratulations.
15) Your life's best time is about to begin, now that you have given birth to twins. Double the pain, double the joy… now that you have, a girl and a baby boy. Congratulations.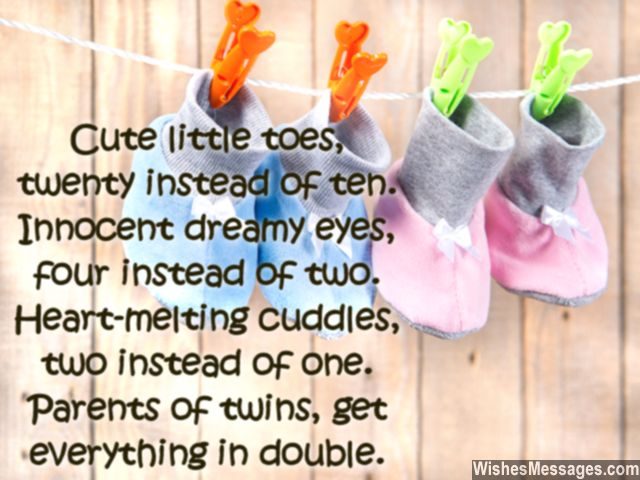 16) Cute little toes – twenty instead of ten. Dreamy eyes – four instead of two. Heart-melting cuddles – two instead of one. Parents of twins, everything in double.
17) Having twins is like setting up a new business – double the hard work in the beginning, but double the return as the years go by. Congratulations.
18) Identical or fraternal… who cares when the twins are so adorable. Congratulations.
19) Lucky folks like you always get more than what they wish for. Congratulations for having twins.
20) Having twins means that the parents never have to fight over who gets to hold the baby. Congratulations.
21) One heart in your body and two cute adorable babies – how will you possibly do justice? Congratulations.
22) God gave you twins because your intense motherly love was too vast to be absorbed by just one adorable baby. Congratulations.
23) Having twins is symbolic of the fact that you always have more love to give than you think you have. Congratulations.
24) Look at the bright side. At least you won't have to spend for two separate birthday parties. Congratulations for having twins.
25) Always be a fair parent by giving the same to both your twins – except medicines. Congratulations.
26) Now that you have twins, it's time for you to switch from Wal-Mart to Costco… and start buying supplies in bulk. Congratulations.
27) Confusion and chaos, brouhaha and brawls, cacophony and commotion – welcome to your new life with twins. Congratulations.
28) It wouldn't be fair if only one child got the chance to grow up in your beautiful home with a loving mother and a caring dad. No wonder you were blessed with twins. Congratulations.
29) Congratulations for giving birth to twins – a cute boy and a beautiful girl. Now sit back, enjoy watching them grow up… and let the happiness unfurl.
30) Congratulations for your twins and thanks for not giving your family members the trouble of remembering two birthdays.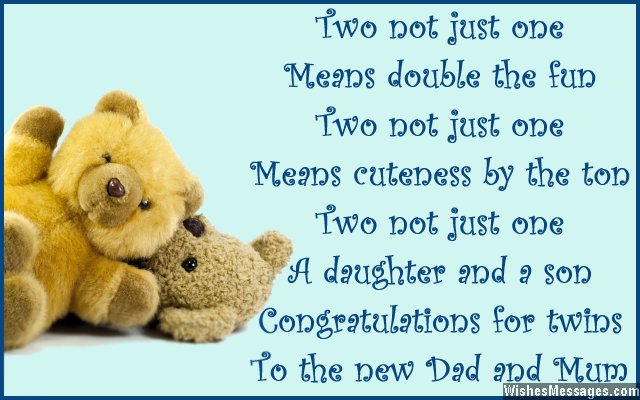 31) Two not just one, means double the fun. Two not just one, means cuteness by the ton. Two not just one, a daughter and a son. Congratulations for having twins, to the new dad and mum.
32) Can you believe it? In-between your husband and your twins, you have 6 arms to hug you. Congratulations.
33) Sorry to say, but your newborn twins have beat you both to become the cutest pair in the whole world. Congratulations.
34) Having twins means double the work, but also double the happiness – making it all the more priceless. Congratulations.
35) People will say you have two new reasons to smile. But in reality, you have a million. Congratulations for your twins.
36) Bringing up twins is definitely going to be challenging. But I bet your experience is going to be amazing… simply because you will be the most caring, loving, giving and nurturing parents the world has ever seen. Congratulations.
37) Who will wear red and who will wear blue. In sorting out this confusion, I wish good luck to you. Congratulations for having twins.
38) May everything in your life be nice, may good things happen just like your twins – twice. Congratulations.
39) I always knew that you were an efficient person, but by having two babies at once… you've taken the meaning of efficiency to a whole new level. Congratulations.
40) Now that you have TWO, 'TOO much to handle' will be an obsolete phrase in your life's dictionary from now on. Congratulations.