Birthday Wishes for Son: Quotes and Messages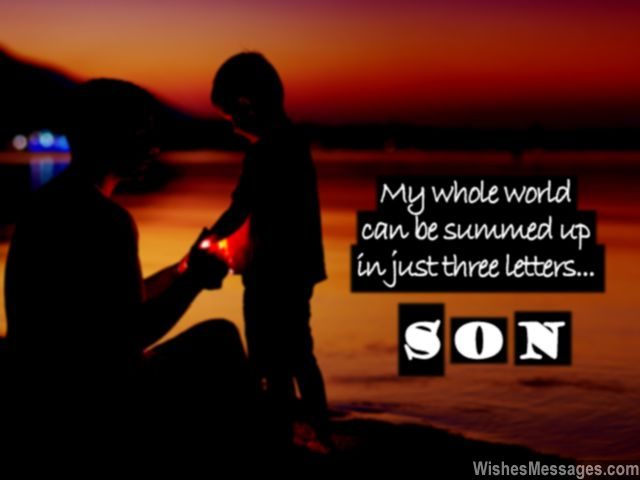 Birthday Wishes for Son: It is just not enough to buy a stock greeting card for your son to wish him a Happy Birthday. Write a sweet personalized message or a touching quote to show him how much mom and dad cherish his presence in their lives. Whether your son is an adorable preteen, rebellious teenager or a young adult trying to carve out his own path in life – stay away from the cliché rhymes. Be creative and pen down something from your own heart. You'll be amazed at how your son will be able to emotionally relate to the words that you've written. Follow your wishes up with a post on Facebook, cute tweets and maybe even a funny text. If your son is just a toddler, save your card as a keepsake in a separate drawer. Give it to him when he grows older. He'll have tears of happiness as he reads the beautiful words and reflects back on his childhood.
1) Our whole world can be summed up in just three letters – SON. Happy birthday.
2) We always thought that miracles happened to one in a billion. We never imagined that we would be the lucky chosen ones until we had you as our dear son. Happy birthday.
3) As you blow the candle on your cake, just remember that your love is the candle that will forever glow in our hearts. Happy birthday.
4) All of it – is the only place you have in my heart. Happy birthday son.
5) Regardless of whether you are an old man or a young teenage boy, you will forever remain our little bundle of joy. Happy birthday son.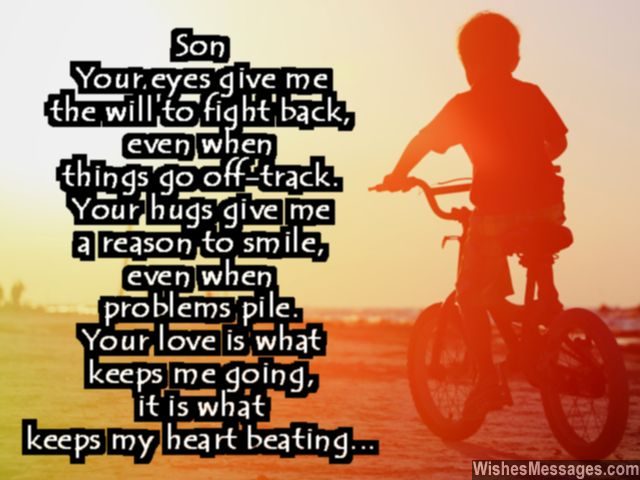 6) My son… your eyes give me the will to fight back, even when everything goes off-track. Your hugs give me a reason to smile, even when problems pile. Your love is what keeps me going, it is what keeps my heart beating. Happy birthday.
7) On the day we got married, our lives were happy. On the day you were born, we became in-sync with our destiny. Now that you are growing up, our lives have become meaningful. You are the reason, why everything is so beautiful. Happy birthday son.
8) Whenever life gives you a hard time, come give us a hug. No matter what you do or how old you become, for us you'll always be our little son. Happy birthday.
9) When you were a toddler I never wanted to let you go from my arms. Even though you were small, everyone succumbed to your charms. When you started growing up I never wanted to let you out of my sight. Even though you hated it, I hugged you often with all my might. When you became a teenager I never wanted to see you go away. But as you turn eighteen, I am bracing myself to see that fateful day. Happy birthday son.
10) Dear son, you are the only reason we look forward to life with a smile and you will be the only reason we look back on life with a smile. Happy birthday.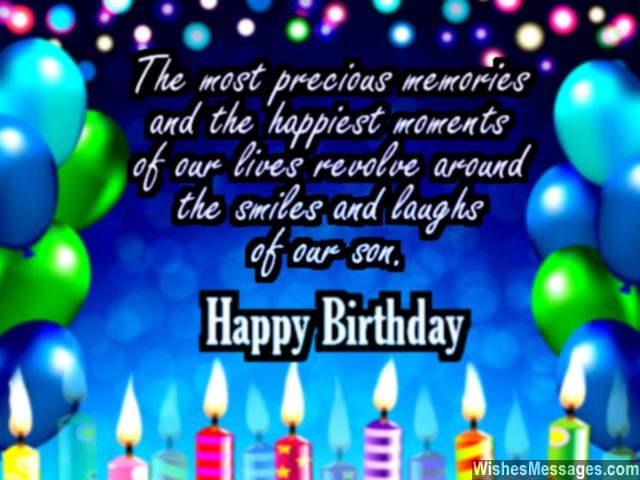 11) The most precious memories and the happiest moments of my life revolve around the smiles and laughs of just one person – my son. Happy birthday.
12) Sons like you should be called Suns because you are literally the bright daylight in our lives. Happy birthday.
13) On your birthday we wish you nothing but luck and happiness. We hope you fulfill all your dreams and surge ahead in the direction of success. Happy birthday son.
14) We are old school, so we will hug you on your birthday instead of pressing the like button on your Facebook and we will sing you Happy Birthday instead of tagging you in tweets on Twitter. Happy birthday son.
15) Our toddler, you will always be. A piece of our hearts, you will always be. The apple of our eyes, you will always be. Our life's purpose, you will always be. Happy birthday, sonny.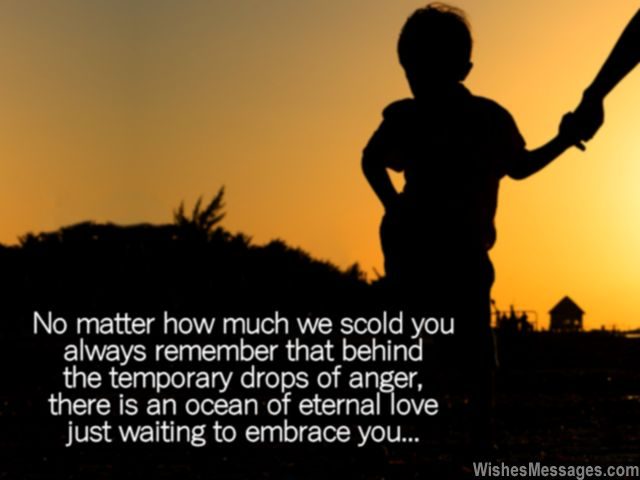 16) No matter how much we scold you always remember that behind the temporary drops of anger there is an ocean of eternal love just waiting to embrace you. Happy birthday son.
17) I always thought that I would be a role model for my own son. But little did I ever imagine that one day, my son would be a role model for me. Happy birthday sonny.
18) Dear son, you are our life's most awesome home run. Happy birthdays.
19) No matter how old you grow, our love for you will always show. No matter where you are, ours will be the best wishes by far. No matter how rich you become, you will always remain our little son. Happy birthday.
20) Son… you make every single day of my life feel like Mother's Day. Happy birthday.
21) A room in our home and a space in our hearts, will be filled with a vacuum as your college starts. Happy birthday son.
22) You are getting taller and taller with each birthday. Thank god you are showing at least some sign of growing up. Happy birthday.
23) Whenever you face life's storms, just remember our hugs that were warm. Whenever you face difficulty, just think about the love of your family. Whenever you face hurdles, look back at your childhood, so special. Whenever you feel lonely, just think of mommy and daddy. We love you, happy birthday son.
24) The sitcom of our life became a blockbuster hit after you came in a supporting role and later took over as the lead. Happy birthday sonny.
25) We knew that our message would be lost among the heaps of birthday wishes you would get on Facebook. So here's a plain old reliable handmade card from your plain old and reliable parents. Happy birthday.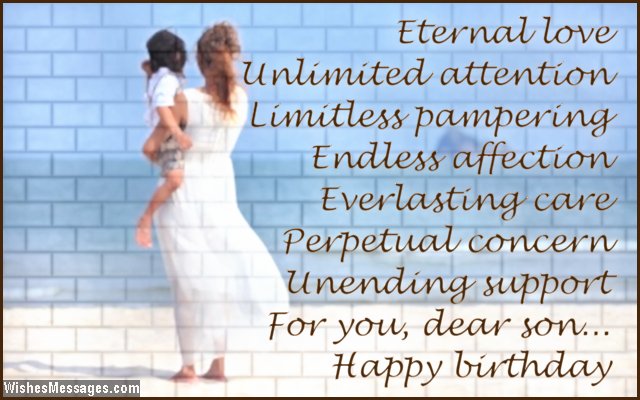 26) Eternal love, unlimited attention, limitless pampering, endless affection. Everlasting care, perpetual concern, unending support, for you dear son. Happy birthday.
27) Your birthday is a reminder that you have grown up and you are ready to start paying all your personal bills yourself from now onwards. Happy birthday son.
28) The sweet flavor of your cake represents the sweetness you have infused in our lives and its icing represents how you have become the pinnacle of our happiness. Happy birthday son.
29) I may have taught you to become a good student, good citizen, good sportsperson and a good mate. But you my son, have taught me the most important thing of all – how to become an amazing father. Happy birthday.
30) A son is the best asset any parent can have to offset life's liabilities of life. From you, we keep reaping the rewards and gains of the purest love there can ever be. Happy birthday.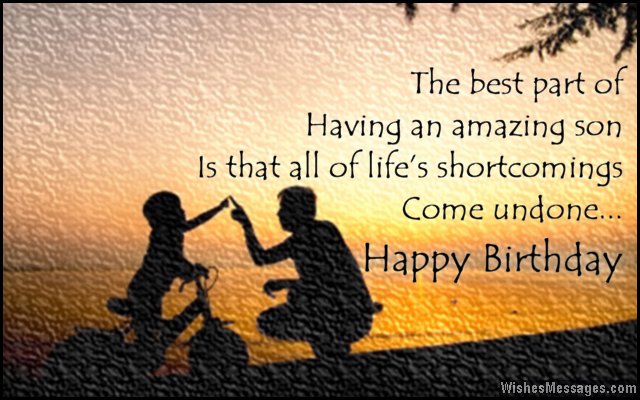 31) The best part of having an amazing son, is that all of life's shortcomings come undone. Happy birthday.
32) When your mother was pregnant we asked God to give us a child who grows up to become honest, hard working and successful. You are living proof that God does answer prayers. Happy birthday son.
33) Don't you dare tell us to stop bringing you a birthday cake just because you are older now. You are never too old to be treated like a toddler by your parents. Happy birthday sonny.
34) Every father secretly wishes that his son grows taller, and wiser than him. Congratulations – at least you've grown taller. Happy birthday.
35) The only topic on which your mother and I have fought endlessly is deciding on who loves you more – and we are still fighting because both of us adore you from the core of our hearts. Happy birthday son.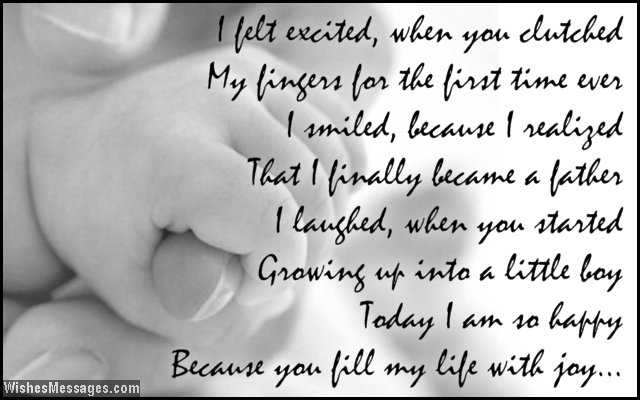 36) I felt excited, when you clutched my fingers for the first time ever. I smiled, because I realized that I finally became a father. I laughed, when you started growing up into a little boy. Today I am so happy, because you fill my life with joy. Happy birthday son.
37) It is great to have a son who you can love. But it is the best feeling in the world when your son loves you back endlessly. Happy birthday to one such son.
38) Before you were born we could never imagine our lives as parents. Now we can never imagine living our lives without being parents to a son as adorable as you. Happy birthday.
39) As husband and wife we never knew that apart from each other, there was someone else who could come into our lives, steal our hearts and we would still be okay with it. Happy birthday son.
40) Now that you are growing up and demanding that we treat you as a young adult, you might as well as start taking up responsibility around the house, don't you think? Now go mow the lawn, happy birthday.