Birthday Poems for Grandpa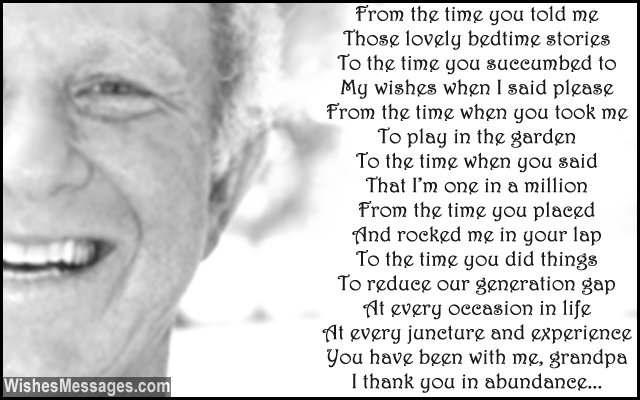 Birthday Poems for Grandpa: Wish your grandfather a happy birthday by writing a sweet poem that makes the old guy break into a heart-warming smile. Take ideas from this post to write rhymes that reek maturity, wisdom and cuteness that is at par with your grandfather's personality. Don't forget to include funny one-liners and witty quotes. Post it on Facebook and Pinterest if your gramps is on social media. If not, write it on a greeting card and hand it to him in person. Make him proud to have such considerate and loving grandson or granddaughter like you. All these years, your grandpa has showered his undying love on your dad, mom and now his grandkids – his birthday is your chance to give it back.
1) From the time you told me
Lovely bedtime stories
To the time you succumbed to
My wishes when I said please
From the time when you took me
To play in the garden
To the time when you taught me
That I'm one in a million
From the time you placed me
And rocked me in your lap
To the time you did things
To reduce our generation gap
At every occasion in life
At every juncture and experience
You have been with me grandpa
I thank you in abundance
Happy birthday
2) All grandfathers are simply the best
They are a cute and a sweet tribe
Affectionate, caring and lovable are the qualities
Deservingly to them, which I ascribe
But you take all this to a whole new level
With your cuteness and adorableness
Gramps, you are the family's superstar
You are the source of all our happiness
Happy birthday
3) The most comforting feeling in the world
Is when I hold your wrinkled hand
The most loving feeling in the world
Is when, in your lap my head lands
The most emotional feeling in the world
Is when you give me a peck on the cheek
The loveliest feeling in the world
Is when you give me the answers in life I seek
The most mature feeling in the world
Is when you share your wisdom and views
The warmest feeling in the world
Is knowing that I have a grandpa like you
Happy birthday
4) My weekends would be boring
Without your company
My holidays would be pathetic
If you didn't spend time with me
My summer breaks would be unexciting
If I didn't visit your place
My vacations would be meaningless
If I didn't see your loving face
Now can you see how much I love you
And how fond of you I am
Gramps, without you
My life would have been a sham
Happy birthday
5) When I am down, I just stare in your eyes
And I get overcome with a sudden calm
Because the depth in your soul
To my heart, is a healing balm
Whenever I feel afraid, I talk to you
Your voice is like a soothing lullaby
Although I don't say this to you every day
Gramps, your company lifts my spirits high
Happy birthday
6) Dear grandpa
You are the man
That I look up to
When I grow older
I want to be just like you
You are the kind of person
That I aspire to be
When I start to age
You are the I want to copy
Your soul is the kind of treasure
That I want to inherit
I will do everything
To be like you, bit by bit
Happy birthday
7) Who is the best in the world
Who is the perfect person
Who is a fine gentleman
With whom, I have had so much fun
Who is the best father figure of all
Who is the best guide
It is my grandfather
My family's pride
Happy birthday
8) Every time you held my little finger
Every time you ran your hand through my hair
Every time you patted my back
You gave me love and assured me that life is fair
Every time you sat down with me to talk
Every time scolded me for a silly mistake
Every time you showed me right from wrong
From my innocent slumber, you helped me to be awake
For a grandpa who has been with me
At every step of the way
Throwing a party and cutting a cake
Is the least we can do to make his day
Happy birthday
9) He is so cute
He is so cuddly
He is so soft
He is so bubbly
He is so lovable
He is so sweet
To the soul
He is a pure treat
I am not talking
About my teddy bear
I am talking about
My gramps, for whom I care
Happy birthday
10) Do you know why I am so handsome
Because I have your DNA
Your genes are the reason
I am becoming smart day by day
Do you know why I am so intelligent
That is because it is hereditary
Getting these qualities is natural
Because I have a grandpa who is legendary
Happy birthday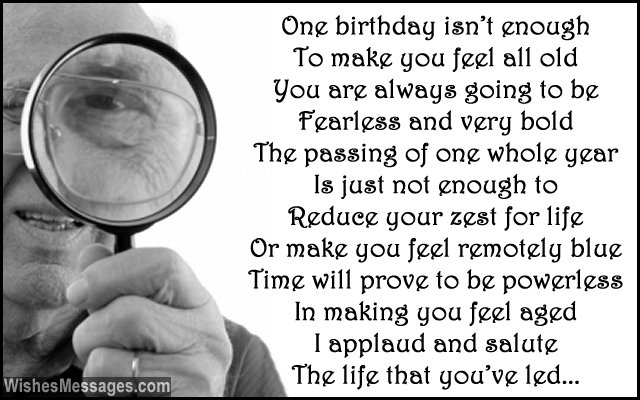 11) One birthday isn't enough
To make you feel all old
You are always going to be
Fearless and very bold
The passing of one whole year
Is just not enough to
Reduce your envious zest for life
And make you feel blue
Time will prove to be powerless
In making you feel aged
I applaud you dear grandpa
And salute the life that you've led
Happy birthday
12) Do you remember how I used to run
In your arms, just for fun
Do you remember how I used to crawl
Sneakily into your room when I was small
Do you remember how I used to play cute
When I wanted your cuddle, which you couldn't refute
I remember each and every thing in detail
Gramps, my relationship with you can never feel stale
Happy birthday
13) The reason that my grandpa
Is the best of them all
Is because he is the one
Who has taught me to stand tall
The reason that he is
The one I give respect
Is because he has taught me
To always be perfect
But the topmost reason
That I love him so
Is because he has
Been there and seen me grow
Happy birthday
14) You are one of the few grandpas
About everything latest, who knows
You know trends that are buzzing
Whether it is Facebook or any new gizmos
That is what makes you a grandfather
Who I like to hang out with, so much
I'll make sure that your birthday
Gets my loving and special touch
Happy birthday
15) I will tell time to stop
Just so that you do not age
I will tell the world to come to a halt
So that you can enjoy life's voyage
With every passing birthday
Don't think that you are getting rusty and old
For all of us you will always be
More precious than glittering gold
16) I love the way you make fun of dad
And the way you cheer up everyone when they are sad
I love the way you play pranks on everyone
And make us all have so much fun
I love the way you pamper us so easily
And take care for us so painstakingly
For the best granddad ever, I shout and cheer
Happy birthday old man, your birthday is here
17) I love you more
Than my cute teddy
Dearer than my dolls
You mean to me
I adore you more
Than my best friend
To how much I love you
There is no end
I like you more
Than momma and daddy
For when I'm in trouble
You are the one who saves me
Happy birthday
18) Wine is not the only thing
That ages gracefully
My grandpa is also the one
Who has aged beautifully
Wine is not the only thing
With time, which becomes vintage
My grandpa is also become precious
Who has matured with age
Happy birthday
19) I know that grandma loves you
But I love you a lot too
Of you, I know mom is very fond
But I think that you and I have a stronger bond
I know that dad loves you down to every bit
But I think that you and I are a better fit
In the whole household, we are the perfect pair
Without you grandpa, I would be lost, I swear
Happy birthday
20) In no corner of the world
Have I found my grandpa's wisdom
His wit, knowledge and understanding
I have elsewhere found seldom
In no corner of the world
Will I ever find my grandpa's intelligence
To say what a wonderful person he is
I won't miss a chance even once
But in every corner of my heart
Is embedded my grandpa's love
He is my guardian angel
Sent from the heaven's above
Happy birthday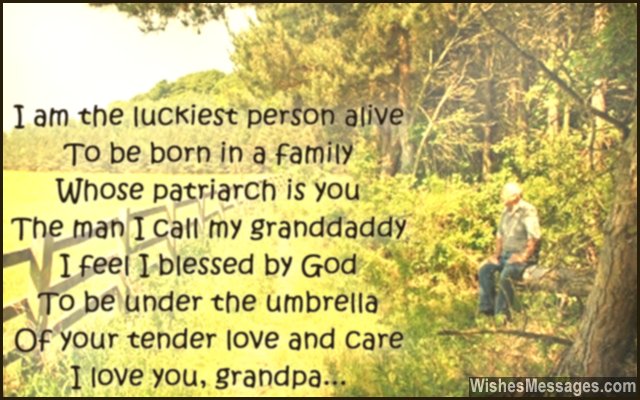 21) I am the luckiest person alive
To be born in a family
Whose patriarch is you
The man I call my granddaddy
I feel I blessed by God
To be under the umbrella
Of your tender love and care
I love you, grandpa
Happy birthday
22) Dear grandpa….
You have always helped me
To celebrate my birthday
Now I will celebrate yours
In a really grand way
I will help you to blow the candles
I will make you wear a birthday cap
And until we are totally exhausted
We won't call it a wrap
Happy birthday
23) It doesn't matter what age you are
As long as you are young in spirit
It doesn't matter how old you have grown
As long as you are healthy and fit
It doesn't matter if you have become forgetful
Because that is just human
You will always be the best grandpa
Forever, my number one
Happy birthday
24) Just like how the shadow of a tree
Gives shade to a traveler forlorn
Wrapping your grandkids in the your love
Must be the reason why you were born
Just like bees and flowers
From each other, can't be separate
Your grandkids love you so much
To meet you, they can't wait
Just like how water
Helps to quench thirst
When the grandkids want some wisdom
They come to you first
Happy birthday
25) When I faltered, you believed in me
My potential, only you could see
To me, you are that person
Because of whom, I have always won
If I didn't have your support and aid
A heavy price in life, I would have paid
As my eyes fill up with tears
To the best grandpa, I say cheers
Happy birthday
26) You are not just my granddad
You are the best buddy I have had
I love you to no end
Because you are my bestest friend
I adore you endlessly
Not just because you have cared for me
You are a granddad so cool and fine
I am proud to call mine
Happy birthday
27) Like a grandfather clock
You stand tall in the family
You are a pillar of strength
For mom, dad and me
Every word that you say
And every action you do
Inspires us immensely
Gramps, we are proud of you
Happy birthday
28) You are grand in the true sense
Your personality is magnificent
Your presence is towering
And your company is pleasant
You are grand in a few other ways too
You brought the family to where it is now
As we wish you a happy birthday
We want to say, we all love you and how
Happy birthday
29) Today I am wishing something for you
Because it is your birthday
I hope that you keep good health
And for your happiness I pray
I wish that medicines don't come close
To both you and dear grandma
You have no idea how much we love you
Happy birthday, our dear grandpa
30) You are not just our dad's father
You are our father figure too
We crave to get our daily dose
Of the love that we get from you
You are not just a grandfather
You are our friend too
We crave to get our daily dose
Of friendly advice from you
Happy birthday