Good night messages for friends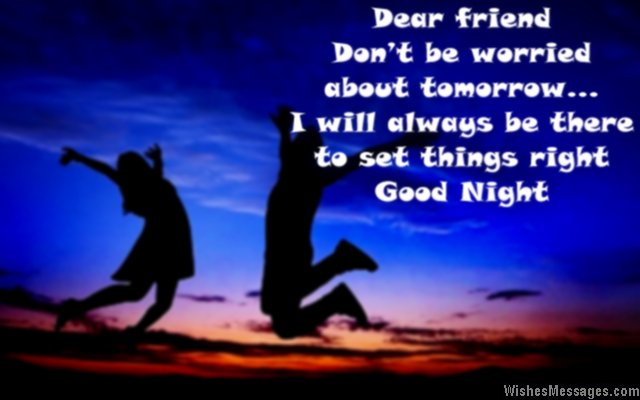 Good night messages for friends: Say good night and sweet dreams to your friend by sending cute text messages, funny Facebook updates and inspirational quotes. Your good night message can be a virtual hug that you can give to your best friends to let them know how much friendship means to you. Use messaging apps like WhatsApp and WeChat along with Facebook, Twitter and Pinterest to spread the love of friendship and wish all your friends good night.
1) The brightest stars in my life are not planetary objects, they are friends like you who shine night and day. Good night.
2) When I say good night to special friends like you, it is an all-in-one wish which means Good Night, Sweet Dreams, I Miss You and See You Soon.
3) I hope that your dreams take you to a land where you can drive the fastest cars, date the prettiest girls and play the best video games all day long. Enjoy it, because I don't see you getting any of that in real life. Good night buddy.
4) Hold your phone tightly because this text message is a hug in disguise. Good night my friend.
5) Welcome aboard Sweet Dreams Airlines where you will be the pilot of your flight to any destination in the world in the company of sweet friends like me. Enjoy your flight, good night.
6) Good night Facebook status: To all the guys in my friend list, I hope that you get sizzling dates with Mila Kunis, Miley Cyrus, Selena Gomez and Kate Upton. To all the girls in my friend list, I hope that you get romantic dates with Bradley Cooper, Liam Hemsworth, Taylor Lautner, Brad Pitt and Justin Bieber. Sweet dreams you all.
7) No matter how bright the stars and the moon shine, my nights will always be in total darkness because I can't be with my friends. Good night.
8) As the sun sets, lovers send each other hug and kisses while friends send each other luck and wishes. I hope that this night brings you luck which helps you fulfill all the dreams that you dreams. Good night.
9) You will only be able to enjoy your night if you stop thinking about yesterday and stop worrying about tomorrow. So sleep tight and immerse yourself into your favorite dream. Good night.
10) I dedicate this good night message to all my friends whose friendship is the sunshine in my life.
11) Stuff your worries in your pillow, wrap your troubles in your blanket and spread your anxieties on your bed sheet. When you wake up tomorrow, you will have dirty linen but a fresh mind and a happy heart. Good night.
12) Send me a text message if you can't sleep and call me if you get nightmares. I will come in your dreams, kick all the nightmares away and pave the way for a sound sleep and sweet dreams. Good night.
13) In life, success is not measured by how big you can dream. The real success of life is measured in how many true friends you have to wish you a good night. Sleep tight my friend.
14) Use every second of the night to dream about all that you want to achieve in life and use every second of the following day to achieve every dream you saw the last night. Good night my friend.
15) The biggest gift that a night can give you is not good sleep, but the promise that your tomorrow holds millions of possibilities. Good night friends.
16) If you have had a bad day today, I hope that this night signifies the end of all your troubles and the beginning to a wonderful day tomorrow. Good night and sweet dreams.
17) May the dark clouds of the night shadow all your worries, may the shining stars illuminate your dreams and may the soft moon be a balm to all the troubles of the day. Good night and sleep tight my friend.
18) The only reason I have a good night every single day is because I look forward to spend the next day with an awesome friend like you. Good night.
19) I could send you a funny joke, inspiration quote or a traditional saying to wish you a good night. But because I am your best friend, I will only say only two words that will definitely give you a good night – Sweet Dreams.
20) Sleep as early as you can so that you can dream about all the pranks we can play in class and all the fun we can have at school tomorrow. Good night.
21) Dear friend, don't be worried about tomorrow, I will always be there to set things right. Good night.
22) Even if your bed is slightly cramped and the size of your room is small, don't let any of these things prevent your dreams from being king size. Good night.
23) I know you snore really loudly. So instead of wishing you a good night, I would rather wish your family a good night because they are the ones who will need it more. Good night to you and your family.
24) There is no way I can think of you anymore. There is no way I can be happy for you anymore. There is no way I can believe in you anymore. There is no way I can trust you anymore. There is no way I can be fond of you anymore. That is because the day has ended, I am tired and I need to go to bed. Good night.
25) We have always been the best of friends and we have done everything together. So you should dream about your crush tonight and I will dream about mine. Good night to my bff.
26) I am not saying good night to you so that I can help you to bring an end to the day. I am saying good night to you so that I can help you gear up for an exciting day tomorrow. Good night dear friend.
27) I wish that nights never existed because that is the only time when I am away from good friends like you. Have a good night.
28) Don't be too excited because you had an awesome day today. Save some energy and excitement because tomorrow is going to be even better. Good night buddy.
29) Let go of all the people who hurt you today and hold on to all the people who praised you today. That is the only way you can have a good night and sleep peacefully. Good night friend.
30) Every night is like a refresh button in your life. When you go to sleep, you press refresh and give yourself a chance to start afresh the next day. Good night friends.