Good Morning Messages for Friends: Quotes and Wishes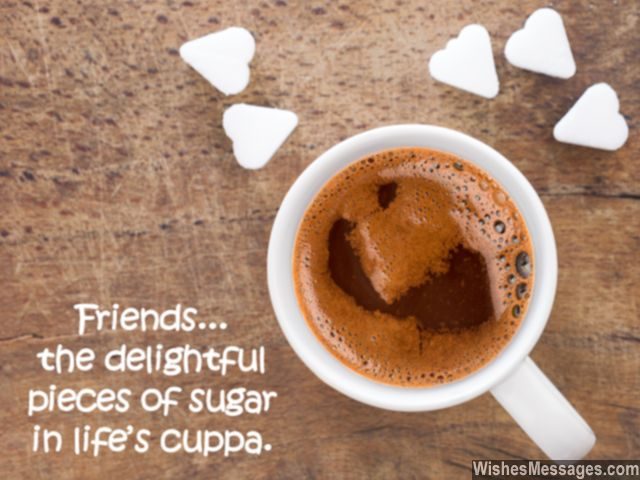 Good Morning Messages for Friends: Wouldn't it be awesome if your day began with a sweet quote about friendship sent to you by one of your best friends while you are still snuggled up in bed? Give your friends the pleasure of waking up to a cute virtual hug by sending a funny text to wish them good morning. You have the power to inject happiness, love, inspiration and motivation into your friends' lives – use it by greeting your friends in the morning. Spread the smiles, spread the inspiration and spread the love. Make every day count.
1) Friends… the delightful pieces of sugar in life's cuppa.
2) It is a myth that you need to rise and shine to have a good start to a day. You can roll around in bed thinking about friends like me and you will still have a great start to the day. Good morning.
3) Romantic relationships are based on expectations and responsibilities. Professional relationships are based on gains and losses. But friendship is based on smiles and laughter. Good morning my friend.
4) I cannot guarantee that you will have an awesome day but I can guarantee that you will be in the loving company of friends like me. Good morning buddy.
5) A soulful good morning message is a sweet gift that does not come wrapped in a box, but can be stored forever in your inbox. Good morning.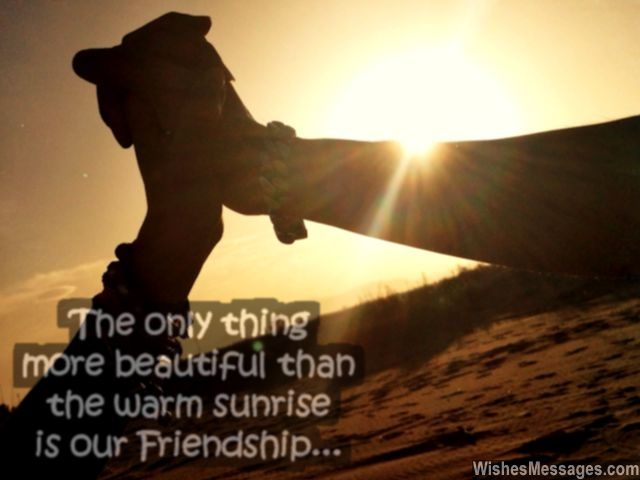 6) The only thing more beautiful than the warm sunrise is our Friendship. Good morning.
7) Dreamers like you don't need inspirational good morning messages. They need big alarm bells and annoying friends like me. Good morning, time to wake up.
8) Whether it is a hangover, headache or sickness, even the worst of mornings become happy and cute when I think of friends like you. I hope this message makes you happy too. Good morning.
9) Today's forecast for all my friends: If you are reading this message, nothing can stop you from having an incredible day. Good morning.
10) Not coffee, but friendship is the only caffeine I need to give myself a kick start in the morning. Good morning.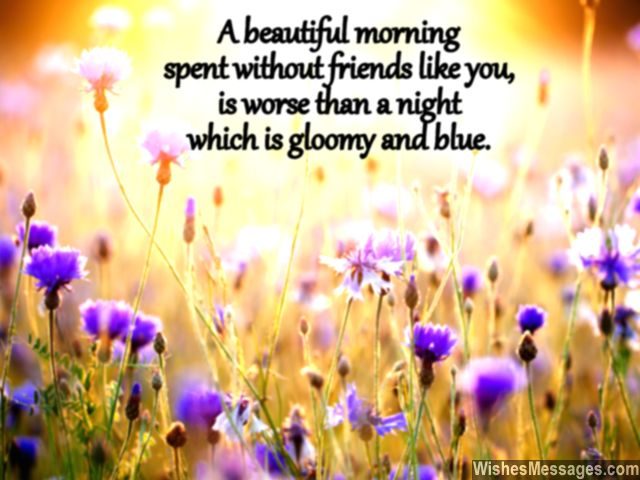 11) A beautiful morning spent without friends like you, is worse than a night which is gloomy and blue.
12) Now that such a sweet person like you has read this message, I won't need to put sugar in my coffee. Good morning.
13) If you have a good morning today, you will have a good night, which will help you to sleep tight and make the next day nice and bright. So I wish you good morning with all my might.
14) Waking up in the morning has become much easier for me, knowing that I will be spending the day with amazing friends like you. Good morning.
15) It is a great feeling to start a morning with gratitude. So I am going to start my day by thanking you for being in a good friend. Good morning.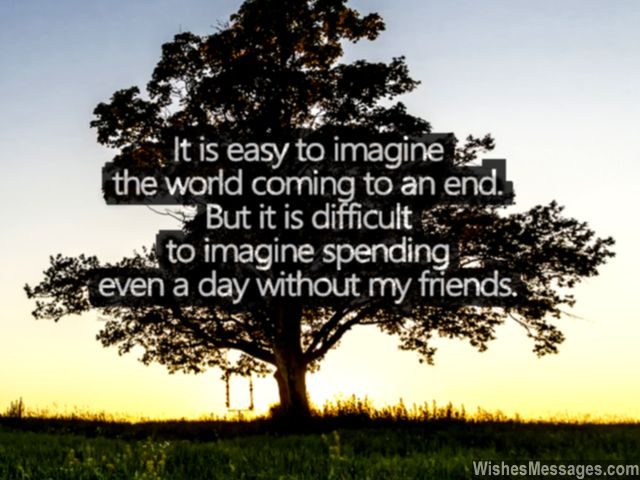 16) It is easy to imagine the world coming to an end. But it is difficult to imagine spending a day without my friends. Good morning.
17) Your mom may call you a sleepy head and your dad may call you a lazy bum. But no matter how late you wake up, you will always be my best chum. Good morning.
18) The only way to warm up this chilly morning is to get rid my shivers by giving virtual hugs to my close friends, starting with YOU. Good morning.
19) Have an awesome morning and if your day goes really well, thank me in the evening for wishing you so. Good morning my friend.
20) The rising sun is telling you to rise so that you can shine the beautiful rays of friendship on friends like me. Good morning.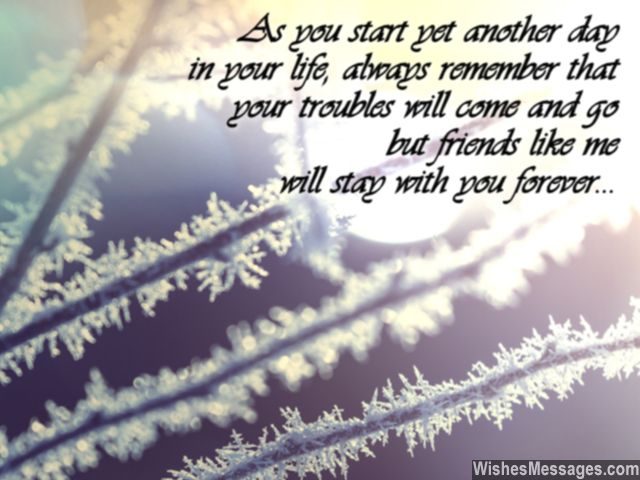 21) As you start yet another day in your life, always remember that your troubles will come and go but friends like me will stay with you forever. Good morning.
22) On such a beautiful morning I thought of the most beautiful person I know – You. Good morning my friend.
23) Awake and arise to enjoy life's fiesta, otherwise your sleep will continue into a morning siesta. Good morning.
24) You can choose between waking up late and doing nothing or spending the day with friends and creating beautiful memories which will last a lifetime. What will it be, my friend? Good morning.
25) I asked the sun to rise a little sooner so that I can get a few more minutes to spend with you in the day. Good morning.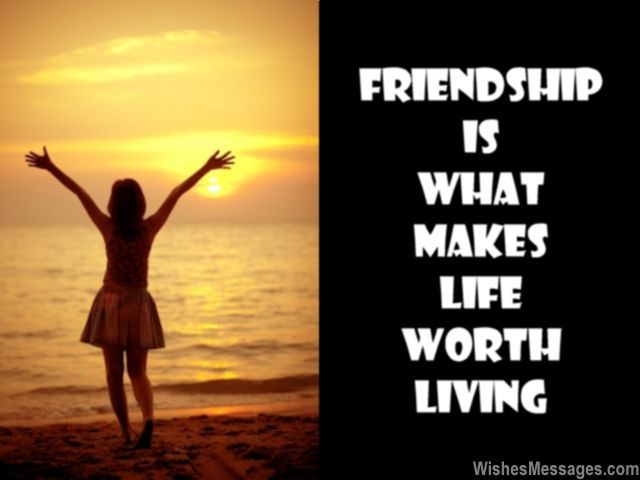 26) Friendship is what makes life worth living. Good morning.
27) Your day ends with my good night message and begins with my good morning message – your life couldn't get any better. Good morning.
28) This is the second time your alarm clock is ringing to wake you, get out of your bed to enjoy the early morning dew. Good morning.
29) The days on which you are sleepy, aren't fun enough to spend with you buddy. Here's a good morning wish from me, so wake you up and get ready. Good morning.
30) Wake up and smell the coffee, or life will pass by in a jiffy. Good morning.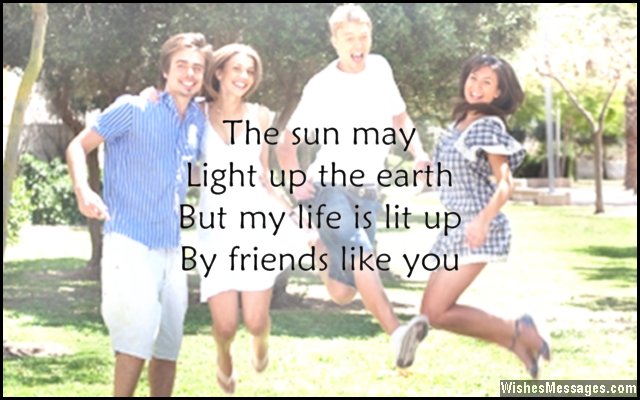 31) The sun may light up the earth but my life is lit up by friends like you. Good morning.
32) If your coffee is foamier than usual, if your pancakes are gooier than usual, if your cereal is sweeter than usual – don't be surprised. That's the magic of my good morning message.
33) My mom always taught me to always start the day with a good thought. That is why I am thinking of good friends like you. Good morning.
34) I am happy today and I want you to be happy too. That is why I have sent this good morning message to you. Good morning.
35) I want you to start your morning by smiling. The best way I can do that is by wishing you a sweet morning.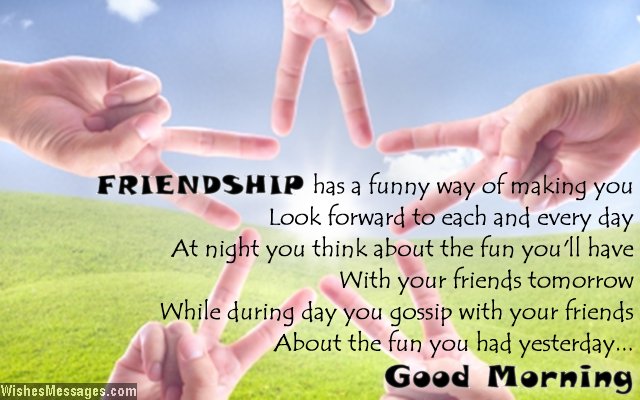 36) Friendship has a funny way of making you look forward to each and every day. At night you think about the fun you'll have with your friends tomorrow while during day you gossip with your friends about the fun you had yesterday. Good morning.
37) I have a terrible day ahead of me. But I feel that everything will be right once I give my best friend a warm virtual hug. Good morning bestie.
38) Another beautiful day like today begins in the beautiful life of a beautiful person like you. Good morning.
39) I hate waking up early but if that is what it takes to meet my friends earlier, I'm all for it. Good morning.
40) Wishing the sweetest friend in this world, a sugary sweet morning. Good morning.