Congratulations for Wedding: Messages for Wedding Card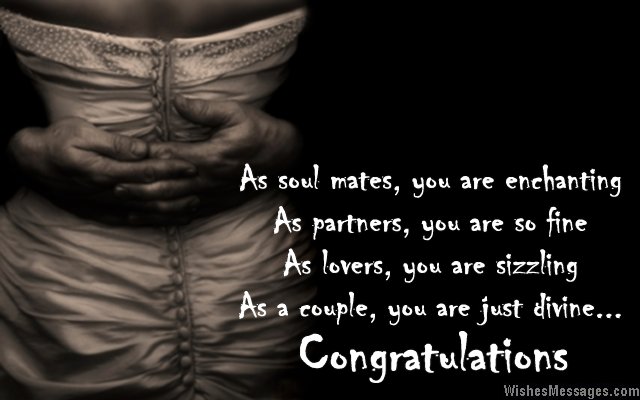 Congratulations for Wedding: Wish a newlywed couple by writing the most beautiful message on a greeting card. Don't rely on quotes by famous people and instead, write something cute that comes from your own heart. Marriage is much more than just walking down the aisle – it is the beautiful union of emotions, hopes, feelings and goals. Saying I Do is just the beginning of a romantic lifelong journey which is unlike any other. Encompass all this with your sweet words and wish the new husband and wife the very best of everything that married life has to offer.
1) As soul mates, you are the enchanting. As partners, you are so fine. As lovers, you are sizzling. As a couple, you are just divine. Congratulations.
2) Beautiful and perfect, is what your wedding is. Congratulations, as you seal your lives together with a kiss.
3) A perfectly handsome groom is going to wed a perfectly beautiful wife at a perfectly delightful venue in the presence of perfectly caring friends like me. Congratulations for your perfect wedding.
4) Today as you say I do, I say cheers to both of you. Today as you exchange your wows, I say you are looking perfect and how. Today as you drive away into a journey so happy, I say congratulations for securing your destiny.
5) I can't seem to decide whether you are a match made in heaven, or your match makes everything seem heavenly. Congratulations to the heavenly couple.
6) The search for the most wanted person in your life finally comes to an end as you handcuff the thief who stole your heart with a wedding ring. Congratulations.
7) From saying boo as a baby to saying I do as a bride, you have come a long way girl. Congratulations.
8) The moment you say 'I do' is the moment your love for each other will stop feeling like an adrenaline rush and start feeling like a bare necessity without which you will not be able to live even a single day. Congratulations for getting married.
9) You both are the epitome of true love and you both personify sizzling romance. Watching you both is a beautiful sight, which deserves more than just one glance. Congratulations.
10) You are not a real prince and your wife is not a real princess. But if you always treat each other like royalty, you will be the happiest couple ever. Congratulations.
11) Regardless of where life's journey takes you, never forget how your love is so pure and true. Congratulations.
12) Your wedding day will be over in the blink of an eye but its memories will last you a lifetime. Congratulations for having a dream wedding.
13) Because you have been Mad For Each Other until now, you are going to be Made For Each Other for the rest of your lives. Congratulations on your wedding.
14) Congratulations for surrendering and succumbing to the greatest and the sweetest thing ever to have happened to you both – LOVE.
15) Your wedding may be a celebration on its facade, but a deeper though reveals that it is the face of eternal love and blissful happiness. Congratulations.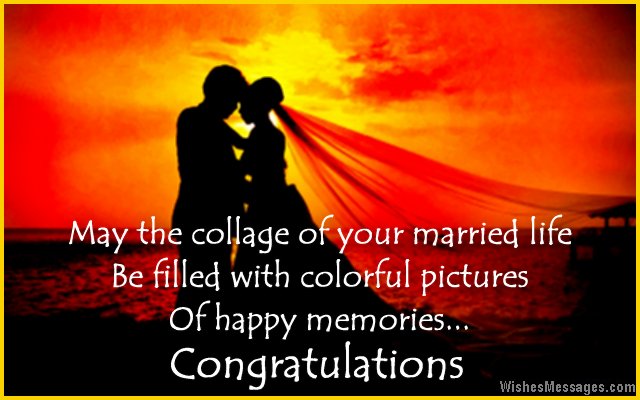 16) May the collage of your married life be filled with colorful pictures of happy memories. Congratulations on your wedding.
17) There should be a big sign at the entrance of your house which says 'Residence of the happiest couple in the world'. Congratulations on your wedding.
18) I am pinning your wedding picture on Pinterest, tweeting your wedding wows on Twitter and uploading your wedding dance on Instagram so that your wedding spreads happiness – just like you both do in real life. Congratulations.
19) The full form of your WEDDING is Wonderfully Elegant Delightfully Delicious Inspirational and Never-endingly Gorgeous. Congratulations.
20) Think of your marriage as a rubber band. It will get stretched, pulled, twisted, tugged and bent as you go through life's phases. But at the end of the day, it will still tie you together. Congratulations for getting married.
21) Your wedding is not the biggest party of your life. The greatest party of your life will come in the form of many blissfully happy years of your married life. Congratulations.
22) There is a deeper meaning to how the colors of your jet black suit and your wife's pristine white gown are opposite yet so complementing to each other. It signifies how the differences in your personalities will merge in-sync to complement each other in every walk of life. Congratulations for getting married.
23) Congratulations for getting married and finally finding the remaining pieces which will perfectly complete the jigsaw puzzle of your lives. Have a happy married life.
24) Treat your wedding like a wine tasting session. Appreciate every note, nuance, complexity and flavor of your marriage to make it romantic, passionate and intoxicating just like wine. Congratulations.
25) Regardless of the weather, your wedding day is going to be the most beautiful day ever. After all, when a couple as gorgeous as you both tie the knot, everything else seems as pale as a rot. Congratulations.
26) No matter how beautiful the decor and setting of your wedding venue is, it will never be able to beat the beauty of a couple like you. Congratulations to the most beautiful couple in the world.
27) To the sweetest couple ever… grow up all you want but never let the beautiful teenage love in your hearts fizzle out. Congratulations.
28) Has anyone ever called you both the toughest couple ever? I am today, because there is nothing that can break the strong bond you both share. Congratulations for your wedding.
29) Just like the glass of bubbly used to raise this toast, may the bubbles of happiness always keep overflowing in your marriage. Congratulations.
30) Among the thousand steps that you have taken together in the journey of your lives and your relationship, your marriage has been the best one. Congratulations for tying the knot.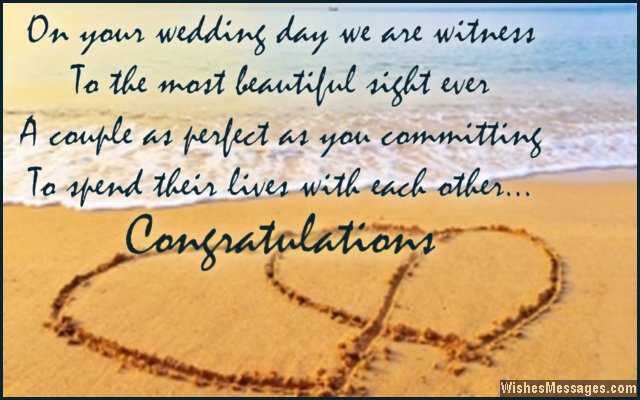 31) On your wedding day we are witness to the most beautiful sight ever – a couple as perfect as you committing to spend their lives with each other. Congratulations.
32) As you become man and wife, you will have two dreams to fulfill, two ambitions to achieve, two hearts to cherish and two lives to live to the fullest. Congratulations for getting hitched.
33) Your wedding is the main and the back-up power source of your life. It powers you on a daily basis and if something in the system of your life breaks down, it will act as a stand-by to support you until you are fully restored. Congratulations.
34) Fairytale weddings were a myth, until I saw the two of you getting married. Congratulations.
35) Your wedding is just a beginning and nothing more. Because true love like yours can never have an end. Congratulations.
36) Today I have realized that I have made the wrong career choice. I should have been an astrologer because I predicted that you both would get married some day. My best wishes to you both.
37) 'I do' is the first phrase in the couplet of marriage that makes the beautiful poem of life complete. Congratulations.
38) You have filled the world with envy – all the bachelors and the bachelorettes are so jealous of a pair as perfect ad you. Congratulations.
39) The pictures of your wedding must be archived and preserved because I doubt that another couple as beautiful as you both exists. Congratulations for tying the knot.
40) The beautiful wedding of a beautiful couple like you is proof that perfectness truly does exist. Congratulations.