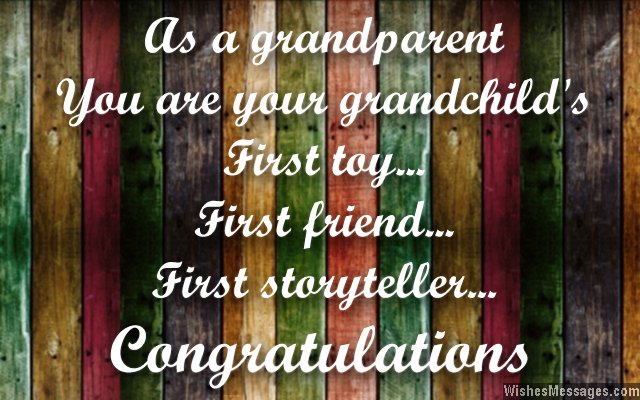 Congratulations for becoming grandparents: The birth of a child is a celebration not only for the mother and father, but for grandma and grandpa too. For the first time in their lives they will get to shower true love on a baby boy or a baby girl without being responsible for the tantrums of a spoilt toddler. If you know someone in your family or friend circle who has just experienced the joy of becoming a grandparent, write sweet quotes on a greeting card to send your best wishes. And in the day and age where even granddad and granny are on Facebook and Pinterest, you can also wish them with cute messages and funny pins.
1) As a grandparent, you are your grandchild's first toy, first friend and first storyteller. Congratulations.
2) You own children were your investments and your grandchildren are the sweet bundles of interest you have received upon maturity. Congratulations.
3) Congratulations for being promoted from the post of Mother to GrandMother. But don't start celebrating yet because you will soon be demoted to the post of BabySitter. Congratulations.
4) The peace and silence of your retirement is about to be broken by the sweet squeals and screams of your grandkids. Congratulations.
5) Congratulations for welcoming a worthy candidate for passing on your life's wisdom.
6) A parent's job is to critique, judge and motivate. A grandparent's job is to pamper, spoil and cuddle. I hope you are prepared for your duties. Congratulations grandpa.
7) It's time to wake up from your retirement slumber, you have a new job now for which you will be paid in kind – cute hugs, smiles, laughter and some of the best memories of your lifetime. Congratulations grandma and grandpa.
8) Congratulations on becoming grandparents. Just think of yourselves as parents who have a lot of love to give and no responsibility to take.
9) Your grandchild will finally make your own children realize how amazing you have been as parents to them. Congratulations.
10) Parents are like trees who provide shade to their children. But grandparents are the roots that hold the tree together. Congratulations to the new grandpa and grandma.
11) The beauty of having grandkids running around the house is that they make you feel younger even as you grow older. Congratulations.
12) And you thought that the best in your life is over? Congratulations granddad.
13) As grandparents you will be able to experience all those beautiful things about bringing up a child that you could not appreciate when you were parents. Congratulations.
14) Your kids have given you a job that is right up your alley – being adorable and loving grandparents. Congratulations.
15) Life with grandkids will be chaotic, but it will also be full of magic. Congratulations.
16) You must have melted like butter, thawed like ice and crumbled like a cake the first time you set eyes on your beautiful granddaughter. Congratulations.
17) Welcome a new phase in life when your kids will finally start taking your advice. Congratulations.
18) Your worries about how to keep busy after retiring are about go away. Congratulations for becoming grandparents.
19) Finally you will have someone else to bore with your old stories. Congratulations on becoming a grandpa.
20) You will finally understand the true meanings of legacy, lineage and ancestry. Congratulations to the new grandparents.
21) Today, you will finally realize why your own parents were so happy when your children were born. Congratulations.
22) Becoming grandparents is like becoming parents all over again, minus all the hassle. Congratulations.
23) A cute grandchild like yours deserves the love of gentle grandparents like you. Congratulations.
24) Enjoy your new found responsibility of being officially allowed to spoil your grandkids. Congratulations.
25) Congratulations on becoming grandparents. Your own children will finally start visiting you more often when they come to drop off your grandkids at your place so you can babysit them.
26) Now that your family has been extended by a cute one, may you never run out of fun. Congratulations.
27) Grandchildren make perfect children for grandparents and grandparents make perfect parents for grandchildren. Congratulations for finding your perfect match.
28) I hope your GRANDkids have a GRAND time with amazing GRANDparents like you. Congratulations.
29) May your grandkids turn out to be much better than your kids. Congratulations.
30) May your grandkid achieve all your unfulfilled dreams that even your kids couldn't accomplish. Congratulations for becoming proud grandparents.
31) Welcome to the world of changing nappies, wiping spills and singing lullabies – all over again. Congratulations, have fun.
32) All your lives you must have celebrated many commemorative days, but now you will finally get to celebrate Grandparent's Day. Congratulations.
33) Your grandchildren's hand-prints on the walls of your house will leave permanent marks on the walls of your heart too. Congratulations for becoming grandparents.
34) Congratulations for finally finding an ally in your battle against your children.
35) If the journey of raising your newborn into a successful adult has been a magical ride, watching your own grandchildren grow up in your lap is going to be a miraculous adventure. Congratulations.