Thank You Poems for Parents: Poems to Say Thank You to Mom and Dad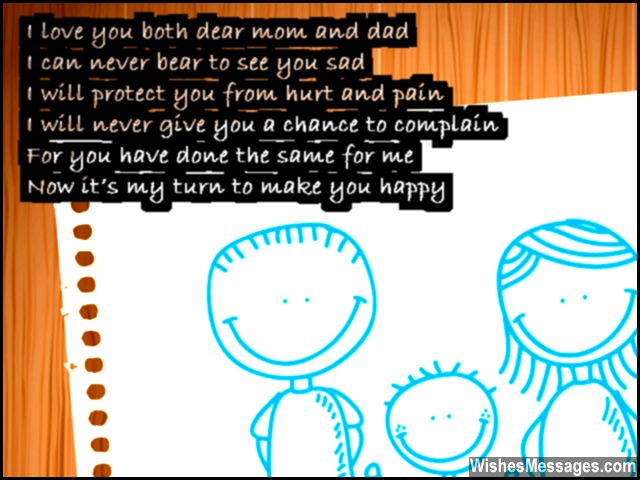 Thank You Poems for Parents: Parents make all kinds of sacrifices to give their kids a good life until they grow up. If you have never taken out the time to appreciate what your parents have done for you, do it now. Don't wait for Mother's Day or Father's Day to show your gratitude. Start by giving them a sweet greeting card with a thank you poem written on it. Follow it up by showing them a slideshow of your cute childhood pictures. Seeing what a beautiful childhood you had will make them nostalgic and teary-eyed. It won't take much to say thanks and tell them that you are the luckiest son and daughter in the world. Something as simple as walking upto your mom and dad to give them a cute hug will make them happy. Show the world that you love your parents by sharing a touching quote on Facebook or tagging them in a beautiful family photo.
1) I love you both
Dear mom and dad
I can never bear
To see you sad
I will protect you
From hurt and pain
I will never give you
A chance to complain
For you have done
The same for me
Now it's my turn
To make you happy
Thank you
2) Dear mom and dad….
Thank you for being there
Thank you for all your care
Thank you for your advice
Thank you for being so nice
Thank you for your guidance
Thank you for your patience
Thank you for your perfect DNA
Thank you for letting me grow up my way
Thank you for everything
Without you both, I'd be nothing
3) From the time you changed my nappy
To the things you did to make me happy
From the time you helped me crawl
To the time I grew and became tall
From the time you helped me in school
To the time you got me nice clothes to look cool
There isn't anything you haven't done for me
To have you as my parents, I am very lucky
Thank you
4) When I wanted to climb higher
You became my ladder
When I wanted some support
You both came together
When I wanted to fly high
You became my hot air balloon
When everything felt cursed
You appeared as my boon
I rested on your shoulders
When I wanted a better view
To parents who've done everything
I want to say thank you
5) I don't need Father's Day
To say I love you dad
Buying gifts on Mother's Day
Is just another fad
Giving thanks to my parents
Each and every day
Is how I'll express my gratitude
For showing me the way
6) If an angel lived in this world
Mom, it would be you
No other person can be
So pure and true
I have never seen God
But He must be like dad
Who always makes me smile
And can't bear to see me sad
Thanks to both of you
For being so wonderful
I love you both for making
My life so beautiful
7) Even if I hugged you everyday
Even if I gave you a kiss
Even if I made you smile
And filled your life full of bliss
I wouldn't be able to match
Everything you've done for me
The only way I'll try to repay you
Is by keeping you both happy
8) Get off my back
Is what I would have said
Using those words now
I wouldn't be caught dead
Leave me alone
I would have said years ago
Such disrespect again
I would never show
Because I realize
The importance and value
Of having wonderful
Parents like you
Thanks
9) Instead of using a box
To give you a present
I want to use nice words
As a thank you token
You both as parents
Are truly irreplaceable
Thanks for making me life
So incredible
10) The wallpaper of my iPhone
Is a picture of dad holding me
My laptop's screensaver
Is mom smiling widely
I like to keep you close
Even when you aren't around
Imagine how much love
In you both, I have found
Thanks for making my life
A warm and tender cocoon
You are not just my parents
In my life, you are a boon
Thank you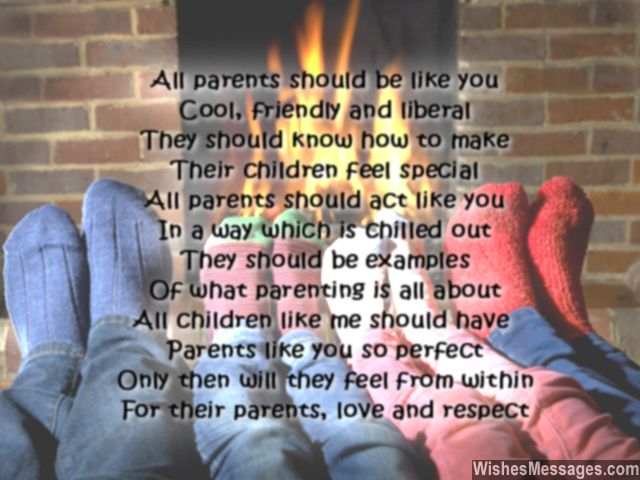 11) All parents should be like you
Cool, friendly and liberal
They should know how to make
Their children feel special
All parents should act like you
In a way which is chilled out
They should be examples
Of what parenting is all about
All children like me should have
Parents like you so perfect
Only then they will feel from within
For their parents, love and respect
Thanks
12) Whenever I needed you
You were just a call away
Even though I held the phone
And had nothing to say
You both always understood
Whenever I wanted to cry
To explain my problems
I never had to try
Thanks for always being there
For watching my back
Without parents like you
My life wouldn't be on track
Thank you
13) Through all my worries
All my stress
Through all my hassles
All the mess
Because of you
I stayed afloat
That is the reason
I want to thank you both
14) So many sacrifices
You both must have made
A big price for my happiness
You both must have paid
Thanks for being the parents
Who are the epitomes
Of what every mom and dad
Should ideally be
Thanks
15) Dear mom and dad….
You both gave me
My real education
You both inspired me
To have ambition
You both told me
That the sky is my limit
For success and victory
You made me fit
Whatever I am today
Is because of you two
My gratefulness
Is highly overdue
16) I can live a day
Without eating out
I can do without my iPhone
Without a doubt
I can make do if I don't
Meet my best buddy
I can survive without
Watching a movie
But I can't do without
Meeting you every day
Thanks for everything
Is all that I want to say
17) I had a perfect childhood
Life was amazing in my teens
In college, I was happier
More than I had ever been
A well settled grown up
I went on to become
Thanks to you, mom and dad
My life has been awesome
18) Mommy, daddy
I want you to know
You guys are the best
Go on and take a bow
I want to thank you both
For today I realize
Having you in my life
Is nothing less than a prize
19) Thank you mom
For doing all that you could for me
Thank you dad
For always making me happy
Thank you both
For always supporting me
Without you, I would
Be in total agony
20) Thanks for never instructing me
To tell me what I should do
Thanks for showing me by example
That I should be like you
Thanks for never nagging me
For doing things your way
Thanks for being so patient
And keeping arguments at bay
Thanks for being the ideal parents
By giving me so much independence
I don't know where I would be
Without your helpful guidance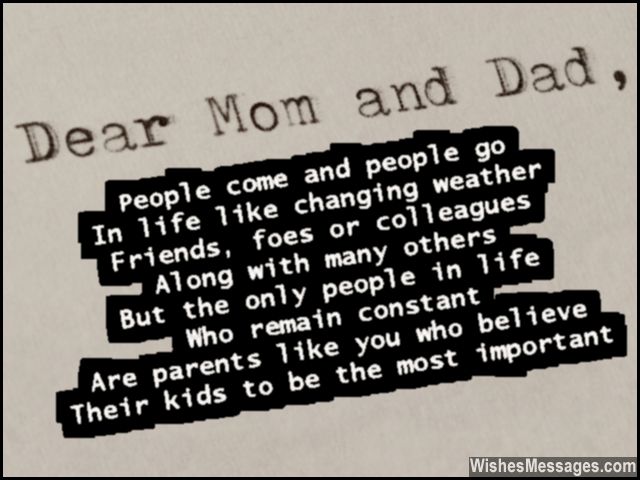 21) People come and people go
In life like changing weather
Friends, foes and colleagues
Along with many others
But the only people in life
Who remain constant
Are parents like you who believe
Their kids to be the most important
Thank you
22) I don't think I can ever pay off
Whatever you have done for me till today
I don't think I can ever give back
Whatever you have given me along the way
I don't think I can ever manage to return
All your help, guidance and favors
Without your support, I don't think
I could have ever been a winner
Thank you
23) Whether I pleaded like a kid
To take me to the candy store
Whenever I cried out fowl
That my life was such a big bore
Whenever I asked you to increase
My weekly allowance
Whenever I did crazy things
To make you run out of patience
Whenever I complained that you
Didn't allow me to watch enough TV
I didn't know that my best interest
Is what you both wanted to see
But now that I understand
How you both were always right
I want to thank you mom and dad
With all my energy and might
24) So many things
Wouldn't have turned out well
So many life plans
Wouldn't have been so swell
So many of dreams
Wouldn't have come true
If it wasn't for the support
Given by you
So much of life's purpose
Would have been unfulfilled
If good values and morals
You wouldn't have instilled
Thank you mom and dad
For whatever you have done
It is because of you
That I have always won
25) I've harassed you
To no end
Even then you've always
Been my friends
I've bothered you
To no limits
Even then you've been
With me every bit
I've troubled you
At so many instances
Even they you've showered
Only hugs and kisses
You're the best parents
Dear mom and dad
The kind that other kids
Would never have had
Thanks
26) It isn't an easy job
To think of different ways
To thank your mom and dad
Who've supported you always
It isn't an easy thing
To thank them in a manner
Which is superlative
Like no other
It isn't an easy task
To thank them in a style
So beautiful that it puts
On their faces, a sweet smile
It is because they are
People who've done a lot
They're impossible to thank
For all that they've taught
Thank you
27) The reason I feel so blessed
As if I'm sent straight from the Heavens
The reason I feel so fortunate
Like being one in a million
The reason why I feel lucky
For getting everything I ever need
The reason why I feel happy
For never suffering indeed
Is because of parents like you
So strong and supportive
Without you so happily
I wouldn't have been able to live
Thanks
28) The biggest gift
That you both gave me
Was to always
Keep me happy
In return, a present
That I will give you
Is a heartfelt thanks
Without much ado
Is a task which is useless
For it's impossible to thank parents
Who've given me so much happiness
It would take me hours and weeks
To come up with a thought
Of how I could show gratitude
And say that I thank you a lot
30) My life could not
Get any sweeter
It also could not
Get any better
My life would not
Be as super
If I didn't have you
As my father and mother
Thank you