Thank you messages for sister: Thank you notes for sis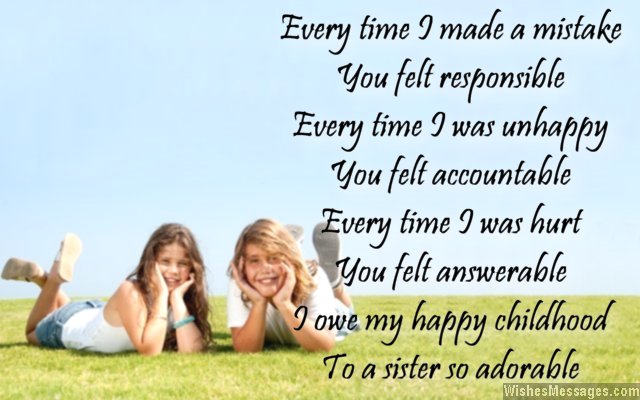 Thank you messages for sister: Sisters come in various packages including the cute little sister, the annoying elder sister, the naughty younger sister, the motherly older sister, the best friend sister and many more. The bond between two brothers or two sisters is very special and unique. The quirky relationship is hard to define because it is a mix of love, anger, care, concern, hatred, annoyance, frowns, smiles, cries and laughter – all depending on the mood and the situation. Sisters will always look out for their siblings regardless of this volatility. At the end of the day, a sister's love is unconditional. Write a cute note of thanks if you have a lovely sister who has always looked out for you regardless of how many times you have fought. Scribble your sweet words out on a funny greeting card, post it on Facebook, send a text message or tweet it out aloud to all your friends – show your sister how much you appreciate her presence in your life.
1) Every time I made a mistake, you felt responsible. Every time I was unhappy, you felt accountable. Every time I was hurt, you felt answerable. I owe my happy childhood, to a sister so adorable.
2) No matter where I go, how old I become, I will never forget my childhood. All I have to do is look in your eyes. Thanks sis.
3) In the journey of life, sisters are the escalators that make the climb easier. Thanks sis.
4) You are the good luck in my charm, Genie in my lamp and the magic in my wand and most importantly – the reason for my smiles. Thanks, sis.
5) I know myself, but you know me more. I trust myself, but you trust me more. I love myself, but you love me more. Thanks for everything sis.
6) From collecting shattered pieces of my broken heart to shattering the hearts of my naysayers, you have done everything that it takes to be an amazing sister. Thanks.
7) Sis, thanks for being the critic who rips me apart not to bring me down, but to help me soar higher.
8) My childhood has been memorable, all because of a sister who is so lovable. Even when I was wrong and you were right, you gave me a hug with all my might. Thanks.
9) All my friends are magicians. They just disappear when I am in trouble. Thanks for being the only real friend I have.
10) You are the reason for the sparkle in my eye, smile on my face, dimple on my cheek and bounce in my step. Thanks for making my life wonderful sis.
11) Friends just listen to your problem but sisters will make your problems their own. Thanks for being an awesome sister.
12) We both are so varied yet alike, so diverse yet so unified, at different places yet always by each other's side. Thanks for being there sis.
13) The best recommendation letter you could ever get is from me saying that you did an excellent job being my sister. Thank you dear.
14) You fight with me every day, you annoy me in every possible way. But when I really need help, when I let out loud a yelp. No one came forward but you, for which I owe you a big Thank You.
15) Life has been like a never ending cotton candy – all because I have a sweet sister like you. Thanks.
16) No matter how much we fight, no matter how much we argue. There is a special corner in my heart, which will always hold gratitude for you. Thanks for looking out for me, sis.
17) I hated you throughout my teenage years. I never really understood why my elder sis had the compulsive need to tell me what to do, how to behave and what to wear. But now that we are both adults, I realize that she did it out of concern, love and care. Thanks for everything, sis.
18) I will never look at a celebrity or a famous personality as a role model as long as I have a sister like you. Thanks.
19) Sometimes my friends become my enemies. Sometimes my enemies become my friends. But you my dear sister, will always remain my loving sister. Thanks for everything.
20) Thanks for being my backbone when I couldn't stand up for myself. I love you sis.
21) The advantage of having a sister like you is that bad hair days and Monday morning blues cease to exist. Thanks.
22) Me and you are as opposite as night and day. That is the very reason, from you I can't stay away. Thanks sis.
23) Every Christmas, Santa should leave a cute sister like you in each young girl's sock. Thanks for being the best sister ever.
24) Thanks for being with me when I was sad and my nights were long. You have made my life seem like a beautiful song.
25) Who needs wikiHow and Wikipedia when I have a cool elder sis like you. Thanks for teaching me everything that textbooks couldn't.
26) I may borrow all your clothes, use your laptop and try all your accessories, but I can never step into your shoes. Thanks for being such a loving sister.
27) I will never know how it feels to lose touch with a best friend, for my best friend is my little sister. Thanks sweetie.
28) I get a hug from my friends whenever I win. You are the only one who hugs me even when I lose. Thank you sis.
29) No matter how ugly I look, there is one person in this world who will always call me beautiful – you. Thanks sis.
30) If you were ever to leave me, I would have half of my own self walking outside me. Thanks for always being by my side, sis.
31) Anyone who has a sister like you, would easily be able to make all their dreams come true. Thanks sis.
32) Thanks for always keeping trouble away from the life of your troublemaker brother. I love you sis.
33) You are like the Pole star of my life – always watching over me in every walk of life. Thanks.
34) In the orchestra of my life, your contribution is that of a conductor. Thanks for being the best sister.
35) You have been like the anti-virus software which has always fought spam successfully in the hard disk of my life. Thank you.
36) Dear sis, thanks for being flexible enough to become a soft toy that I can cuddle with when I am sad, and a strong pillar that I can lean on when I need support.
37) When I was a little child, I never asked for a cuddly toy. Because I had a little sister, who always filled my life with joy. Thanks sis.
38) Thanks for always reading my mind, interpreting in between the lines and finishing my thoughts even before me. I love you sis.
39) Spending my childhood with you has taught me the most important life lesson – that an older and younger sister together, can face just about whatever. Thanks for everything, sis.
40) No matter what you study, where you work, who you get married to, just make one promise – you will never change. Thanks for everything, sis.