Good night messages for husband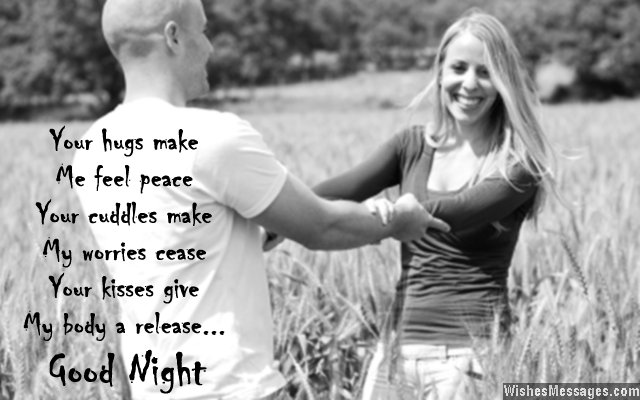 Good night messages for husband: Your husband doesn't necessarily need to be away on a business trip for you to give him a sweet note while wishing him good night. Even on a regular day, you can write up a romantic quote on a piece of paper and leave it on his pillow. The mushy greeting will line you up for a night long of warm hugs and cuddles. Little things like these will unfurl all the love that may have gotten bottled up by the sheer mundanity of work, kids, mortgage payments and other problems of daily life.
1) Your hugs make me feel peace, your cuddles make my worries cease, your kisses give my body a release. Good night.
2) I don't care if the night doesn't turn into day as long as I can just be in your arms, looking forward to yet another day of succumbing to your charms. Good night.
3) Nothing seems better than you handsome face, nothing feels better than your caring touch. As I wish you a good night, let me tell you again that I love you very much.
4) No matter how bad a day you have had, always remember that I am the woman whose only dream is to make all your dreams come true. Good night.
5) The night may be dark but your dreamy eyes make everything so bright. The night may be silent but your sweet whispers make it seem like a beautiful symphony. Good night.
6) Every night I feel thankful for being married o a man who accepts my pasts, fixes my present and brightens my future. Good night honey.
7) I know I can sometimes be annoying because I argue even when I am not right, but I will make it up with lots of hugs and kisses as I wish you good night.
8) Cuddling with my husband at night, sets everything right. Giving him a hug or two, drives away my blues. Falling asleep on his shoulders, makes me feel strong enough to move boulders. Good night.
9) Good night to my soul mate, I'm glad to have you in my fate. Good night to the love of my life, I feel blessed to be your wife.
10) I manage to get through the daily grind, just because I always have you in my mind. Whether it is morning, day, afternoon or night, having you by my side makes every moment of my life bright. Good night.
11) Thanks for being the eyes that helped me see beautiful dreams, the mind that helped me have amazing thoughts, the heart that helped me have conviction and the backbone that helped me stand strong. I love you, good night.
12) Every night before I sleep I chant my favorite letter of the alphabet – U. Good night.
13) Your hugs, kisses and cuddles are the dessert I have every night before I fall asleep. Lucky for me, these things won't make me fat even though they are sweet. Good night.
14) Before marriage, all the sweetest dreams I have ever dreamt about were of YOU. After marriage, all the sweetest dreams I have ever dreamt about were of US. I love you, good night.
15) You are my honey bun, with whom I can have lots of fun. You are my lemon tart, my childhood sweetheart. You represent everything sweet, my hubby you are my life's treat. Good night.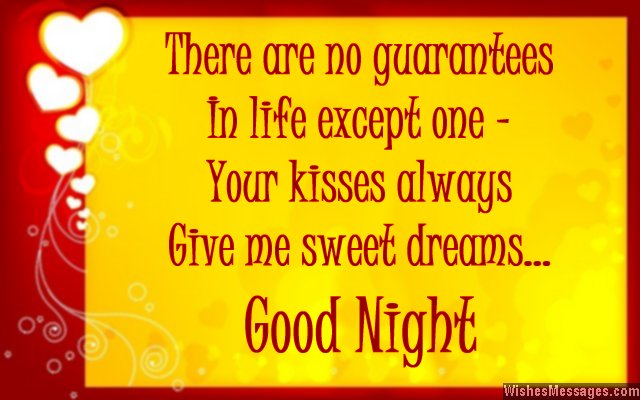 16) There are no guarantees in life except one – your kisses always give me sweetest dreams. Good night.
17) One role in my life which I am really proud to play, is to be your wife and love you in every way. One thing in my life which I was proud to do, is to get married to a husband as amazing as you. Good night.
18) If a genie came to me and granted me one wish I would say 'Go away because I already have everything I want – my husband' Good night.
19) After marriage my life has gone from nothing to everything, from empty to full, from dull to vibrant and from sad to happy. Good night to the man who made it all happen.
20) Hatred is a feeling I will never know, because you have never let me feel low. True love is a feeling I will always experience, because you have never made me sad, not even once. Good night.
21) If true love had a name, it would be yours because you are both the same. If true love was a person it would be you, because guys like you are very few. Happiness and care seem to be in your domain, because it seems you are an expert in shielding me from pain. Good night my love.
22) Whenever I wanted a shoulder to lean on, you have always been there. It is because of you, that my life doesn't even have a trace of despair. Good night love.
23) I wish that the dreams you see are just as sweet and cute as you are. Good night.
24) Morning or evening – looking at you always make my heart sing. Night or day – looking at you drives all my worries away. Good night.
25) As my friend, you are the best. As my lover, you are the only one. Good night.
26) Before you fall asleep I just want you to know that my life is just perfect the way it is. Having you as my husband and the children of my father – there is no other way I would have ever wanted it to be. Good night.
27) The only thing I would want to change in my life is NOTHING. Because with you as my husband, I have EVERYTHING. Good night darling.
28) If my life was a pizza, you would be the cheese. If my life was a mug, you would be the coffee. If my life was the ocean, you would be the water. But since my life is the way it is, you are my husband – making it complete in every way. Good night.
29) Life will have its ups and downs. Our marriage will have its highs and lows. But no matter what happens, we will always make our love grow. Good night.
30) I am glad you are not one of those men who change after marriage because you are perfect the way you have always been. Good night my love.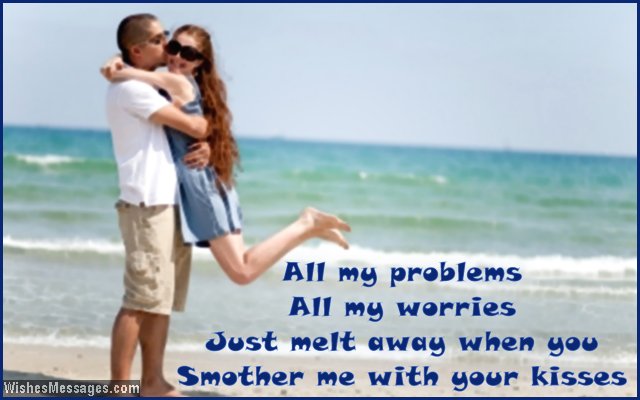 31) All my problems, all my worries, just melt away when you smother me with your kisses. Good night.
32) The universe might be made up of the moon, the stars, the sun and the planet. But there is just one thing in my universe and it's YOU. Good night.
33) Thanks to you, every night when I close my eyes I just see one thing – a beautiful future. Good night.
34) The sun may have set and it might have become dark, but I am happy because I am about to cuddle up with the man who makes my life a walk in the park. Good night.
35) As tired as I feel during the day, I feel like a fairy at night because your love gives me the wings I need to soar away into sweet dreams and the land of fantasy – where it is just you and me. Good night, love.