Farewell Poems for Colleagues: Goodbye Poems for Co-workers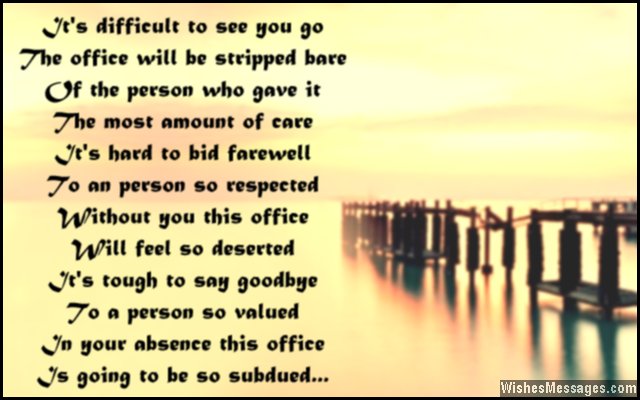 Farewell Poems for Colleagues: Say goodbye to your co-workers by writing a touching poem on a greeting card or in a letter. Use inspirational quotes along with the sweet and funny memories of working together to stir up a storm of emotions. Post your poem on your co-worker's Facebook too. Whether your bestie at work is leaving for a new job or resigning due to retirement – show gratitude for the motivation, mentorship and guidance he or she has given you. People become colleagues out of compulsion but being friends outside work is a choice. So make sure that the words you choose to say goodbye are a fitting end to your professional relationship and the perfect beginning of a personal friendship.
1) It's tough to say goodbye
To a person so valued
In your absence this office
Is going to be so subdued
It's hard to bid farewell
To an person so respected
Without you this office
Will feel so deserted
It's difficult to see you go
The office will be stripped bare
Of the person who gave it
The most amount of care
Goodbye
2) Do you remember
All those inconsequential conversations
All that casual banter
And those faulty decisions
Do you recollect
All that infectious laughter
And those never ending coffee breaks
Which we thought made us smarter
I will miss every moment
I spent with you mate
If I ever get a chance to work with you again
I would love to collaborate
Farewell
3) My dear colleague….
With whom will I discuss the stock prices of the day
To whom will I always have something to say
Who will help me sort things out when I fumble
Who will watch my back when office gossip rumbles
Who will I invite to my house for a barbecue
Who will cover up for my absence like you
It is a pity that I won't see you at work anymore
Coming to work every day will feel like a boring chore
Farewell
4) Happy days don't last forever
That adage is true
Now that you have resigned
And we won't be working with you
Good times don't always last
Someone did say wisely
Now that you are leaving us
For another company
But there is one more proverb
That says friends are forever
And if that is true, then our ties
Will be broken never
Goodbye
5) To my colleague….
Wherever you go
May your skills bring productivity
Wherever you go
Your talent, may your seniors see
Wherever you go
May your abilities fetch you accolades
Wherever you go
May your glory never fade
Wherever you go
Success, may you see
Wherever you go
May you always remember me
Farewell
6) Once a co-worker, but always a mate
May we be sealed together by our fate
Once a partner, but always a buddy
May we cross paths again in our destinies
Once an associate, but always a chum
You kept my work life from being humdrum
Once a colleague, but always a friend
May our newfound friendship never end
Farewell
7) No matter how much
Champagne we pour
No matter how many smiles
We show on the fore
This celebration of your farewell
But a mere formality
The real thing is that
We are all very unhappy
To see you go out
The doors of this place
In our hearts there will be
A hollow and empty space
Goodbye
8) FAREWELL to a colleague like you, so vivacious
F stands for you being Fastidious
A is for you being Ambitious
R signifies you being Rigorous
E acknowledges you for being Exemplary
W declares that you are Worthy
E comes again for you being Extraordinary
L is because you are always Lively
L comes again because you are so Luminous
By using all these adjectives, so precious
I want to convey that your work is thorough and vigorous
With you around, work was always so joyous
Farewell
9) You leave us on two notes
One good and one bad
The first one leaves us happy
And the second one makes us sad
You got a better job elsewhere
And that is great news
But that fact that you are going
Is giving all of us the blues
Farewell
10) To my dear colleague….
You are leaving us and going away
That is going to be such a burden
We will miss all your insightful inputs
You were our employee number one
You have found a greener pasture
And maybe a much better avenue
But you will be missed a lot
I wish a heartfelt goodbye to you
Farewell