Congratulations for new car: Messages for buying new car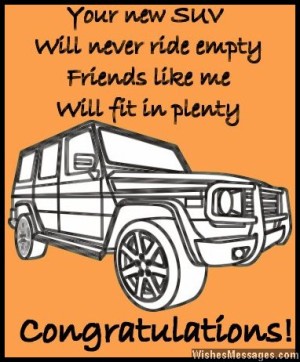 Congratulations for new car: Congratulate someone for buying a new car with funny messages and quotes to send your best wishes. Ford, Honda, Chevy, Jeep, Ferrari, SUV, hatchbacks, expensive sedans and even cool custom rides – this post has ideas for just about anything that has four wheels. Whether it is your friend who just bought hot new wheels or your son who bought his first car, your good wishes will go a long way in helping them enjoy their new purchase.
1) It is great to be driving, but don't give up on walking. Congratulations for new Honda, but I hope you don't become a lazy panda.
2) Your new SUV will never ride empty, friends like me will fit in plenty. Congratulations.
3) Your first car is the only vehicle that you will truly love while you own it and dearly miss after you sell it, from the bottom of your heart. Enjoy it.
4) A new car is a lot more than just a new set of wheels. It is something with which you will associate beautiful memories. Congratulations.
5) May your new car take you to new places with new people and open up new opportunities in your life. Congratulations.
6) Your hot new car will get you a lot of new dates, I just hope you don't forget your old mates. Congratulations buddy.
7) The Ford pickup is a legend, known for its power, strength, durability and rugged attitude. If only you had the same qualities too. Congratulations.
8) Congratulations on buying a new car, I am so happy for you but I am also happy for me too. You can take me on rides, drive me around and pick me up whenever I call you.
9) A journey of a thousand miles begins with a single step. So the journey to a new Ferrari begins with your new hatchback. Congratulations.
10) Finally you got rid of your rickety old wheels, and replaced them with a car that looks hot, like a woman in high heels. Congratulations mate.
11) Your new car shows that you have expensive taste, luxurious sense of style a die-hard need for speed. Congratulations.
12) You got a V8 under the hood, that'll put you ahead of the pack for good. Congratulations for you new machine.
13) Asanti wheels, Borla exhaust and Brembo brakes – your expensive custom ride is a world apart from the cheap fakes. Congratulations for your new ride bro.
14) As the years go by, your first car will gradually rust and die. But thinking about its sweet memories, will always remind you of the time when you first turned its keys. Congratulations.
15) The Dodge Charger has a cult following because it is iconic and legendary. Its keys have come into the hands of a cool person like you, very deservingly. Congratulations.
16) You have proved that you have a big pocket by splurging on such an expensive new car. Now you must show that you have a big heart too by taking us friends for fun rides. Congratulations.
17) This is just a friendly reminder that I am more than happy to babysit your new Mercedes every time you are out of town. Just don't forget to top up your insurance. Congratulations.
18) First you learnt to stand on your own two feet, now you are riding on your own wheels. I wish that success follows you everywhere you go. Congratulations for your new car.
19) I am surprised that you bought yourself a new Jeep. Now I definitely know that you are not cheap. Congratulations.
20) Congratulations for buying a cool new Holden ute, now girls will find you super cute.
21) Your new car is not amazing because it has a good engine in it. Your new car is amazing because you are riding it. Congratulations.
22) I hate you for buying such a cool pickup truck, now my car is just going to suck. Congratulations anyway.
23) Your new car is another addition to the long list of things I envy you for. Congratulations.
24) You may owe money to the bank for your car loan, but I hope you remember that you owe me a ride too. Congratulations.
25) Your new car is cool, just like you. Congratulations.
26) Your hot new car deserves to be driven by someone who really knows how to drive well. You can call me any time. Congratulations.
27) Your first car is way more luxurious and fancy than what your dad had when he was sixteen. It just shows that you are already one step ahead of your old man. Congratulations son.
28) I hope that your new car, takes you on journeys near and far. Congratulations.
29) Do you know the common thing between your first love and your first car? You will forget neither. Congratulations for such a sweet ride.
30) Do you know what I liked on Facebook, shared on Instagram, tweeted on Twitter and pinned on Pinterest? Pictures of your awesome new car. Congratulations.
31) You may call your new car your sweetheart, but your girlfriend sincerely hopes that she will remain the number one sweetheart in your life. I love you.
32) Your brand new SUV, is the coolest on the block, we all agree. Congratulations.
33) Buying such an expensive ride is the best decision you have ever made, although I don't even want to imagine how much you must have paid. Congratulations for your cool ride.
34) You spent thousands and thousands of dollars on a new car. I hope you will spend a fraction of that amount to celebrate the purchase with your old friends. Congratulations mate.
35) You have made the right decision in buying a Chevy, because Chevrolet is a part of America's great history. Congratulations.