Birthday Wishes for Sister: Quotes and Messages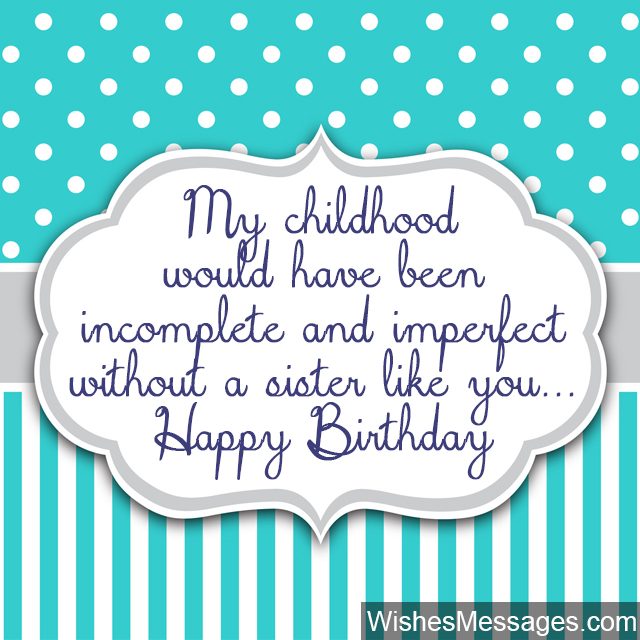 Birthday Wishes for Sister: Whether you are her bratty little younger brother or the protective older sister – write a cute message on a card to wish your sister a Happy Birthday. Special people in your life deserve special greetings and your sister is definitely one of them. Hate her, like her or love her – regardless of how you feel right now your sister will always be that special person who is like an anchor to your sweet childhood memories. The funny, quirky yet lovely relationship that you share with your sister is more than just that of two siblings. Deep inside her heart she will love you unconditionally no matter how much you argue and fight every day. She is the one who knows all your secrets and can see right through any facade you could possibly put up.
1) My childhood would have been incomplete and imperfect without a sister like you. Happy birthday.
2) Sisters are not ordinary human beings. They have the patience of a monk and are more beautiful from within, than what a beauty pageant winner would look from outside.
3) Pharmaceutical companies should take a few swabs of your DNA and bottle its chemical composition to create a product called Emotional Healer. Happy birthday sis.
4) Sisters like you are diamonds. They sparkle, they are priceless and they are truly a woman's best friend. Happy birthday sis.
5) I will never forgive you for every time you have fought with me. But I want you to know that despite our differences I will still love you unconditionally. I know this sounds quirky but that's how wonderful sisterhood is, you see. Happy birthday.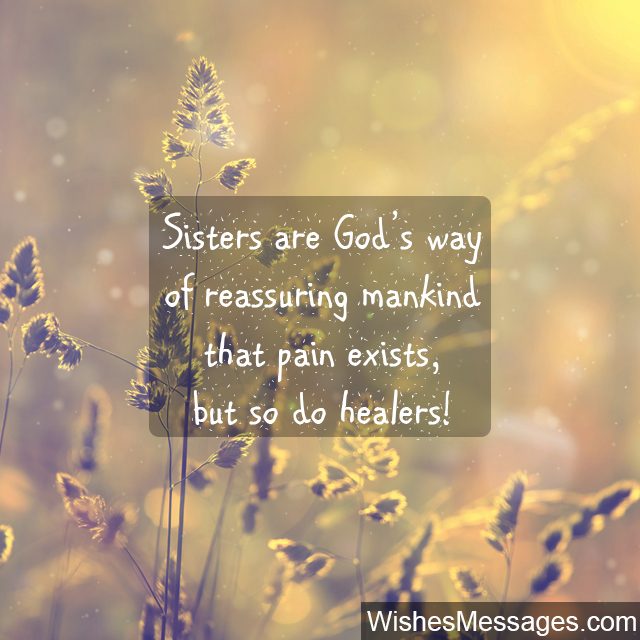 6) Sisters are God's way of reassuring mankind that pain exists, but so do healers.  Happy birthday to one such sis.
7) BFF means Best Friends Forever but do you know what SBFD means? It means Sister but Best Friend in Disguise. Happy birthday #SBFD.
8) Peer pressure, heartbreak and loneliness; insecurity, fear and sadness – the only thing common in all of these, is that they can be healed by hugs from a sis like you. Happy birthday.
9) Wardrobes can't get any trendier, breakups can't get any easier, school can't get any nicer and life can't get any better – when a girl has an amazing sister. Happy birthday sis.
10) How incomplete would one earring look when worn without the other? That is how I would look without you. Happy birthday.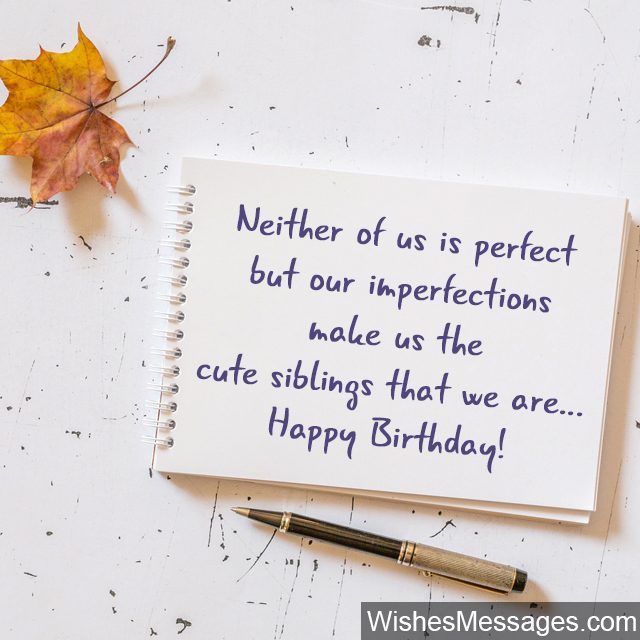 11) Neither of us is perfect but our imperfections make us the cute siblings that we are. Happy birthday.
12) Dear sis, you are the treasure box in which the most precious memories of my childhood have been stored and preserved for a lifetime. Happy birthday.
13) Some people command respect, some admiration, some jealousy, some competitiveness and others unconditional love. But you command all these things at once. Happy birthday to my perfect sibling.
14) When I look at you, I feel like I am looking at myself in the mirror. When I look at myself in the mirror, I see you. Happy birthday sis.
15) The Forbes Billionaire List is totally wrong. I am the richest person in the world because no one else has the love of a wonderful sister like you. Happy birthday.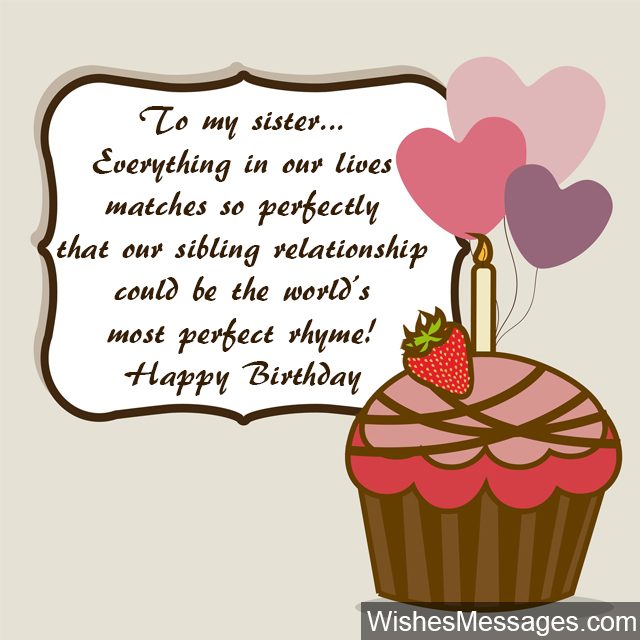 16) Everything in our lives matches so perfectly that our sibling relationship could be the world's most perfect rhyme. Happy birthday sis.
17) Even though I always end up making myself look like a fool, I love to do everything you do to look uber cool. Happy birthday to the coolest sister in the whole world.
18) In the kaleidoscope of my life, you form the most beautiful patterns with the most vibrant colors. Happy birthday sis.
19) My crazy, loving, caring and fun sister, life without you would have been a nasty twister. Happy birthday.
20) Even when no one else shows concern or care, a sister is someone who'll always be there. Happy birthday.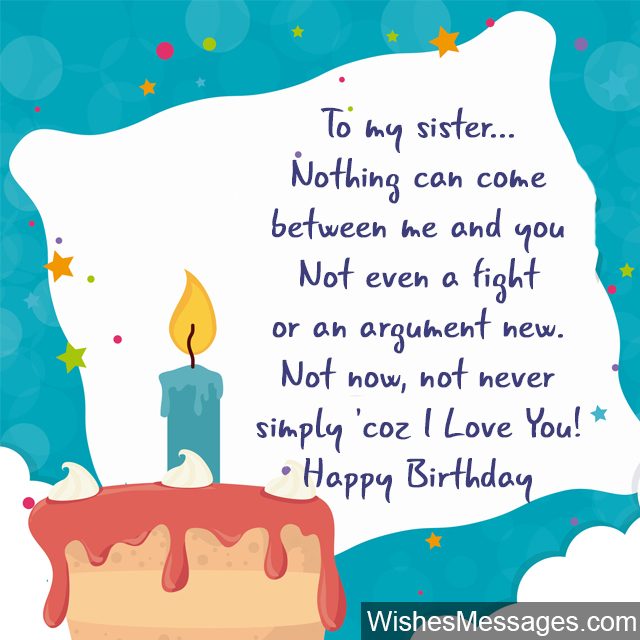 21) Nothing can come between me and you – not even a fight or an argument new. Not now, not never, simply 'coz, I Love You sis! Happy birthday sis.
22) To a brother, a sister is all that a best friend or a lover can never be. Thanks for filling the gaps in my life. Happy birthday sis.
23) We may have been sisters by fate and luck, but there is no one else who I could love so much. Happy birthday.
24) I steal and snatch things from you all year round. So your birthday is a great time to give you a gift and return the favor. Happy birthday dear sister.
25) Thanks for understanding me so much, I cannot imagine my life without your magical touch. Happy birthday.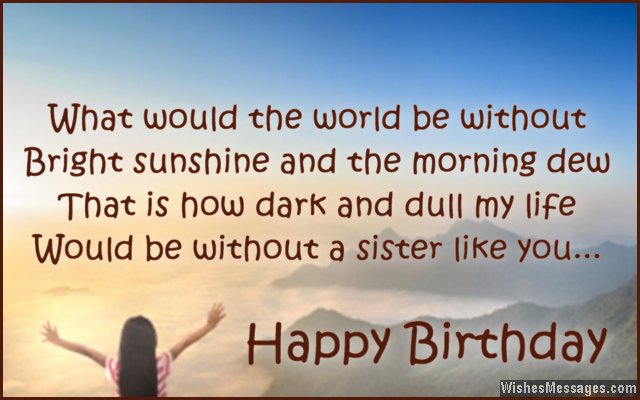 26) What would the world be without bright sunshine and the morning dew? That is how dark and dull my life would be without a sister like you. Happy birthday.
27) A sister may hate you, fight with you, taunt you, pinch you, scowl at you or trouble you. But at the end of the day she will always love you. Happy birthday sis.
28) I look forward to your birthday every year, because I look forward to owning all your clothes as you keep getting older. Happy birthday!
29) A sister's advice will give you much more than new beginnings, if you listen carefully, it'll give your life wings. Happy birthday.
30) When you were a tiny toddler you were such a cute delight. And after so many years you are still a lovely sight. Happy birthday to my beautiful sister.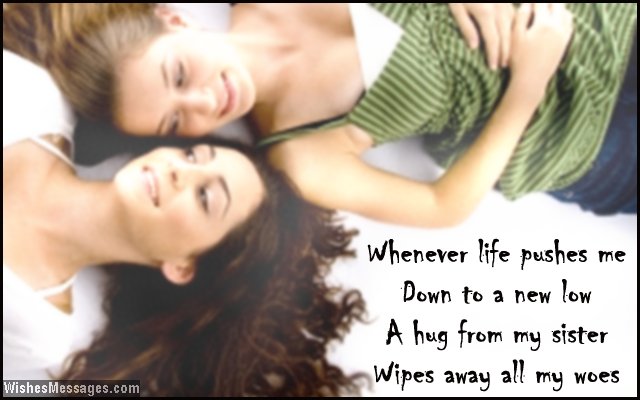 31) Whenever life pushes me to a new low, a hug from my sister wipes away all my woes. Happy birthday sis.
32) Do you know why I give you a hug every time I am about to do something important? Because I need to rub the lucky charm in my life – You. Happy birthday sis.
33) The worst part about having you as my sister is that I can never hide anything from you. That is also the best part actually, because I sail through my troubles after I listen to your point of view. Happy birthday sis.
34) It never mattered to me if I had a best friend or not, because I have always had you by my side and I love you a lot. Happy birthday sis.
35) I may have knotted up your pigtails or sneakily checked your mails, but to stand by you in your time of need, I would never fail. Happy birthday.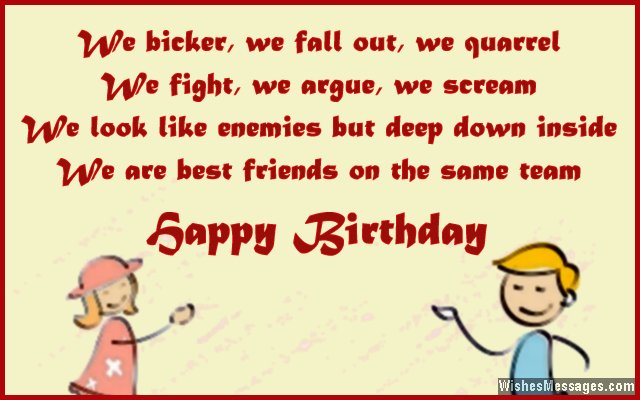 36) We bicker, we fall out, we quarrel. We fight, we argue, we scream. We look like enemies but deep down inside we are best friends on the same team. Happy birthday sis.
37) I confess that I have always been jealous of you. But I am proud of myself that I have set my standards high by being jealous of a rock star like you. Happy birthday sister.
38) If you didn't have wings and I had them, I'd fly you on my back for the rest of our lives. Happy birthday sis.
39) A sister like you and a brother like me, we may fight like cats and dogs but our love is deeper than the sea. Happy birthday.
40) I am younger to you so I took a little more time to mature. If I had realized how much you care for me earlier, I would have given you a hug every day for sure. Happy birthday dear sis.