Birthday Wishes for Girlfriend: Quotes and Messages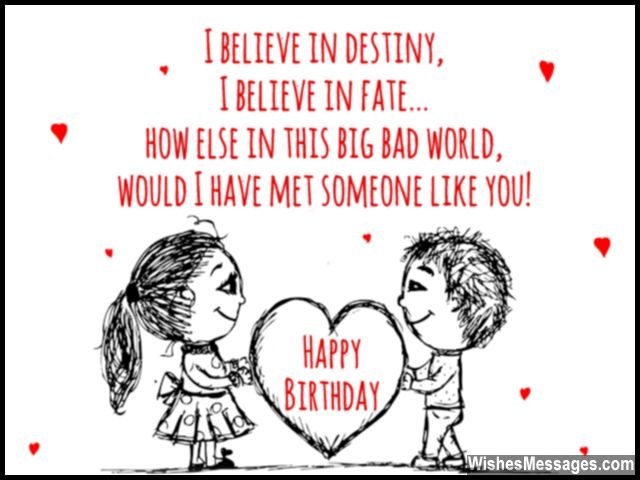 Birthday Wishes for Girlfriend: Don't be a boring boyfriend. Look beyond the cheesy greeting cards to say Happy Birthday to your girl. Surprise her with romantic texts and post something sweet on her Facebook. Flood your Pinterest boards with quotes about love and tag her in tweets that bring a smile to her face. Yep, her birthday is your chance to turn on the charm and make up for all the silly stuff you've done, in one go. Buy her a nice gift and make sure you don't cheap out. If you really want to splurge on your princess, get a custom cake made for her. Relationships are meant to be fun and life is supposed to made of awesome memories – make sure your girlfriend's birthday turns into a memory that sticks in your hearts and minds forever.
1) I believe in destiny, I believe in fate… how else in this big bad world, would I have met someone like you. xoxo
2) Your birthday is making you sexier with every passing year. Happy birthday hottie.
3) Have I told you that you become more kissable on certain days of the year? Today is one of them. Happy birthday.
4) Stunning and beautiful is the view, when I close my eyes and think of you. Happy birthday girl.
5) Apart from wrapping you an awesome birthday gift, I am also going to wrap you in my arms. Happy birthday sweetheart.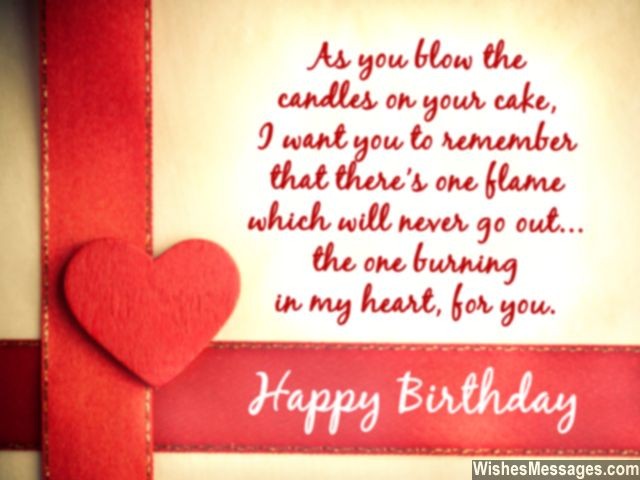 6) As you blow the candles on your cake, I want you to remember that there's one flame that'll never go out… the one burning in my heart, for you. Happy birthday.
7) Even when I am sad and depressed, your hugs are what always makes me grin. With you by my side, I know I will always win. Happy birthday beautiful.
8) Even the sweetest birthday cake cannot be as sweet as you. Happy birthday.
9) The wishes you make as you blow out the candles on your cake, will all come true because that's what I wished for too. Happy birthday.
10) From the day I said hello to you for the first time, my heart knew that it never wanted to say goodbye. xoxo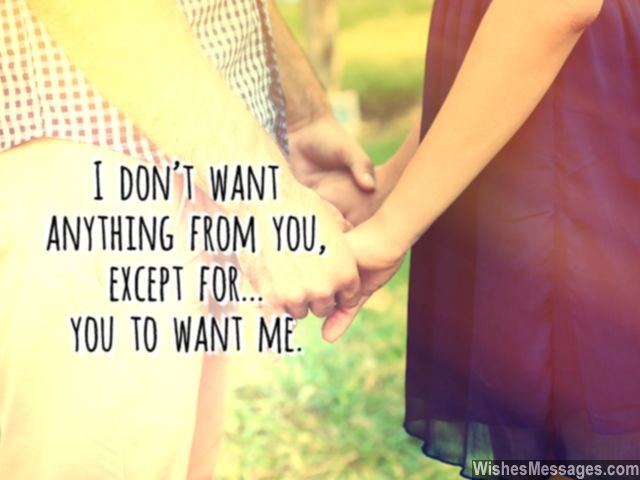 11) I don't want anything from you, except for… you to want me. Happy birthday.
12) Long walks and romantic banter, holding hands and mushy chatter. All this and a lot more, everything for you to soar. After all it's your special day, sit back and be pampered in every way. Happy birthday.
13) Before we met, a girl like you I had never seen. And ever since that day, you have become my heart's queen. Happy birthday.
14) No matter how much we fight and argue, no one else means more to me than you. Happy birthday.
15) All I want in life, is to be the reason for you to look forward to waking up every day with a smile. Happy birthday.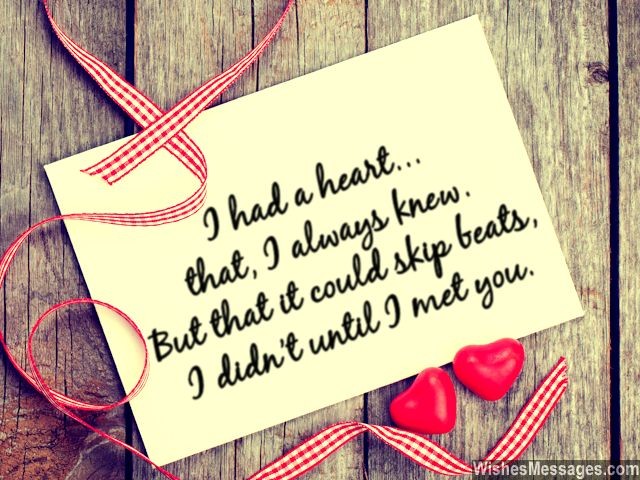 16) I had a heart, that I always knew. But that it could skip beats, I didn't until I met you. Happy birthday.
17) What do you get when you mix hotness and beauty, and combine the both with a sexy personality – YOU. Happy birthday.
18) Pretty as a rose, sweet like honey – thanks for making my life, bright and sunny. Happy birthday.
19) I promise that your birthday will be awesome, fun and full of beautiful memories, just like how you've made my life to be. Happy birthday.
20) We met as strangers, we hugged as friends, we kissed like lovers – this is one journey I'd never want to change. Happy birthday.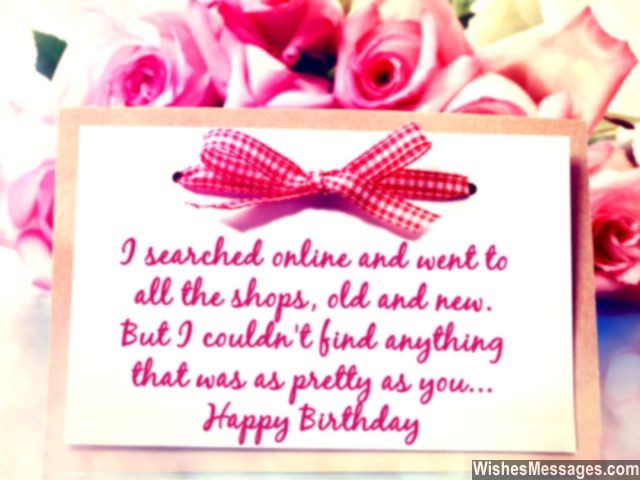 21) I searched online and went to all the shops, old and new. But I could not find anything that was as pretty as you. Happy birthday girl.
22) If you were any sweeter, your cake would be jealous of you. Happy birthday.
23) I wanted to gift wrap my love for you but a box large enough to fit all of it has not been made yet. Happy birthday sweetie.
24) I want your birthday to be fun and perfect – just like us two. Happy birthday.
25) The universe may turn upside down, but you will always be the prettiest girl in town. Happy birthday baby.
26) The puppy love between you and me, is as beautiful as the notes of Do Re Mi. Happy birthday.
27) My promise to you on your birthday is that I will never lie. I never want to lose you and I don't ever want to say goodbye. Happy birthday.
28) I think I love you more than you love me. You think you love me more than I love you. I think it does not matter because we both love each other more than we love ourselves. Happy birthday.
29) I don't have any regrets in my life except that I wish I would have met you earlier. Happy birthday.
30) I think your birthday is the perfect moment for me to stop saying I like you, and starting saying I love you. xoxo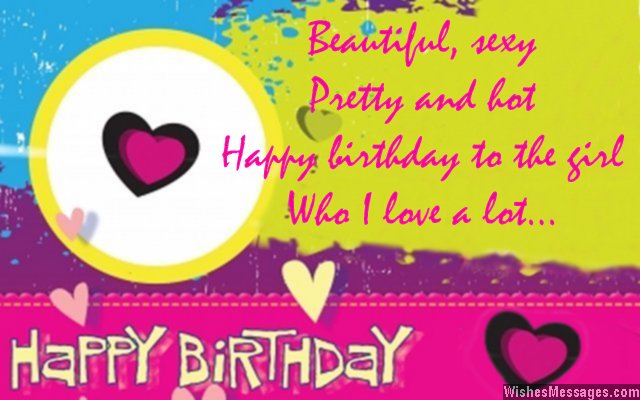 31) Beautiful, sexy, pretty and hot. Happy birthday to the girlfriend who I love a lot.
32) Happy birthday to my love, my best friend, my agony aunt, my complaint hotline, my emergency contact and my soul mate. xoxo
33) If I could be any planetary object, I'd be the moon so I can orbit around you and shine my radiance on you at night. Happy birthday.
34) I never knew I was so good looking until the day a gorgeous princess like you, agreed to go out on a date with me. Happy birthday baby.
35) I can't understand what is the big deal with Mona Lisa's smile. Obviously the world hasn't seen you smile. Happy birthday sweetie.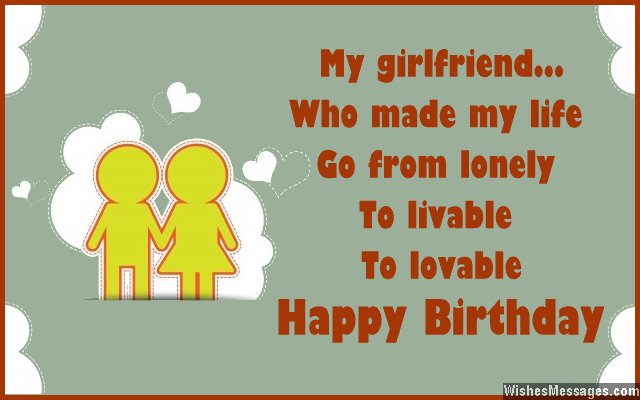 36) Happy birthday to my girlfriend who made my life go from lonely to livable to lovable. I love you.
37) The reason why I never try to win arguments with you is because when I lose, you win. And when you win, it makes you happy. And that, is the only thing I want in life – to keep you happy. Wishing you a happy birthday.
38) Me and you, are the perfect match – if you fall, I am there to catch. Me and you, we are the perfect two – you love me, and I love you. Happy birthday.
39) You are the girlfriend I never had, always dreamed of having and finally have. I hope I am the same kinda boyfriend for you. Happy birthday.
40) I have got the best birthday gift for you, but it is worthless as compared to my love for you. Happy birthday.