Birthday Wishes for Bodybuilders: Messages for Gym and Fitness Freaks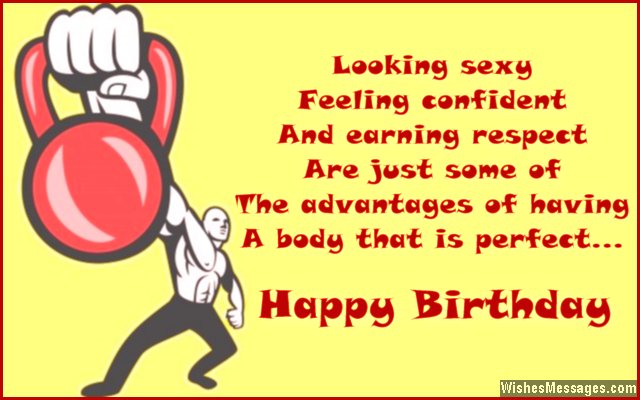 Birthday Wishes for Bodybuilders: Fitness freaks and gym bunnies have one thing in common – their daily routines revolves around dumbbells, muscles, diet, protein shakes, supplements and a good night's sleep after all the lifting and pumping gets over. This die-hard passion for the sport is exactly what you must encompass when you write something on a greeting card for a fitness fanatic. From funny one-liners to inspirational quotes – this post will help you ideate on your message whether it is for a friend, workout partner, boyfriend, girlfriend or husband.
1) Looking sexy, feeling confident and earning respect, are just some of the advantages of having a body that is perfect. Happy birthday.
2) Bulging biceps and a ripped back, massive shoulders that are worth many claps. Thunderous things and popping forearms, everyone will succumb to your macho charms. Strong calves and 8-pack abs, here's hoping you build a body – sizzling hot and fab. Happy birthday.
3) Party hard, have fun and feast on cake, but don't forget to drink your protein shake. Happy birthday.
4) Bodybuilding is less of a sport and more of a passion. Here's hoping this birthday brings in tons of motivation and inspiration. Happy birthday.
5) The inspiration to train and the motivation to gain – not just once but again and again. This is what I wish for you as you turn a year older, here's to the handsome fella who just doesn't stop getting bigger. Happy birthday.
6) Drinks, cake and parties is what you must savor today but protein shakes, workouts and sleep is what you must savor from tomorrow. Happy birthday.
7) You are… big and confident, macho and burly. Hot and handsome, ripped and sexy. Happy birthday.
8) In a perfect world your cake would be made with a 100% whey protein powder and topped off with an icing made from creatine. Happy birthday.
9) Happy birthday to… a fitness freak and a gym bunny. A workout addict and a guy with a hot body. Committed to exercise and a heavy lifter. An inspirational person and a passionate bodybuilder.
10) The biggest and the baddest, the most committed and the most dedicated – this is why you are, the gym's shining star. Happy birthday.
11) I hope that every single day in this new year of your life gives you the motivation to pump harder and inspiration to grow bigger. Happy birthday.
12) Never miss a session at the gym, never say no to a good workout. Never compromise on your diet – you will get bigger without a doubt. Happy birthday.
13) It's not how much you can lift, it's all about how much you think you can lift. Happy birthday big boy.
14) Ripped muscles and a hot body, is what I wish for you my buddy. Happy birthday.
15) A hundred push-ups, a hundred crunches and a hundred chin-ups are a must – this is how you should start your birthday so that you don't let your body rust. Happy birthday.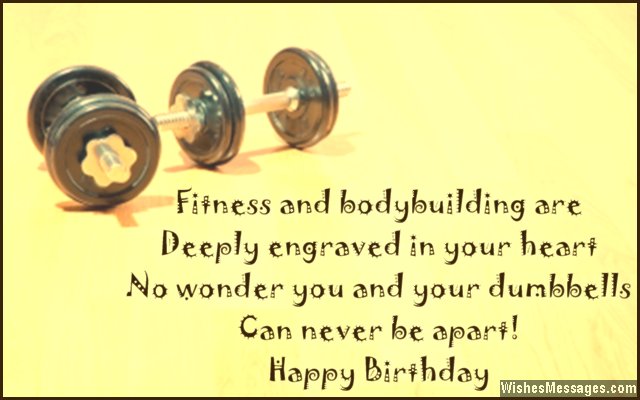 16) Fitness and bodybuilding are deeply engraved in your heart, no wonder you and dumbbells can never be apart. Happy birthday.
17) Make solid muscle gains, lose every ounce of fat – here's to a strong core and abs that are flat. Ripped definitions and t-shirts bursting at the seams – here's hoping you get to live all your bodybuilding dreams. Happy birthday.
18) Train harder, lift heavier, eat better, grow bigger. Happy birthday.
19) Some people say that fitness is just a state of mind. They are all wrong because one look at your says that fitness is a state of a sexy body like yours. Happy birthday.
20) As life adds another year to your age, here's wishing you add many more pounds to your bench press. Happy birthday.
21) Nothing can stop you from having the body that you always wanted, if you stop taking your diet for granted. Having said that, there are some days on which you can give yourself a break. Today is one of them so make sure you enjoy your birthday cake. Happy birthday.
22) I hope that you birthday party has real drinks not protein shakes and real food not just boiled meats. Happy birthday.
23) I can't gift you bigger muscles but I can gift you a new pair of dumbbells to help you get there. Happy birthday.
24) Bodybuilding is a way of life, not just a habit or a hobby. I wish the best to you, as you tread along this tough journey. Happy birthday.
25) On your birthday I hope life gives you the energy to train harder and lift heavier. Happy birthday big boy.
26) May this birthday mark the onset of biggest muscle gains, which keep happening again and again. Happy birthday.
27) May the protein gods continue showering their blessings on you. Happy birthday.
28) In bodybuilding you are your greatest competitor. So on your birthday I wish that you keep beating your old self every single day in the gym. Happy birthday.
29) On your birthday I could wish for you many things including bigger biceps or a stronger back. But I am going to wish for you, a more powerful mind because that is from where it all begins. Happy birthday big boy.
30) Good sleep is the key to muscle recovery, but you must shun that notion today if you want to have a good party. Happy birthday.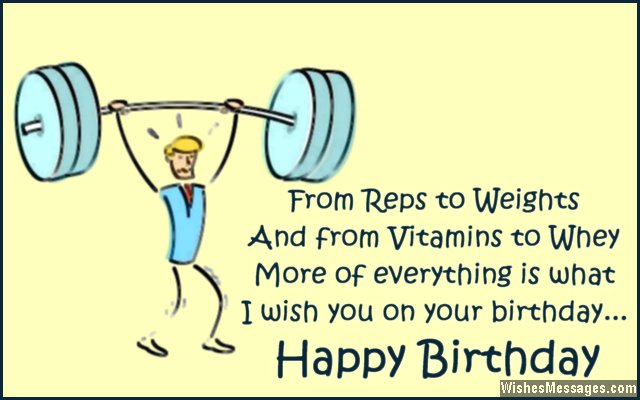 31) From Reps to Weights and from Vitamins to Whey, more of everything is what I wish you on your birthday. Happy birthday.
32) As I wish a happy birthday to you, I hope all your bodybuilding dreams come true.
33) May dumbbells and barbells always be by your side. May fitness always be embedded in your stride. May you never miss your gym sessions. May you always have tons of motivation. Happy birthday.
34) I hope this birthday gives you the power to life the heaviest dumbbells and press the most massive barbells. Happy birthday.
35) I don't care how big a fitness freak you are, you are banned from going to the gym today because you are this party's star. Happy birthday.