60th Birthday Wishes: Quotes and Messages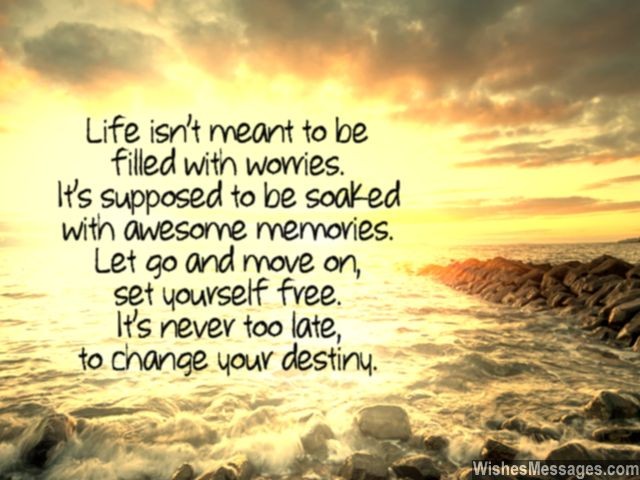 60th Birthday Wishes: Funny messages, humorous quotes about turning older, jokes about age and inspirational words for speeches – this post is an eclectic mix of all the emotions people go through when they turn sixty. Read them and be inspired to write a cute message to mark someone's sixtieth. Whether it is your dad, mom, colleague, grandpa, grandma, friend, colleague or boss – motivate them to continue living life to the fullest. Don't stop at just a measly greeting card. Post your rants on their Facebook. Pin a lot of delightful birthday stuff on your Pinterest and share it on your Twitter. Go on, give the oldie a reason to smile. At that age there are fewer better gifts than friends and family rallying around to celebrate.
1) Life isn't meant, to be filled with worries. It's supposed to be soaked, with awesome memories. Let go and move on, set yourself free. It's never too late, to change your destiny. Happy birthday.
2) The years can show on your face, but in your mind they have no place. You may have turned sixty, but your soul thinks that it is still thirty. Physically age may start playing its part, but you will always be young at heart. Happy birthday.
3) You have lived for six decades. Can we finally expect you to be wise and mature? Happy birthday.
4) How do you expect me to keep a straight face, when your hair is all over the place? How do you expect me not to mock, the way you have begun to funnily walk? How do you expect me not to make fun of you, when turning sixty makes you feel old and blue? Happy birthday.
5) All your life you have believed that age is just a state of mind. Now your body will prove you wrong. Happy 60th birthday old timer.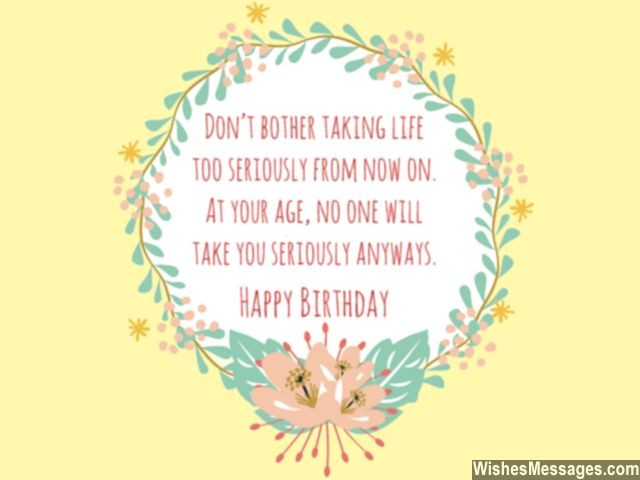 6) Don't bother taking life too seriously from now on. At your age, no one will take you seriously anyways. Happy birthday.
7) Congratulations for entering your sixties. There's no running away from being called OLD now. Happy birthday.
8) You are too old for a big night out but still too young to quietly celebrate with just tea and cookies. Welcome to your sixties – an utterly confusing period of your life. Happy birthday.
9) Six long decades of life haven't slowed you down even a bit. You are happy, healthy and tremendously fit. Hope you continue living life in the same way, is what we wish as you celebrate your birthday.
10) When you were a teen, you experienced teenage crisis. When you were forty, you experienced midlife crisis. Now that you are sixty, be prepared to experience all types of crises. Happy birthday.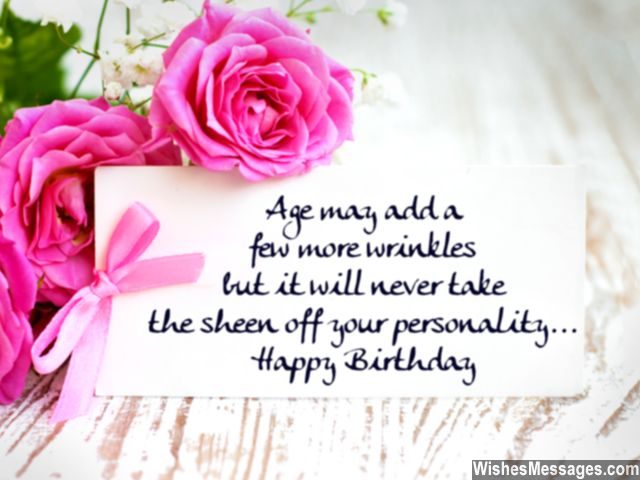 11) Age may add a few more wrinkles but it will never take the sheen off your personality. Happy birthday.
12) Did you know that scientists have discovered the secret to everlasting youthfulness? No point telling you now, you are already old now. Happy 60th.
13) Some people will try to make you feel better by saying that zero has no value. But in reality it has a massive effect, especially when you turn sixty. Happy birthday old man.
14) Your energy levels are truly inspirational, your outlook towards life is truly motivational. You are someone who I truly admire, to become just like you when I grow old is my only desire. Happy 60th birthday.
15) A happy sixty year old is much healthier than a grumpy thirty year old. Happy birthday.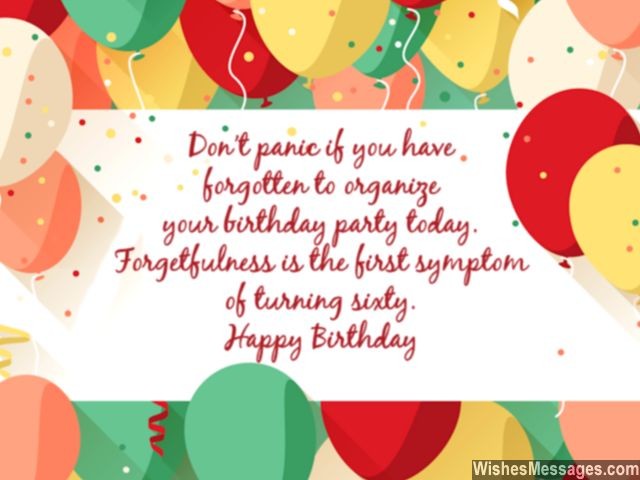 16) Don't panic if you have forgotten to organize your birthday party today. Forgetfulness is the first symptom of turning sixty. Happy birthday.
17) Life is like a book. No matter how hard you try, it is going to have The End at some point or another. So stop worrying and start enjoying while you can. Happy sixtieth birthday.
18) All your life you complained about paying sky high health insurance premiums. Don't worry, life will now slowly start to give you chances for redemption. Happy 60th birthday.
19) Can I borrow your wisdom and maturity? After sixty, you are not going to use all those things anyway. Happy 60th birthday.
20) Turning sixty signifies those last few years when you can take advantage of being forgetful, tardy, clumsy, slow and inefficient at work and still get paid. Make hay while the sun shines. Happy 60th.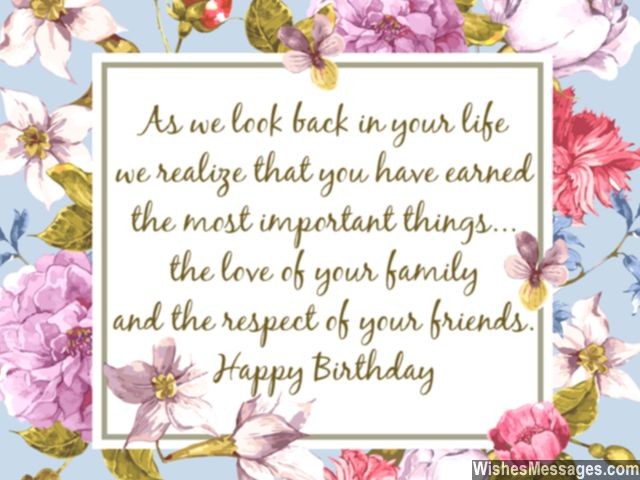 21) As we look back in your life we realize that you have earned the most important things – the love of your family and the respect of your friends. Happy 60th birthday.
22) Turning sixty may be the beginning of the sunset period of your life. But don't be disheartened because sunsets are some of the most beautiful spectacles – all you have to do is sit back and enjoy the view. Happy 60th.
23) Sixty is the age when you can finally stop worrying about all your health problems. Because no matter how much you worry, it is all downhill from here onwards anyways. Happy 60th.
24) Advancement in science and medical technology will soon take life expectancy to 120. By those standards you are still classified as young! Happy 60th.
25) Old age may give you a weak memory and weaker bones, but it compensates with the love of grandkids and the pleasure of retirement. Congratulations for entering this wonderful phase of life. Happy 60th birthday.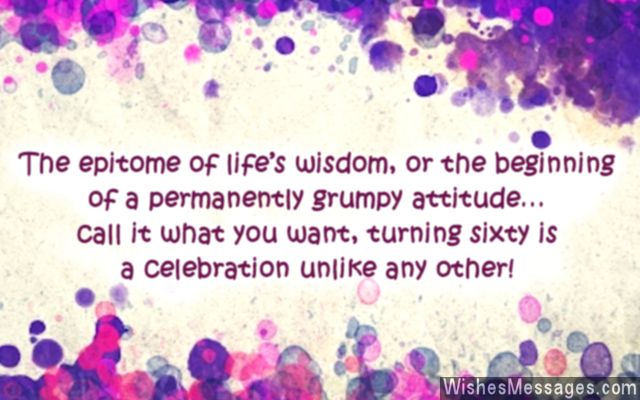 26) The epitome of life's wisdom or the beginning of a permanently grumpy attitude – call it what you want, turning sixty is a celebration unlike any other. Happy birthday.
27) Turning sixty does not mean, that you get ready to call it quits. Turning sixty actually means, that you are ready to enjoy all of life's bits. Happy sixtieth.
28) Being broke in your twenties is no problem, because you can still have fun. Being rich at sixty doesn't really matter, because you can't have fun anyways. Happy birthday.
29) Turning sixty gives you many additional rights in life, including the right to be forgetful, right to be annoying and the right to be grumpy. Happy sixtieth.
30) Physiologically you are sixty. Mentally you are forty. But emotionally, your spirit is just twenty. Happy 60th birthday.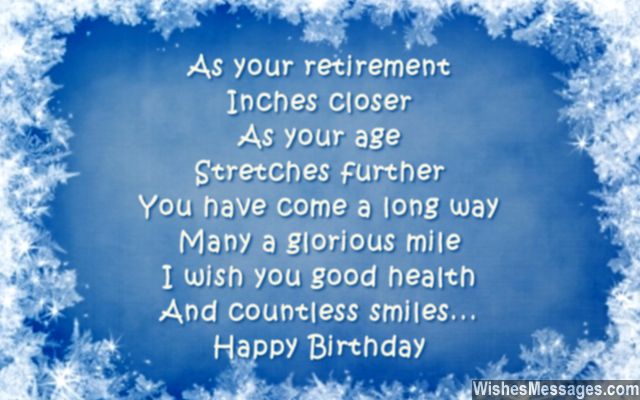 31) As your retirement inches closer, as your age stretches further. You have come a long way, many a glorious mile, I wish you good health and countless smiles. Happy 60th.
32) Don't believe colleagues who say that life begins at sixty. They are just trying to ready you for your retirement and see you off as soon as they can. Happy 60th birthday.
33) Don't be under the false impression that life is like wine so it becomes sweeter with age. As the years go by, even wine turns into vinegar – sour and inedible. Start cherishing life while your maturity and sweetness is at its peak – sixty. Happy birthday.
34) I know why you are happy about turning sixty – you are just a few years away from getting old age benefits. Happy 60th.
23) It doesn't matter whether you turn fifty, forty, or sixty because age has nothing to do with our friendship. Happy birthday my friend.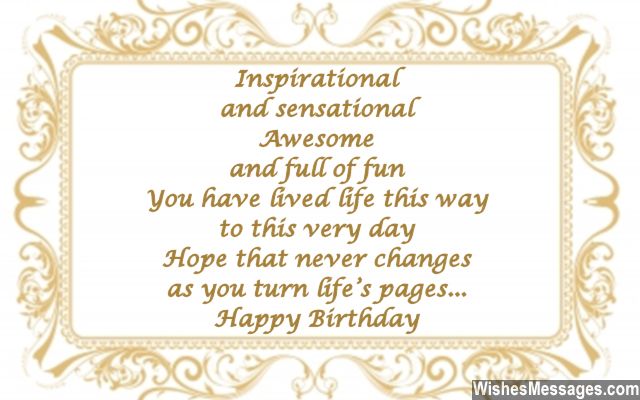 36) Inspirational and sensational. Awesome and full of fun. You have lived life this way, to this very day. Hope that never changes, as you turn life's pages. Happy birthday.
37) Grace, dignity, maturity and wisdom – this is how I would describe your personality. Happy 60th birthday.
38) Turning sixty is one of the best phases of life because you can actually start pretending that you are old when you want seats on busses and trains. Happy birthday.
39) Turning sixty is not a reason to slow down in life. It is a reason to start living life to the fullest to make up for all that you haven't done in your youth. Happy birthday.
40) A decade is a long time and you have lived six of them. Damn, you are old. Happy 60th.