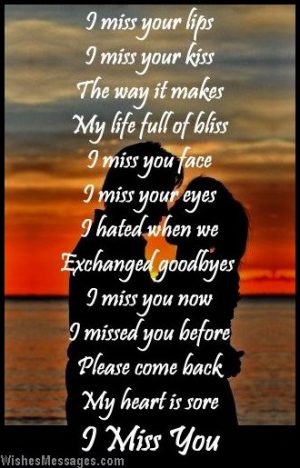 I miss you poems for girlfriend: Missing your girl too much? Say it with a sweet poem that tickles her heart and makes her want to come running into her boyfriend's arms. Whether you are missing her because she has moved to another city, been traveling on a holiday, gone overseas for work or for no reason at all – take ideas from this post to create your own cute rhyme. Send it to her as a text, funny Instagram upload, cute Pinterest share or a short Facebook post. If you think that you deserve to get hugs and kisses from her, she deserves to know that you want them. Go ahead, tell your girlfriend how much you miss her.
1) I am sick of Skype
I am too bored to type
I am fed up with emails
Too much effort, it entails
I have lost interest
In sharing pictures on Pinterest
I am tired of the fuss
It takes to connect on G Plus
I am annoyed with WhatsApp
I wish you could come and sit in my lap
I miss you
2) You are my girlfriend
I am your boyfriend
On our daily hugs
I dearly depend
As I sit here alone
Feeling a little blue
I need you girl
I miss you
3) So what if we have just met
I still feel alone
Even a few hours apart
Makes my heart moan
Let's start finding ways
In which we can be
Together all the time
I miss you, do you miss me?
4) I feel busy day and night
Even if I am doing nothing
I am occupied continuously
In happily daydreaming
Thinking about you all day
And missing you terribly
Has become my pastime
I miss you so much baby
5) I miss your smile
I miss your voice
If I got to see you
I would rejoice
I miss your lips
I miss your kiss
The way it makes
My life full of bliss
I miss you face
I miss your eyes
I hated when we
Exchanged goodbyes
I miss you now
I missed you before
Please come back
My heart is sore
I miss you
6) The day you took that flight
I crumbled apart
The day you waved goodbye
I cried from the heart
The day you told me that
You will be back soon enough
I knew that life from then on
Was going to be tough
I miss you
7) My Facebook status right now is
I am sad and lonely
My latest WhatsApp message says
Come back to me quickly
My latest tweets shout out
I miss you very much
My Google Plus update is
I want your loving touch
You are aware of my feelings
And I know you are reading all this
So why don't you do the right thing
Come back and give me a kiss
I miss you
8) One, two
I miss you
Two, three
Do you miss me
Three, four
Life is a bore
Four, five
I want to watch you live
Seven and eight
How much will you make me wait
Even if I count to thirteen
I can't tell you how miserable I have been
I miss you
9) Your boyfriend is having a hissy fit
His heart is breaking bit by bit
You haven't met him since a few days
Which is making him sad in many ways
He wants you to give him a hug
He also wants you to give him a kiss
Not tomorrow, but today
Hope you won't disappoint, miss
10) Now I realize
How much I prize
All our fights
And our loving nights
Each and every memory
All the gifts that you gave me
Our romantic relationship
Based on the foundation of friendship
Our first kiss
And spending time in bliss
I miss all this and more
Come back and make my spirit soar
I miss you
11) If you ever gave a thought
To my miserable condition
You wouldn't have been busy
Pursuing your ambition
If you ever gave a thought
To what I am going through
You wouldn't have given me a chance
To say that I miss you
12) Have you ever tasted
Tea without sugar
Have you ever tried
Bread without butter
Have you ever eaten
Chips without fish
You should try out this stuff
Is what I really wish
So that you come to know
What my life has become
After you have gone
I am incomplete and lonesome
I miss you
13) Missing you is enjoyable
Just because I can think of you all day
I can shut myself from the rest of the world
From my studies, I can stay away
I can spend days and nights
Just dreaming about you
Imagining that wherever you are
You are missing me too
I miss you baby
14) The worst day of my life
Is when you went overseas
I have desperately waited
Pleading Come Back Please
Days have passed and become months
Almost a year has gone by
I miss you with all my heart
I can't take it any longer even if I try
15) All my memories of you
I have captured in my heart
Your job was going to take you away
I knew from the very start
Like the lens of a camera
My eyes have clicked many pictures of you
As much as I miss you baby
I hope you miss me too
16) When any guy in the world
Says I Miss You to his sweetheart
He doesn't mean it in the way
That I say after we have been apart
When any guy in the world
Sheds a tear for missing his love
It doesn't compare to my misery
I feel like hell just crashed from above
I miss you
17) Hottie, what can I do
I am so far from you
Girl, what should I say
I don't want to live another day
Without you by my side
Life feels like a downhill ride
I am desperate for you to come back
To get our love life on the right track
I miss you
18) Not a day, not a week
Definitely not a fortnight
Darling, I can't bear you
Being away from my sight
Not a month, not more than that
Definitely not a year
Every single minute of my life
I want you to be near
I miss you
19) There is no limit
To how much I miss you
For describing that vacuum
Words are very few
There is no boundary
To the lengths I can go
To hug you tightly
I just want you to know
Before I stretch any limits
Or exceed any boundaries
In my arms darling
Come back quickly, please
I miss you girl
20) The clouds have rolled up
In the horizon of my life
The day you went away
You left me nothing but strife
A thunderstorm is about to hit
I can feel it, I'm so blue
Take me out of this calamity
Girl, I miss you
21) Happiness is not enough
Gloomy days have become tough
Smiles don't make sense
The mist in my eyes becomes dense
Partying isn't fun anymore
I keep feeling very sore
When you are not around
My life doesn't remain sound
I miss you
22) I start my morning
With one thought only
And that is my wish
Of you being with me
I end my day
With the same thought
Your absence in my life
Has created a drought
I miss you
23) I make a wish
Even when I don't see
A shooting star
Shining brightly
I make a wish
Even when I don't throw
A coin in a wishing well
Because I want you to know
That I don't need a wishing well
Or a shooting star
To wish that you were next to me
Instead of where you are
I miss you
24) It has been a long time
Since you have been away
It seems like eternity
Since I had a chance to say
I love you, with all my heart
And hug you in person
Girl, I miss you a lot
Baby, you are the one
25) I have been working hard
And have made an attempt
But I have failed miserably
For which I have contempt
I have been putting effort
I have taken a trial
But I haven't succeeded
Maybe I am in denial
I have taken a crack
And have given it my best shot
But I just can't stop thinking about you
I miss you a lot