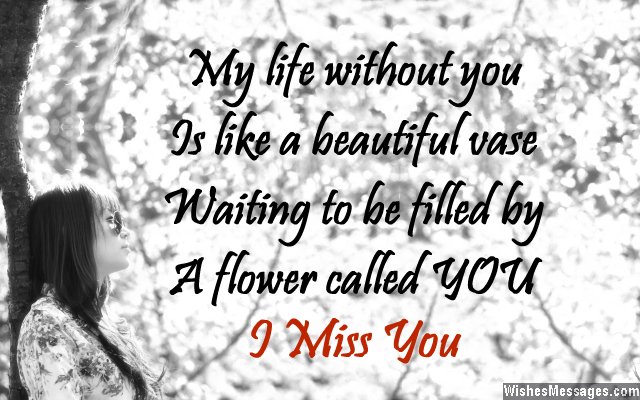 I miss you messages for boyfriend: Say I Am Missing You to your boyfriend by sending romantic text messages, posting funny quotes about love on Facebook and tagging him in sweet tweets. You can even write a cute message on a Missing You card and send it to him in a letter. Show him how lonely his girlfriend feels and how much she longs for his warm hug and tender kiss. Use email, Facebook, Pinterest, WhatsApp, WeChat and all other social media platforms to exchange messages like these so that you keep the spark in your relationship alive. Flirty messages like these are what falling in love is all about.
1) I look into the mirror and I see a thorny rose without its petals. I look outside the window at the clear blue skies and I feel like a bird without wings. Come give your girlfriend a hug so that she can feel like a pretty rose and a free bird all over again. I miss you.
2) There is a hole in my heart and the only plumber who can plug it is you, my boyfriend. Don't forget to bring the most important tools that will help fix this leak – your hugs and your kisses. I miss you.
3) Missing you is one feeling which is easy to get but difficult to handle.
4) I don't just miss you – I miss the warmth in your breath, depth in your eyes, moistness in your kiss, touch of your fingers and grip of your hands on my waist. I miss you truly and deeply.
5) Your girlfriend is engineered to function properly only if she is given regular doses of hugs and kisses. Delay in such maintenance will result in a breakdown which will cost you a lot of money in the form of expensive gifts. The first sign of a potential breakdown are the three words – I Miss You.
6) My life without you is like a beautiful vase waiting to be filled by a flower called YOU. I miss you.
7) On the day you asked me out, I should have drafted a Boyfriend Contract which would have made it compulsory for you to meet me at least once every day. I miss you boy.
8) I am resting my head on the sofa cushion but it doesn't feel the same as resting my head on my boyfriend's shoulders. I am giving my pillow a tight hug but it doesn't feel the same like giving my boyfriend a tight hug. I meet my boyfriend in my dreams but it doesn't feel the same as meeting him in real life. I miss you.
9) Just because you have not met me since many days, I am changing my first name to Lonely, middle name to Alone and last name to Sad. From now onwards, you can call me Lonely Alone Sad. I miss you.
10) The deadliest prison in the world is called Missing You and it is located in My Heart. I miss you badly, come free this prisoner of love.
11) The feeling of missing you is like eating my favorite chocolate – no matter how much you have, you will always want more. Come meet me so this girl can nibble on her chocolate called YOU. xoxo
12) I will stop missing you uncontrollably only when you come back and I can kiss you uncontrollably. I love you, come back soon.
13) This text message is a warning that you are about to have hundreds of hiccups because I am missing you too much.
14) Your girlfriend is sweet, cute, pretty and romantic most of the times. But if you don't meet her often, she will become bitter, nasty, ugly and annoying. I am missing you a lot, so meet me soon if you want to stop me from turning into a crazy woman.
15) I miss you so much that if chanting your name was considered a prayer, my place in the heavens would have already been secured. I miss you boy.
16) How would you feel if someone chopped off one of your arms or one of your legs? That is how I am feeling without you. I am missing you, my handsome boyfriend.
17) I love the feeling I get when I am missing you, because it makes me dream about the romantic times we have spent together. But I also hate the feeling when I get when I am missing you, because it makes me realize that we are not together right now. I miss you.
18) The clock ticks slower than it usually does when you are not around. Come back soon so that I can re-live the best time of my life. I miss you.
19) How much do I miss you? Multiply the viral views of Gangnam Style with those of the Harlem Shake and you are still not close enough to the answer. That is how much I miss you.
20) My life feels like a beautiful sunrise when you are with me but it feels like a dark thunderstorm when you are away. Please come and bring the sunshine back in my life. I am missing you, my handsome boyfriend.
21) I feel like hugging you, I feel like kissing you, I feel like cuddling with you – this is how I feel, when I am missing you.
22) The only thing worse than bad luck is the curse of a sweet innocent girl. So come and meet me soon or else you will attract the curse of a girl whose heart is being torn apart because she is missing you to bits. I miss you.
23) Just like I have random cravings of chocolate and ice cream in the middle of night which I must satisfy to be able to sleep, I have random cravings for you which I must satisfy at any cost. I miss you.
24) I know exactly where all the cracks are on the ceiling of my room. That is because I keep staring at it all day, thinking of you and missing you. I miss you.
25) Every time I miss you, I shed a tear and collect it in a bucket. If you don't come back soon, I am going to have a lake in my backyard. I miss you.
26) Do you know what Facebook, Twitter, WhatsApp, WeChat and email have in common? I hate them all because I have become sick of talking to you virtually. Come and give your sad girlfriend a real hug.
27) I remember every single moment of our relationship including every single detail. It is a pity that I remember so much in such detail, because now I miss everything about you – in detail.
28) I have thought about our memories so much that they have become overused. Please come back quickly so that we can make new memories which will give me enough to think about when I miss you the next time.
29) I hate saying I Miss You because it confirms that I am not with you. But right now I am missing you so badly, that I must say – I Miss You.
30) You told me that you would do anything to make this girlfriend happy. If you want to prove that you were not joking, come back and make me stop missing you.