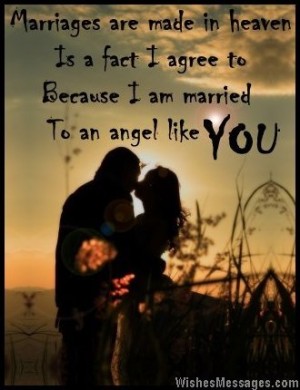 Birthday poems for wife: Take ideas from these short poems to write a romantic rhyme on your wife's birthday greeting card or use it in a speech to wish her Happy Birthday in front of friends and family. The best birthday quotes are those which come from the heart – so dig deep into your marriage's memory bank and think of the sweetest memories. Use them in your poem to surprise your wife by reciting your cute rhyme. Top up your beautiful card by sending her lovely wishes on Facebook, Twitter, Pinterest and funny text messages. Couples often take each others' presence for granted. Treat your wife like a queen on her birthday to redeem yourself for all the times you have overlooked her priceless contribution in your marriage.
1) I may never be able to become
A husband as amazing and awesome
As the wife you have been to me
And changed the course of my destiny
If I can be even an ounce of what you are
I will be able to take my life really far
Until I catch with up with you, sweetie
I want you to keep inspiring me
Happy birthday darling
2) Your love for me
Has always been enduring
I hope I can return it with
Affection which is everlasting
Your respect for me
Has always been inspiring
I hope I can return it with
Loyalty which is unflinching
Your commitment to me
Has always been never-ending
I will return it with my love
Which is true and undying
Happy birthday
3) To my dear wife….
I knew you would be the girl I would marry
Ever since the day I gave you my first look
On the day we officially tied the knot
I felt proud to change my relationship status on Facebook
Not a single day passes by in my life
When your sweet antics don't give my heart a flutter
You would realize how much I miss you
When I am at work, if you saw my Twitter
I don't worry about how what others think
I don't care if they fun of me
I just want continue shouting out to the world
So that my love for you, everyone can see
Happy birthday
4) Marriages are made in heaven
Is a fact I agree to
Because I am married
To an angel like you
Marriages are made forever
Is a fact I endorse too
Because I am married
To an incredible wife like you
Happy birthday
5) Without your presence
My life wouldn't have balance
Without your intelligence
My decisions wouldn't have prudence
Without your brilliance
My actions wouldn't have confidence
Without your benevolence
I wouldn't have a clear conscience
Without your influence
My life wouldn't be of any consequence
Because of your existence
My life gets significance
Happy birthday, dear wife
6) I am glad that I married
A beautiful woman like you
One thing I will never regret
Is saying, I do
Apart from the awesome gift
I also want to give you a kiss
Which will show you how much
You make my life a bliss
Happy birthday
7) I never expected you
To be flawless
I only wanted you
To give me happiness
But you have done both things
Very successfully
Thanks darling for being
Such an amazing wifey
Happy birthday
8) To my dear wife….
Like a lock and a key
Fit perfectly
You are the only one
Who is made for me
Like a fruit and flower
Grow because of each other
We too can't survive
Without one another
Like the moon and stars
Make a night complete
I would be lost without you
For you, are my heartbeat
Happy birthday
9) You made my dreams yours
Without a single doubt
You were the only one who steered
My life on the correct route
You adjusted to
All my idiosyncrasies
You happily accommodated
All my whims and fancies
There is not a single thing
That you haven't done for me
The least I can do for you in return
Is throw you a grand birthday party
Happy birthday
10) A romantic dinner
An expensive treat
A splendid brunch
A gift which is sweet
A drink at the bar
A luxurious holiday
A night at the pub
A weekend away
Cannot be enough
For the happiness
You have given me
Baby, you are priceless
Happy birthday
11) My lover and my mate
In her hands I can leave my fate
My life partner and my companion
Who is the most beautiful woman
My agony aunt who is also my shrink
Without whom, my world would disappear in a wink
My antidote for every trouble
Is my wife, who is so special
Happy birthday darling
12) In this colorful bouquet
Each flower stands for what I want to say
One flower stands for your beauty
Another stands for your purity
One flower stands for your innocence
Another stands for you intelligence
One flower stands for your affection
Another stands for you dedication
Every flower in the bouquet
Is here to wish you a happy birthday
13) From the day I set eyes on you
I wanted you to love me too
When you did fall in love with me
I also wanted you to see
That you could become my wife
And we could have a wonderful life
Here you are, as my life partner
My friend, my companion and lover
Happy birthday
14) Your beauty
Is a thing of pride
My heart melts
When you smile wide
Your innocence
Is like a rare jewel
Your irresistible body
Is my fuel
Your presence in my life
Is priceless
You are the only reason
For my happiness
Happy birthday, my dear wife
15) Good times are not good
If I can't share them with you
Bad times become even worse
When you aren't there to talk to
My happiness doesn't last
If I don't include you in it
I can't function without you
Not even for a bit
Happy birthday to my dearest wife
16) All the wives of the world
Need to take a lesson
You need to teach them
How to make married life fun
They also need to understand
That being a wife is not a chore
It means you have to be a person
That your husband can adore
There is no better example than you
For these women to see
As you have been, my dear
The perfect wife to me
Happy birthday
17) You have always been
My beautiful queen
And you have always been
The best woman I have ever seen
For me you are
My life's superstar
And you also are
The one who got me this far
You will always be
The one who makes me lucky
And you will always be
The perfect wife for me
Happy birthday
18) My wife, my darling, my sweetheart, my love
You are my angel sent from the heavens above
My baby, my munchkin, my sugarplum
You have always been my best chum
My happiness, my joy, my ultimate bliss
Let me wish you happy birthday with a kiss
Happy birthday
19) You have made
My dreams worth believing
Because of you
They feel inspiring
You have made
My family so loving
Because of you
Everything feels fulfilling
You have made
My life worth living
Because of you
It is amazing
Happy birthday sweetheart
20) I am a happily married man
Owing to just one reason
I have a lovely wife
Who is nothing but wild fun
I am glad that I bid
My bachelor days goodbye
And tied the wedding knot
With the apple of my eye
Happy birthday
21) Few people in this world
Get what they want
Not many people
Have things to flaunt
But I am an exception
To this rule of life
My biggest wish has been granted
Which is you, my dear wife
Happy birthday
22) I couldn't find a birthday card
Nor a gift which could contain
The love I have for you
So all my efforts were in vain
It made me realize
That If I want to show my feelings
I will have to go beyond
Buying fancy things
So here I am, all yours
Ready to do what you say
All I want to do is
Make sure you have the best day
Happy birthday
23) All the best memories
That I have made until now
All the moments of my life
Which have made me go wow
The instances when I had
The best time of my life
I owe them only to one person
The one and only, my dearest wife
Happy birthday
24) How lucky am I
That the girl of my dreams
Became my wife
But it wasn't as easy as it seems
She made me coax her
And pursue her to every bit
But when she married me
It was all worth it
Happy birthday
25) What I love about my wife
Is that she doesn't behave like one
She is more of a buddy
With whom I can have fun
She never nags me
Nor does she have mood swings
Out of all everything else in my life
She is the best thing
Happy birthday