Thank You Notes for Parents: Messages to Say Thanks to Mom and Dad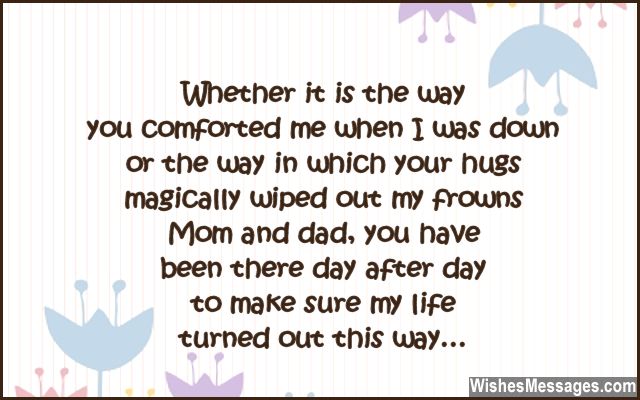 Thank You Notes for Parents: Stop waiting for Father's Day, Mother's Day or elaborate anniversary speeches. You don't need a special day to say Thank You to mom and dad. Pick a random day to express your gratitude for the way your parents have brought you up. Acknowledge their undying love and their limitless sacrifices. Take ideas from these quotes to write a message that melts their hearts. Text it, tweet it, write it on a cute handmade greeting card or doodle it out on a sweet note – do whatever it takes to make them smile.
1) Whether it is the way you comforted me when I was down, or the way in which your hugs magically wiped out my frowns. Mom and dad, you have been there day after day, to make sure my life turned out this way. Thank you.
2) I have never taken any compliments to heart because deep down inside I know that all of them actually belong to you both. Thanks for everything, mom and dad.
3) You sacrificed your own happiness, just so that I could be happy. It may take a lifetime, but I'll do everything to repay for what you have done for me. Thanks mom and dad.
4) When the world closed its doors on me, you both opened your arms for me. When people shut their ears for me, you both opened your hearts for me. Mom and dad, thanks for always being there for me.
5) Dear mom and dad… I have let so many years pass without thanking you both, but you haven't let a single second pass without loving me unconditionally.
6) Success is in my stride, because I have parents like you by my side.
7) Life becomes a CAKEwalk when guided by parents like you so SWEET. Thank you.
8) Thanks for making me the raison d'etre and joie de vivre of your lives. It is because of your upbringing that I am amongst the crème de la crème today.
9) I promise to achieve all the dreams of your life that you couldn't, because you were busy making sure that I achieved mine.
10) Even though you are a generation older, even though you are my parents… you both have been the best friends I could ever have had. Thanks mom and dad.
11) Dear mom and dad, you both have been the trampoline in my life. No matter how hard I jumped all over the place, you only helped me to bounce back higher. Thanks.
12) Congratulations mom and dad. You are the only two people who I love from the bottom of my heart even though you scolded me, punished me and grounded me every now and then.
13) Thanks mom and dad for telling me to figure out life's tough problems all by myself. That is what made me understand that they were not tough in the first place.
14) Most kids recall toys and video games as their childhood memories. I recall my parents' undivided attention and love. Thank you.
15) I know I am lucky to have parents who love endlessly… me and each other. Thanks for being perfect.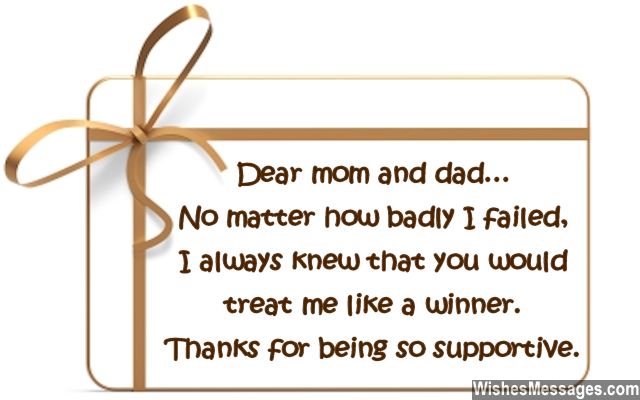 16) Dear mom and dad… No matter how badly I failed, I always knew that you would treat me like a winner. Thanks for being so supportive.
17) If someone asked me to put a price tag on my childhood and the way you have brought me up, I'd just say… no one can afford a childhood like mine because my parents' love is unmatched and priceless.
18) I may not have had the best of toys or go to the best of schools but none of that matters… because I had the best parents in the world. I love you, mom and dad.
19) I want to wish you a happy Parents' Day because Mother's Day and Father's Day are not enough for me to tell you how wonderful you both are. Thank you for everything.
20) One day I'll be successful and people will ask me which college I went to. I'll say, 'it doesn't matter because it is my parents who made me what I am today'.
21) I kicked mum when I was inside her tummy, I peed on my dad when he held me in his arms and I allowed my parents to sleep only when I slept. And still, they decided to tolerate me for the rest of their lives. Thank you.
22) Mom and dad, I grew up cocooned in your love, comforted by your hugs and motivated by your lives… and I wouldn't have it any other way. Thanks for everything.
23) When I was young I always felt that you were constantly on my back. But now I realize that you were simply watching my back. Thanks for everything.
24) If I become half the parent that you are today, I'll consider myself to be successful. Thanks for everything.
25) I didn't have an awesome childhood because I had awesome friends. I had an awesome childhood because I had awesome parents.  Thank you, mom and dad.
26) My parents are like a hot air balloon. They help me to rise as high as I want and they give me a great view of the world.
27) Sacrifice and suffering is a good thing when it is done for the good of the family – this is the lesson your lives have taught me. It will forever be engraved in my mind and my heart. Thanks for everything.
28) There are two things in this world which are completely irreplaceable – the nurturing love of parents and the innocent love of a child. Fortunately for us, we have both in our family because you love me and I love you.
29) You both are the reason I never understood what difficulty, trouble, complexity and struggle really mean. Thanks for giving me such a smooth childhood.
30) I treated you both like a punching bag with my mood swings and in return, you gave me your shoulders as soft as a pillow to rest my head on. Thanks for being so loving.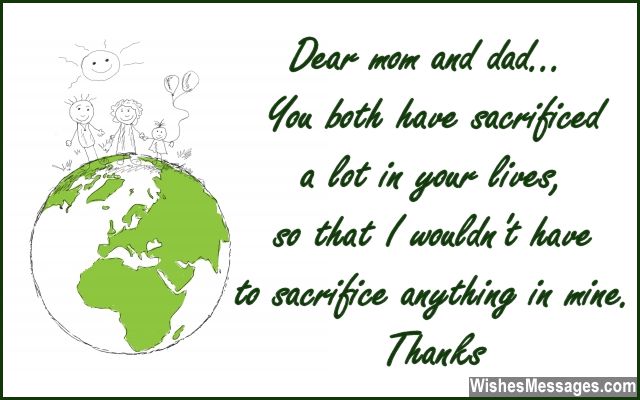 31) Dear mom and dad… you both have sacrificed a lot in your lives, so that I wouldn't have to sacrifice anything in mine. Thanks.
32) Parents' Day came into being in 1994 when former President Bill Clinton signed a law, recognizing the role of parents in a child's life. But I have loved you both way before that. Thank you, daddy and mommy.
33) Mom and dad… Nothing in my life, would have been without your strife. Nothing I can say, can ever truly convey. Nothing that I do, can show my gratitude for you.
34) When you stopped me from making mistakes, I thought you were interfering in my life. Now that my own child thinks the same way, I feel so guilty for the way I have behaved when I was young. Thanks for putting up with me.
35) The rock solid upbringing that you have given me has made me strong enough to push away any boulder that comes in the path of my life. Thanks.
36) Over my childhood, teenage and youthful years, I have realized that the full form of PARENTS is Protective Accommodating Responsible Enthusiastic Nurturing Tolerant Sensitive. Thanks.
37) Determination, integrity, commitment and dedication would have remained fancy words without any meaning if you both didn't implement them in your own life to show me what they really mean. Thanks, mom and dad.
38) Families are meant to be… just like ours. Parents are meant to be… just like you.
39) I must have won a lottery, when God was assigning my family. Otherwise I wouldn't have got, parents who always loved and never fought. Dear mommy and daddy, I want you to be always happy.
40) Life's hurricanes can't touch me because I remain sheltered in my mom and dad's love. Thanks for everything.