Engagement Card Messages: Congratulations for Getting Engaged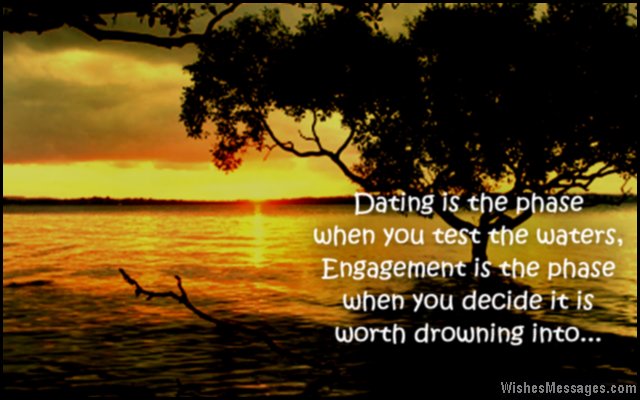 Congratulations for Engagement: Congratulate a couple for getting engaged by writing a romantic quote about love on their engagement card. From cute messages to funny one-liners, shower the fiancé and fiancée with your best wishes by posting on their Facebook and tagging them in sweet tweets. Be a part of a couple's beautiful journey from being love birds to taking the first step towards getting married. Go on, make a fuss and spoil the newly engaged couple silly by congratulating them again and again and again… as if every single day is a magical celebration of their love.
1) Dating is the phase when you test the waters, engagement is the phase when you decide it's worth drowning into. Congratulations.
2) May your engagement rings give you wings to fly into the happy skies of marital bliss. Congratulations.
3) Your engagement is the crowning glory, of each others' destiny. It is the raison d'être, for your love's reason to be. Congratulations.
4) How simple is the calculation, of one plus one equals two? As simple as how happy I am, for the both of you. Congratulations on your engagement.
5) Do you know what true love, commitment, romance and life-long promises have in common? All of them exist in your beautiful relationship. Congratulations for getting engaged.
6) The period between engagement and marriage is defined as the time when you can enjoy all the perks of being married without being burdened by any of the responsibilities of marriage. Enjoy it, congratulation.
7) The perfect love story has never been written in a novel yet. It is being written in your everyday lives as a couple. Congratulations for your engagement.
8) From Happily Dating to Happily Engaged to Happily Married, your engagement is sure to bring you a Happily Ever After. Congratulations.
9) As you both take the first steps towards becoming husband and wife, I hope and wish that you have a perfect life. Every second of your engagement is a priceless memento, you are a beautiful couple is what I want you to know. Congratulations.
10) I hope, wish and pray that your engagement immerses you in life's ultimate bliss and happiness. Congratulations.
11) An engagement is not a promise of agreeing all the time, but agreeing that disagreeing will also be a part of the journey. Congratulations.
12) Thousands of couples must be getting engaged across the world today but you are not among them. You two are a heavenly pair… truly out of this world. Congratulations.
13) If your lives were bottled up into a perfume, it would be called True Love by Cupid. Congratulations on your engagement.
14) Even the cutest cat pictures don't match up to the cuteness that exuberates from you two love birds. Congratulations on getting engaged.
15) Very few people are blessed to embark upon life's journey with partners who are truly made for each other… and you two are the chosen ones. Congratulations for your engagement.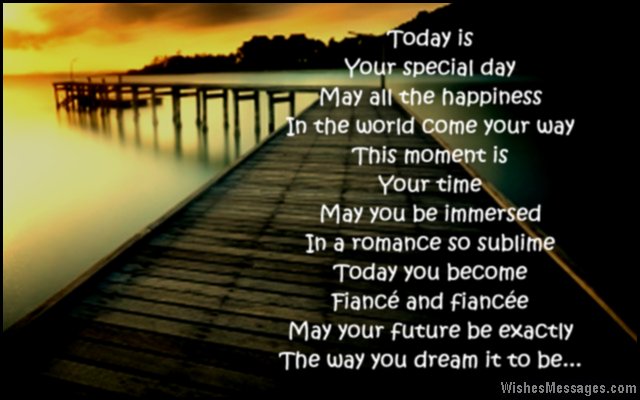 16) Today is your special day, may all the happiness in the world come your way. This moment is your time, may you be immersed in a romance so sublime. Today you become fiancé and fiancée, may your future be exactly the way you dream it to be. Congratulations.
17) By getting engaged, you both have laid the first set of bricks on which the foundation of your life will rest. Congratulations.
18) When a cool dude decides to tie the knot with a beautiful girl in the presence of awesome friends and loving family members, the result can only be happiness. Congratulations for getting engaged.
19) Your engagement is the green light at the traffic signal on one of the most important crossroads of your life. May this signal allow the happiest moments to cross over into your life as a couple. Congratulations.
20) May your engageMENT bring many other MENTs in your life including contentMENT, exciteMENT, commitMENT, enjoyMENT and enchantMENT. Congratulations.
21) The funniest thing about engagement is that ENGAGED rhymes with CAGED. I wonder if it means the same too.
22) How beautiful a couple you both are, you should know… I think of you both, whenever I see a rainbow. Congratulations for your engagement.
23) Regardless of whether your engagement party is an intimate affair or a lavish do, it will always be a once in a lifetime celebration in my heart. Congratulations.
24) Being engaged and deciding to spend a lifetime together is like getting a really cool bargain – you can double your happiness and divide your sorrows. Congratulations.
25) No storm can ever rattle you now because you are armed with one of the most important defense mechanisms in life – the bond of a fiancé and a fiancée. Congratulations.
26) Here is some advice from your dear friend: If you associate the word engagement with commitment, you will never have to face disappointment. Congratulations.
27) Your engagement is a celebration that will reek charm and flamboyance, because you both are cocooned each others' heart in love with abundance. Congratulations.
28) May the romance in your relationship be as bright as the sun. May the happiness in your relationship be second to none. Congratulations.
29) Congratulations for leveling up your relationship. Engagement is a quest that you must tread on carefully.
30) It won't take an expert psychic, proficient astrologer or a master tarot card reader to tell you that you about to experience the best time in your life. Congratulations for your engagement.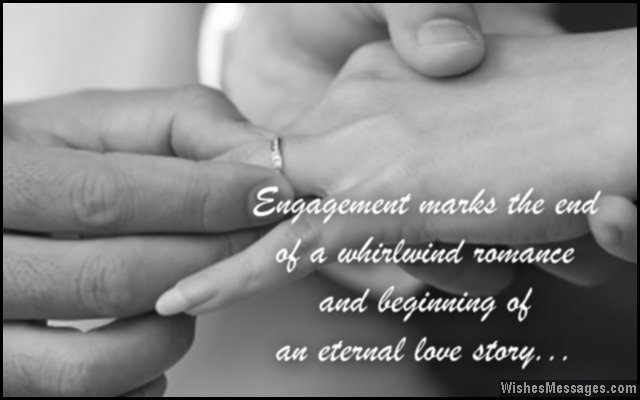 31) Engagement marks the end of a whirlwind romance and beginning of an eternal love story. Congratulations.
32) The definition of the strongest thing in the world is not found in science texts. It is the true love, that exists between you two. Congratulations for your engagement.
33) Your families will celebrate your engagement because families are supposed to do that. But friends like me will celebrate your engagement because they want to… and they feel happy for you. Congratulations.
34) Your life is like an airplane which is about to take off on the runway of courtship to reach a destination called Happy Marriage. Congratulations on your engagement.
35) First you were his friend, then you were his crush, after which you were his girlfriend and now you are his fiancée. Congratulations for getting engaged and being just one step away from becoming his wife.
36) Your engagement is proof of the fact that lovers can be together despite all troubles and obstacles in the path of a relationship. Congratulations.
37) Engagement is a magnet that only lucky couples are blessed to have. This magnet attracts happiness and repels misfortune. Congratulations.
38) May your engagement party be celebrated with a cake with a massive icing of trust, drinks laced with romance and balloons filled with love. Congratulations.
39) The beautiful engagement of a beautiful couple with beautiful families is bound to be… beautiful. Congratulations.
40) Regardless of the scale, your engagement will be nothing short of a grand party… because it marks a new beginning in your destiny. Congratulations.