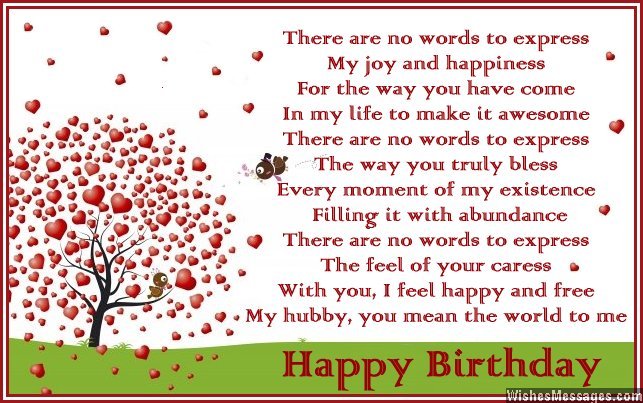 Birthday poems for husband: Instead of wishes, quotes and messages, write a sweet poem on a birthday card for your husband. Think of romantic lines and convert them into cute rhymes. Pour out all your love as you create short poems which you can write as a birthday greetings on a card, send as a funny text message or post them up on Facebook, Pinterest and other social networks. Your husband is the caring father of your children and the loving man in your life. Let his birthday be the best day of the year by getting him a nice gift and celebrate this special day with the entire family.
1) To my dear husband….
There are no words to express
My joy and happiness
For the way you have come
In my life to make it awesome
There are no words to express
The way you truly bless
Every moment of my existence
Filling it with an abundance
There are no words to express
The feel of your caress
With you, I feel happy and free
Darling, you mean the world to me
Happy birthday
2) Behind every successful man
Is a woman, they say
But I want to add a few words
To this quote, if I may
Behind every successful man
Is a woman, it is true
But behind every happy woman
Is a loving and caring husband like you
Happy birthday darling
3) Handsome, charming and hot
Is my hubby who I love a lot
Cool, smart and carefree
Is my husband with whom I want to be
Desirable, stylish and attractive
Is my husband with whom I love to live
Perfect, ideal and flawless
Is my husband, the reason for my happiness
Happy birthday darling
4) The person who gives
Everything to the family
The person who protects
During every calamity
The person who cares
For the tiniest of stress
The person who ensures
Everyone's happiness
That person is none other
Than my husband dearest
Happy birthday to the man
Who is above the rest
5) An awesome husband like you
Is rare and uncommon
A perfect husband like you
Can be only one
An amazing husband like you
Is unique and exclusive
A cheerful husband like you
Makes life fun to live
To such a husband who is
Amazing, rare, unique and uncommon
I wish a happy birthday
Baby, have lots of fun
6) Every morning is a feast
To see you wake up beside me
Every afternoon is a treat
To send you texts, naughty and flirty
Every evening is a delight
To look forward to a sensuous night
Ever night, needless to say
Is the best part of my day
Happy birthday hubby
7) If I have ever taken you for granted
I am really sorry
If I have ever hurt your feelings
I apologize, my dear hubby
If I have ever snubbed you
I seek your forgiveness
I am sorry if I have ever
Compromised on your happiness
Today is the perfect day
To tender every single apology
You deserve the finest
For being the best husband to me
8) Everything that he does
Has the mark of a perfectionist
For bringing happiness in our family
He has been the catalyst
He has a penchant for living life
By enjoying each and every moment
In my life, my dear husband
You are truly god sent
Happy birthday
9) You are not like other husbands
Average and ordinary
You are above them all
By being the perfect husband to me
For a husband so loving
And so exemplary
My love is everlasting
Without any expiry
Happy birthday
10) The best husband in the world
Deserves a extraordinary treat
A boring party is not enough
For a husband so sweet
The best husband in the world
Also deserves an awesome night out
Which he is going to get from his wife
Tonight, without a doubt
Happy birthday
11) There is no award as yet
Which rewards a good spouse
Otherwise it would have been
On the mantelpiece of our house
If there was an award
For the best husband in town
There are no prizes for guessing
Who would win it hands down
Happy birthday
12) I am scared and jittery
Full of confusion and worry
What else can I do
I have to plan a party for you
I want it to be flawless
Full of joy and happiness
I want it to be at par
With parties you have thrown me so far
Happy birthday to my dear husband
13) If my love for you wasn't pure
I would have thrown you a glamorous bash
I would have booked the most expensive hotel
To splurge a lot of cash
But I have planned something else tonight
A heartfelt meal with friends and family
You will like it much better
Than a stupid and expensive party
Happy birthday
14) Do you remember the time when we used to date
For those days, I still thank my fate
Otherwise I would have never met you
You would have never come across me too
We wouldn't have married each other
A husband like you, I wouldn't have found another
Thank God that I found the perfect guy
Without you dear husband, I would die
Happy birthday
15) You are the reason
I love living
You are the reason
Life is hot and happening
You are the reason
All my dreams are fulfilled
You are the reason
I am always chilled
You are the reason
For the best things to happen
My dear husband you are
My hero, my number one
Happy birthday
16) Finding the definition
Of the perfect hubby
Is not a big task
Because he is right in front of me
By touching my heart
And caring for me every day
He is the perfect husband
In every single way
Happy birthday dear
17) Hot, hot, hot
I find my husband a lot
Kiss, kiss, kiss
To give my husband, I don't miss
Love, love, love
I never put anything else above
Hug, hug, hug
My husband has given me the love bug
Peck, peck, peck
I love giving my husband on his neck
Although this poem is random
It is to tell you that you are awesome
Happy birthday
18) The one and only
Cute and cuddly
Nice and friendly
Charming and bubbly
Smart and nifty
Cool and witty
Very deservingly
Is my dear hubby
Happy birthday
19) Check your Facbook page
And you will see
What you really
Mean to me
Check your Twitter feed
And you will realize
That you are my
Most treasured prize
Check your Instagram
To understand
That your importance in my life
Is nothing less than grand
Happy birthday to my dear husband
20) To my dear husband….
Living life without you
Would be a real feat
Without you, my existence
Would be incomplete
The reason for my smile
The reason for my joy
Is none other than you
My charming birthday boy
Happy birthday
21) A perfect life is not a myth
It all depends on who you are with
If you have a husband like me
Your life will be happy and carefree
But every woman is not so blessed
Not every woman has witnessed
An awesome life like lucky me
All thanks to my wonderful hubby
Happy birthday
22) I don't blame other women
Who go green with envy
I don't blame them to be jealous
Because I have a wonderful hubby
Even I would have been envious
If you had someone else as your wife
Without you I just can't
Imagine living my life
Happy birthday to my husband
23) To my dear husband….
Nothing is the same
When you are not with here
Without you I begin to feel
Lonely and full of fear
Everything changes
In your absence
Don't ever think of leaving me
Not even for once
Happy birthday
24) One more birthday marks
One more year of being together
I hope these beautiful celebrations
Seal our bond forever
One more birthday marks
One more year of your love in my life
I hope these lovely moments of life
Never end, to make me the luckiest wife
Happy birthday
25) Your birthday celebration
Is something very small
Compared to your contribution
So important and tall
Your birthday party
Is just a tiny token
Compared to the way you make
Your family's life so much fun
Happy birthday to my dear husband